Before telling you about these
Oktoberfest Butterscotch Milkshakes
we gotta go to that good ol' disclaimer: Housevegan.com is a participant in the Amazon Services LLC Associates Program, an affiliate advertising program designed to provide a means for sites to earn advertising fees by advertising and linking to Amazon.com. This post contains Amazon affiliate links.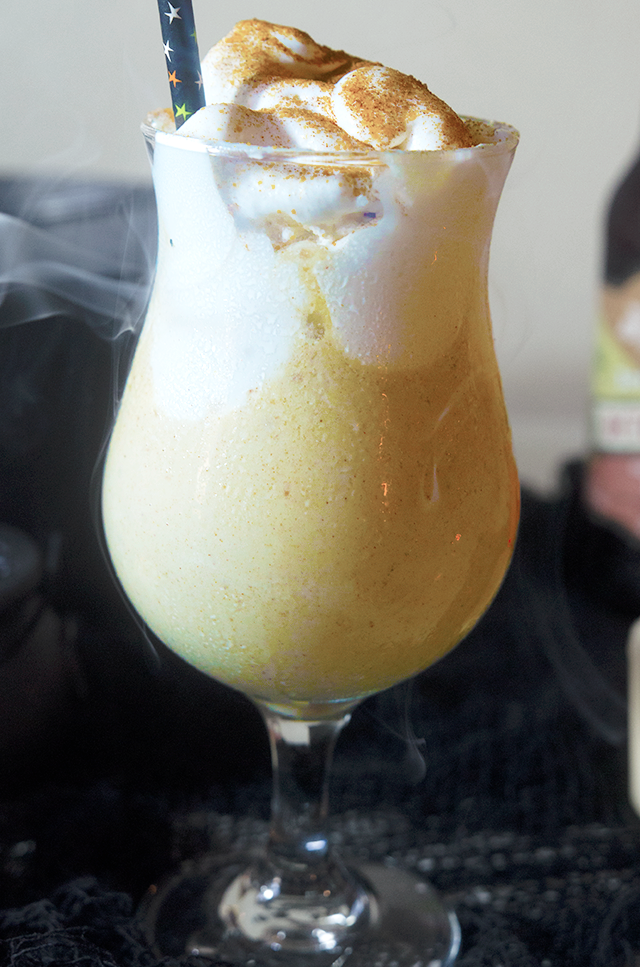 It's basically Harry Potter season, right? I think that we can consider the whole last quarter of the year "Harry Potter Season" since the series is so Halloweeny and Christmassy all at once.
While it isn't my all time favorite geeky franchise (Star Trek forever!), I do really enjoy the books and movies. Particularly the parts with food because I'm me. One Harry Potter treat that has always piqued my interest is butterbeer.
The food mentioned in Harry Potter is fascinating, don't you think? At times it sounds incredible (pumpkin juice), and at other times horrendous (many Every Flavour Bean flavors). The butterbeer always sounded delicious though, probably due to my love of butterscotch. I mean have you ever met a child that could name Werther's Originals as one of their favorite candies? I was that weirdo.
This post started with me considering writing a vegan butterbeer recipe, but I quickly discovered that there are already a ton of recipes out there for this drink. The more I researched the more I realized that I just wanted to make other people's butterbeers instead of developing my own. Except I wanted to incorporate real beer,
and make it super cold because warm beer is gross. Through this line of thinking I eventually realized
that what I truly wanted to make was a butterbeer-ish beer milkshake.
A few great looking vegan butterbeer recipes:
The idea of ice cream and beer may sound a little funky, but they match really well. Think of it as a not-so-sweet ice cream float with a little tang. There are tons of beer milkshake combos possible, but this super autumnal combination of Oktoberfest + butterscotch is what I'm really loving right now.
The vegan butterscotch sauce that I link to in the recipe below is raw and homemade so it's not going to give you a toothache like traditional butterscotch, but it's not going to fool you either. I really like it though, and it does the job beautifully in this vegan butterscotch milkshake.
Mentioned in this post and recipe:
Oktoberfest Butterscotch Milkshakes – Makes 2
Ingredients
1 1/4 cup non-dairy vanilla ice cream

6 ounces vegan Oktoberfest beer
3 tablespoons vegan butterscotch sauce

1/4 teaspoon cinnamon

pinch pumpkin pie spice

vegan whipped cream (optional)

cinnamon sugar (optional)
Directions:
1. Add the ice cream, beer, butterscotch sauce, cinnamon, and pumpkin pie spice to a blender, and blend the mixture until it is combined and smooth.
2. Pour the milkshakes into two separate glasses, and top each shake with whipped cream and cinnamon sugar.
Pin it!