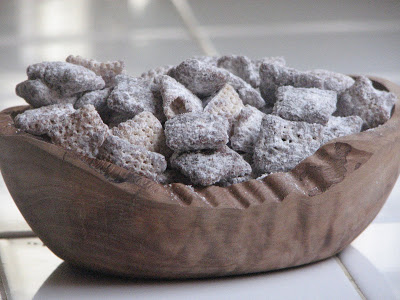 EDIT 10/2014: Since publishing this post 5 years ago it has come to my attention that Chex cereals are not vegan. There are lots of Chex like cereals out there that are vegan and would make a fine replacement.
I have a distinct memory of making these with my older sister and our cousin at Oma's house. I feel like we were alone and in desperate need of sugar. Really, if you can't handle crazy amounts of sugar, I would steer clear of this recipe. It is amazing, delicious, addictive, loved by all who try it and full of sugar.
Seriously, this is a warning. Make them, but be careful. Before you know it….gone.
Muddy Buddies
9 c. chex (rice or corn)
1 c. vegan chocolate chips
1/2 c. peanut butter
1/4 c. vegan margarine
1 tsp. vanilla extract
1 1/2 c. powered sugar
1. Put chex in a large, clean paper grocery bag.
2. In a small saucepan over low heat, melt margarine and peanut butter. Mix in chocolate chips and stir until melted. Take off heat and add vanilla.
3. Carefully pour melted chocolate into the bag of chex. Roll up the top of the bag and shake. You may need to carefully stir with a spatula and then shake again. Just to make sure you get even coverage. Once the chex is evenly coated, add the powdered sugar. Roll up the bag and shake again until coated.
4. Pour into a bowl and try not to eat all of it! We keep it in the fridge when we're not finishing it off.