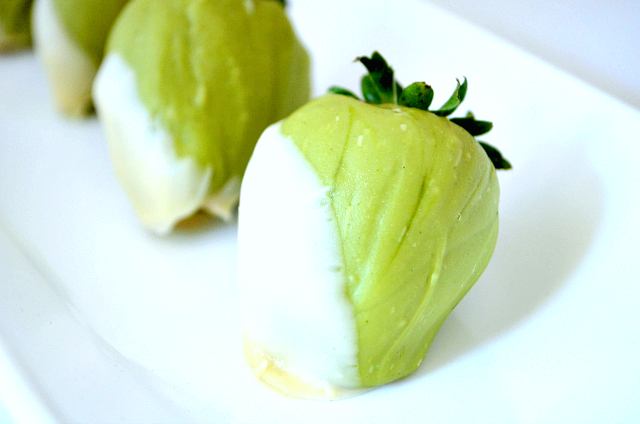 I've had such a grouchy few hours. Like every coffee shop I went to to work was either packed, lacked outlets, or both. I finally landed in one of my favorite neighborhood spots, and every table near a plug was occupied by someone without plug needs(SERIOUSLY). Despite all that annoyingness, I'm finally in a decent mood. I figured out a temporary plug solution to use until a table opened up (one did), and the coffee shop speaker is blasting Now That's What I Call Music! Volume 1. I recognize it because I owned that CD and played the hell out of it in my teens. Also, I'm finally writing about these amazing Matcha and White Chocolate Covered Strawberries, a recipe that's been hanging out in my drafts for far too long.
I've been super feeling matcha lately. Have you ever tried it? Matcha is powdered green tea made from shade grown tea leaves that are laid out to dry after harvest. After drying, the leaves sort of crumble and become tencha, another type of tea. The tencha can then be de-stemmed and ground into a fine powder. That fine powder is matcha.
The flavor of good matcha is vegetal, deep, and a little sweet. It's
often used in Japanese tea ceremonies, which I have yet to experience but hope to one day. Until then, I love it brewed with a little bit of water, some warm flax milk, and sweetened with agave. I also love it in desserts. And covering strawberries.
After learning about how matcha is made I feel a little ashamed that I've only ever experienced it diluted with milk and/or sugar. I
may have to make it the real way soon. That could make an interesting blog post, right?
Until I make matcha tea for real I'll have to continue enjoying it in beautiful desserty ways.
These matcha covered strawberries are as nice to eat as they are to look at. The matcha coating becomes hard when it cools causing a really nice crunch as you bite into the juicy fruit. Then the delicious scent of strawberry prepares you well for that earthy matcha flavor to come in and round out a fun and unique treat. Next time I make them I'm going to leave a little more red peeking through for more color, but I think they're gorgeous as is too.
Vegan Matcha and White Chocolate Covered Strawberries
Ingredients:
Directions:
1. Line a baking sheet with parchment paper, and set it aside.
2. Thoroughly wash the strawberries, and use a towel to dry them completely. Set them aside for now.
3.
Melt 1 cup of the white chocolate chips i
n a double boiler (or homemade double boiler solution) over medium heat. Be sure to stir the white chocolate with a spatula every now and then until it melts.
4. When the white chocolate has melted remove it from the heat, and stir in the matcha green tea powder with a spatula until it's completely incorporated.
5. Holding a strawberry by the stem submerge it into the matcha white chocolate. Lift it up, and shake off the excess chocolate. Place the matcha white chocolate strawberry onto the parchment paper to harden (it should happen relatively fast). Repeat this step with the remaining strawberries.
6. Once the strawberries are all covered in matcha white chocolate, clean out and dry your double boiler so that you can melt the remaining white chocolate.
7. Melt the remaining white chocolate in the double boiler over medium heat. When the matcha white chocolate on the strawberries has totally hardened it's time to dip them in the white chocolate. Holding a strawberry by the stem dip half of it into the white chocolate. Lift the strawberry out of the chocolate, and shake off the excess. Place the strawberry back onto the parchment paper to harden. Repeat with the remaining strawberries.
8. Serve the strawberries once the white chocolate has hardened, about 10-15 minutes.
Let's be friends! Follow HV on

Facebook

,

Google+, Pinterest

,

Bloglovin'

and

Instagram

! You can also get House Vegan posts delivered right to your inbox by clicking

here

!