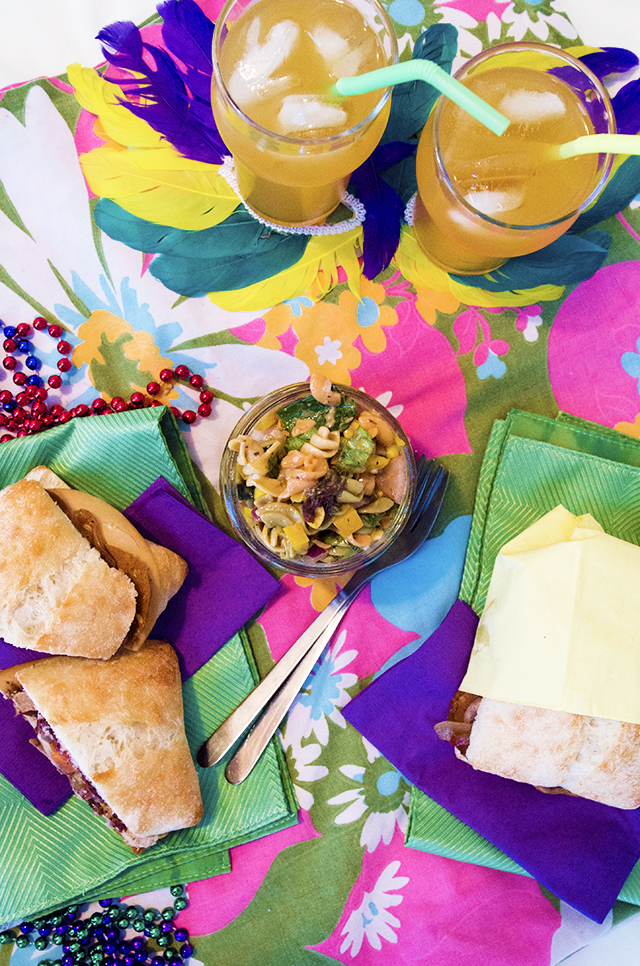 Two posts in two days, you guys! I'm tellin ya, I've got lots to share, and now that we're all moved in I can finally get back to talking to you. I've missed you!
Let's talk about Mardi Gras, shall we? That glorious Tuesday where one can indulge before Lent. Which – if I'm being honest – doesn't apply to me at all, but it did growing up. My mom was all about Lent, and every year I would try to give up candy only to fail miserably. My sweet tooth has always been bossy.
Although my husband and I don't celebrate Mardi Gras, I enjoy doing posts like this (see my
Beignet and Cafe au lait Cupcakes
or
Mini Vegan King Cakes
)
because I love New Orleans. Have you ever been? It's like a European city the middle of America's south. It has its own food and language and culture. It's like no where else, and it's beautiful.
I have so many fond memories of dancing in my late teens in New Orleans. It was one of the first cities that gave me license to be a little more free than I could be at home. Each visit gave me more independence and a glimpse into what kind of person I wanted to be when I grew up. So many of the things I take for granted now, I first soaked up in that great city. Simple things like lemon in hot water on cold mornings or the joy of powdered sugar escaping a pastry and falling into my coffee. They seem so small, but these small things expanded my world so much. God, I love New Orleans.
While this menu isn't authentic to that city I love, it is still my little Mardi Gras Inspired Lunch. It includes a vegan muffuletta-inspired sandwich with Tofurky pepperoni (in place of salami), Tofurky deli slices, vegan cheese, grilled veggies, pickled veggies, and olives on a soft and chewy ciabatta roll.
Real muffulettas are huge and sit for a while to let the juices soak, but my sandwich comes together pretty easily, doesn't have to sit, and is still really delicious. I mean Tofurky is really delicious so obviously.
On the side, you've got one of the best pasta salads I've ever come up with. Made with cucumbers, corn and bell pepper, and red onion to represent the colors of Mardi Gras (green symbolizes faith, gold symbolizes power, and purple symbolizes justice), this pasta salad is coated in an Italian miso dressing that is so creamy and flavorful. And because it includes no diary, this pasta salad would be good if you wanted to take this lunch on a picnic. That is, if you're lucky enough to live somewhere picnic-friendly in late February. Texas varies, but it's been a very warm winter for us this year. We actually have the AC on today if you can believe it.
To complete this menu I create a Hurricane-Inspired Iced Tea to wash everything down. If you've never heard of the famous New Orleans cocktail, a Hurricane is a very alcoholic beverage traditionally made with rum and fruit juices like lime and passion fruit. It's delicious, and I knew those flavors would lend well to an iced tea. This tea is sweet and refreshing – exactly what this 90 degree day in February calls for.
(p.s. – This is not a sponsored post, I just really love Tofurky :).)
Vegan Mardi Gras Inspired Lunch
by
Feb 28 2017
12 ounces fusilli pasta (bonus points is it's the spinach variety)

1/2 cup Italian dressing (store-bought or homemade)

1/4 cup nutritional yeast

1 tablespoon white miso paste

1 tablespoon dijon mustard

2 cups chopped romaine lettuce

1 yellow bell pepper, small diced

1 cup frozen corn, thawed

1 medium-sized cucumber, small diced

3/4 cup diced red onion, small diced

1/4 cup chopped fresh parsley
Instructions
1. Cook the pasta according to the package directions.
2. While the pasta cooks whisk together the Italian dressing, nutritional yeast, miso paste, and dijon mustard in large mixing bowl.
3. Add the veggies to the mixing bowl with the dressing, but do not mix.
4. Once the pasta is done, drain it and rinse it in cold water to cool it down a bit. Add the pasta to the mixing bowl with the other pasta salad ingredients, and toss everything to combine.
5. Season your Mardi Gras Pasta Salad for salt and pepper to taste, and transfer it to an airtight container. Place the salad in the fridge until you're ready to eat it.
Vegan Muffuletta-Inspired Tofurky Sandwich w/ Grilled Vegetables (makes 2 sandwiches):
1 tablespoon vegetable oil

1 small onion, sliced

8 ounces sliced mushrooms

2 ciabatta rolls

Tofurky Pepperoni (or your favorite vegan pepperoni)

Tofurky Deli Slices

favorite vegan cheese slices (I used homemade)

pre-made vegan olive tapenade

"muffuletta vegetables", optional (see note)
1. Add the oil to a grill pan (or cast iron skillet) over medium-high heat. Add the onions to the pan, and stir frequently until they begin to brown. Add the mushrooms, and continue to stir frequently until the onions and mushrooms are cooked to your liking. I like them really browned, but that's me. And salt and pepper to taste, and remove them from the heat.
2. Slice open your ciabatta rolls and assemble your sandwich. First, liberally spread the olive tapenade on the top halves of the ciabatta rolls. Follow with the muffuletta vegetables if using.
3. Second, stack the rest of your toppings onto the bottom halves of the rolls. I did about 6 slices of pepperoni, 4 deli slices, and 1 slice of cheese per sandwich. However, feel free to adjust these slice counts.
4. Finish the sandwiches by topping them with the grilled veggies. Place the olivey tops of the ciabatta rolls onto the grilled veggies, and you're done. These sandwiches are large so feel free to give them a press with your hands if need be.
Note: Our local grocery stores sell "muffuletta" vegetables which are just chopped pickled veggies like carrots, artichokes, etc.. They're usually carried in the deli section with bulk olives. If your grocery store does not sell these then feel free to omit them.
Hurricane-Inspired Iced Tea:
2 cups brewed black tea

1 cup passion fruit juice

juice from 2 lemons
1. In a small pitcher stir together all three ingredients. You shouldn't need to add sweetener thanks to the passion fruit juice.
2. Store the tea in the fridge until cold. Serve over ice.
Pin it!