Disclaimer: This site contains Amazon Affiliate links. Purchases from these links could result in a small commission used to support Housevegan.com. Please feel free to read this site's
Disclaimer.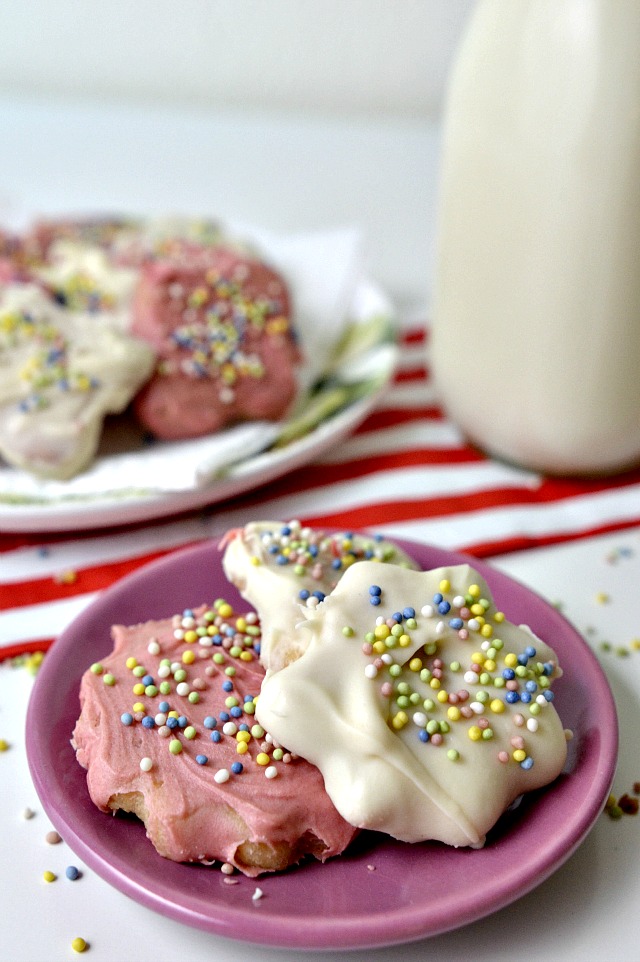 I miss these cookies. I'm posting them now, but I actually made them weeks ago. I'm just looking at them here, and remembering how good they were. How much they took me back to those cheapo cookies I ate as a kid, and how this batch was all gone in less than 24 hours.

These Vegan Circus Snack Cookies are inspired by Baking the Goods' recipe for homemade Circus Animal Cookies. If you're unfamiliar, Circus
Animal
Cookies are these little animal shaped graham cookies covered in a waxy coating and topped with sprinkles. They're cheap, un-vegan on so many levels, and leave memories that paint them as the tastiest snack ever.
I read a lot of mommy blogs, and though I have very little in common with these ladies I find so many of them incredibly creative. Most of them aren't vegan, and a common product you'll see them repurpose is Circus
Animal
Cookies. Every time I see a recipe using the cookies a little voice inside me
whispers
screams "Waaaaaant!"
I had no choice but to make my own, and I'm not the first vegan to come to this conclusion. Fork and Beans made a great looking gluten free version, and hers are actually in animal shapes. While those shapes are super cute I have a special tool that I use when making snack sized cookies: my vintage rolling cookie cutter.

I'm in love with this thing. My Grandma gave me this cutter years ago, and it's one of my favorite kitchen tools. I'm not sure where she got it or how old it is, but I did find its twin on Etsy, and the seller says it's from the 1950s. So that's awesome. I just roll my dough out, place the cutter on top, and roll. It's so easy. Each cutter is about 2 inches long making the cookies perfect snacking size.

So, I finally have Vegan Circus Snack Cookies available to me, and I'm pretty darn thrilled about it. Though, you know those enviable mommy blog recipes I mentioned
? I don't think I'll ever make them with my cookies. Once I made (then inhaled) them I realized it was just the cookies I was after. Plus, to be honest? They're way too time consuming to make and then, like, add to a popcorn mix. Even though I still think that sounds delicious.
Vegan Circus Snack Cookies – Makes 3 dozen
1 cup + 3 tablespoons all purpose flour
1 tablespoon cornstarch
1/8 teaspoon salt
1/8 teaspoon baking powder
pinch ground nutmeg
pinch ground cloves
1/2 cup vegan margarine (like Earth Balance), room temperature
6 tablespoons granulated sugar
2 tablespoons Bee Free Honee, or agave nectar
1 1/2 teaspoons vanilla
1 1/2 tablespoons non-dairy milk

vegan red food coloring,

bought or homemade (optional)
Directions:
1. Line two baking sheets with parchment paper, and set them aside.
2. In a large mixing bowl combine the flour, cornstarch, salt, baking powder, nutmeg, and cloves. Set that aside.
3. Cream together the margarine and sugar using a stand mixer, hand mixer, or a bowl and whisk until the mixture is nice and fluffy. Whisk in the Bee Free Honee, vanilla, and milk until everything is combined.
4. Gently pour the dry ingredients into the sugar mixture, and use a spatula or wooden spoon the mix the ingredients until the flour is absorbed, and a dough forms.
5. Form the dough into a ball, and wrap it in plastic wrap. Chill the dough in the fridge for 1 hour.
6.
Preheat your oven to 350 degrees fahrenheit.
Unwrap and place the chilled dough onto a floured surface, and roll it out to a 1/4″ thick. Use a 2″ cookie cutter to cut out your cookie shapes, and place the cookie cutouts onto the prepared baking sheets.
7. Bake the cookies for 8-10 minutes, rotating the baking sheets half way through. The cookies should just start to be browning around the edges.
8. Allow the cookies the cool completely before proceeding.
9. Completely melt your white chocolate chips in a double boiler (or lets be real, in a metal bowl on top of a water filled pot). If you want pink and white cookies pour half of the white chocolate into another bowl and mix in a few drops of red food coloring.
10. Working one at a time, dip half of the cookies face down into the pink chocolate, and the other half into the white chocolate.* Sprinkle each cookie with sprinkles immediately after dipping because the chocolate dries up really quickly.
11. Allow the frosted cookies to sit on a cooling rack or a paper towel until they're completely dry. Then store them in an airtight container at room temperature.
*Circus
Animal
Cookies are completely covered in a waxy coating so I originally tried to do that with these cookies. Don't do it! The white chocolate is too thick, and it's not worth the effort. Learn from my mistake, and just frost one side.
Let's be friends! Follow HV on Facebook, Google+, Pinterest, Bloglovin', and Instagram! You can also get House Vegan posts delivered right to your inbox by clicking here!