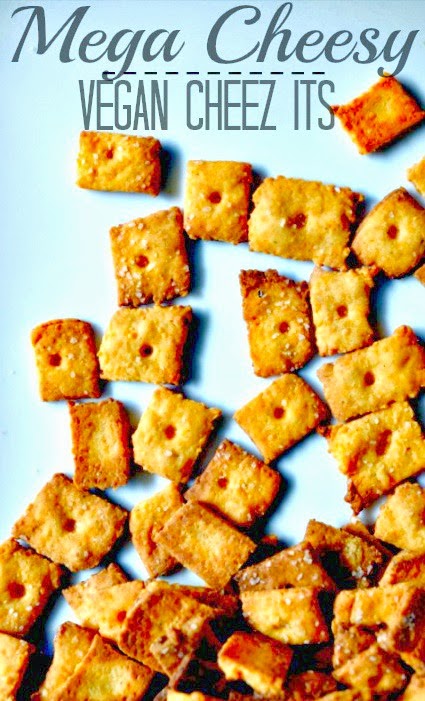 Don't these Vegan Cheez Its look suuuuper cheesy? I'm so excited for this post because it's not a new recipe for my blog, but a revisited one. I published the recipe for Daiya Not Cheez Its in 2009 during my very first Vegan MoFo.
In the 5 years since, a bunch of vegan cheese cracker recipes have surfaced around the blogs. I've even tried a few with great success. This recipe in particular from Chef Chloe has made several appearances in my kitchen. However, that recipe (like most) gets its cheesiness from nutritional yeast. I'm a big fan of nooch, but when I want a cheese cracker, I want a cheese cracker. I don't necessarily want a nooch cracker.
These vegan cheez its don't taste like nutritional yeast at all. They taste like salty, buttery, cheese crackers.
I altered the OG recipe slightly – mostly to give you more crackers.
After all these years they're still the best recipe for cheese crackers out there!
Vegan Cheez Its – Makes A Ton
6 tablespoons vegan margarine (I use Earth Balance)

2 cups vegan cheddar cheese, shredded

2 cups all purpose flour

1 teaspoon salt

1/2 teaspoon pepper

1 1/2 teaspoons paprika

6 tablespoons (more or less) cold water
1. Put all of the ingredients except the water in a food processor. Pulse until the mixture becomes coarse and crumbly. Pour the dough into a large bowl.
2. Add enough water to the dough to bring it together. You want it to be a ball.
3. Knead the dough for a few minutes, and let it rest for half an hour. Preheat the oven to 350 degrees.
4. Roll the dough to 1/8 inch thick and shape and cut however you'd like. Place the crackers on an un-greased cookie sheet, and top them with salt. Lightly pat the salt into the dough to make sure it sticks.
5. Bake the crackers for 13 – 15 minutes, checking the oven at ten minutes to remove any that might be browning faster than anticipated. If you want them to taste as Cheez It-y as possible, let them brown a little.
I'll be out of town until Thursday afternoon, so I may get behind on replying to comments and reading your blogs. I will though! <3