Before telling you about this 90 Second Vegan Cookies and Cream Mug Cake we gotta go to that good ol' disclaimer: Housevegan.com is a participant in the Amazon Services LLC Associates Program, an affiliate advertising program designed to provide a means for sites to earn advertising fees by advertising and linking to Amazon.com. This post contains Amazon affiliate links.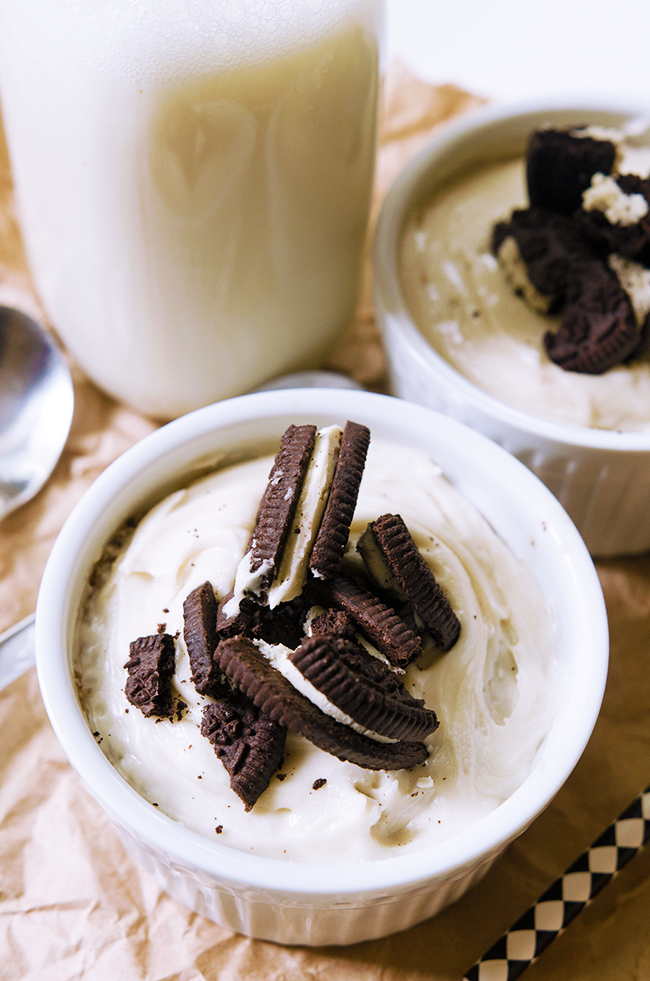 Hey, friends! I hope you had a great Easter. Mine was a bit wild, but fun. We usually spend Easter with my dad's side of the family, but this year they decided to do Easter on Saturday which meant we could do Easter on Sunday with my mom's side. Well, I could anyway – my husband had to work on Sunday. Anyway, there was a ton of great vegan food flowing at both family events, none of which I got pictures of, of course! The eats included:
Peanut Butter Cupcakes topped w/ Chocolate Banana Mousse (both recipes are from Vegan Cupcakes Take Over The World)

Vegan Scalloped Potatoes (made by my grandma with homemade cashew milk (I made the milk!))

Vegan Bacony Tofu Scramble

Vegan Biscuits

Vegan Cinnamon Rolls

Vegan candy-filled Easter Eggs (my mom is amazing!)

Homemade Potato and Onion Perogies

Unribs from The Homemade Vegan Pantry (With homemade Coca-Cola BBQ sauce I might add. I'm only bringing it up because I actually insisted on making our own BBQ sauce just to use up leftover Coke. All that work and effort to not waste like .70.)
It was all so good. Except have I mentioned to you guys that my husband and I are on a diet? We were totally ignoring that this weekend.