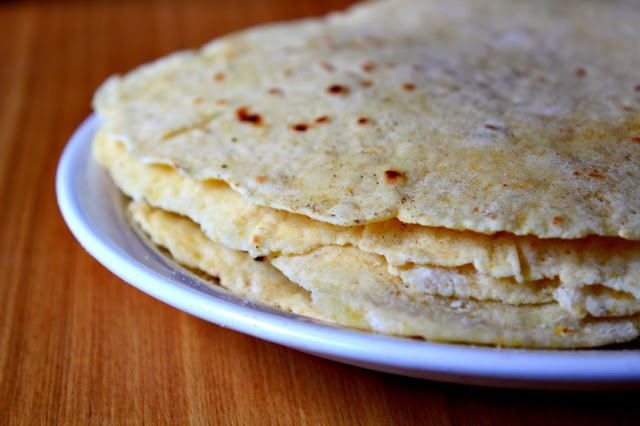 Austin is nowhere near short of delicious tortillas. However, why buy when you can make?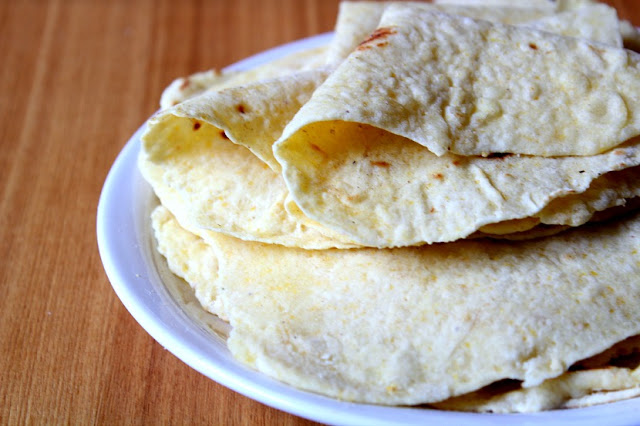 Our local fancy HEB, Central Market, makes these fantastic Mitad & Mitad tortillas. With all the structure of a flour tortilla and the wonderful flavor of a corn tortilla, they offer the best of both worlds. I needed to replicate these babies in my kitchen, and this weekend I finally got a chance to do that. Now I can have homemade Mitad Y Mitad Tortillas whenever I want (and so can you)!
Mitad Y Mitad Tortillas
Ingredients:
1 1/4 cup all purpose flour

1/4 cup fine corn meal

1 teaspoon baking powder

1/4 teaspoon salt

2 1/2 tablespoons Earth Balance or olive oil (they both work fine!)

1/2 cup very hot water
1. Mix together the flour, cornmeal, baking powder and salt.
2. Pour the oil into the flour mixture and mix it in with a fork. The mixture should be crumbly. If you're using Earth Balance, just cut it into the flour with your fingers for the same crumbly effect.
3. Pour the hot water into the flour and mix just until it comes together and a ball forms. Let the dough sit covered for 20-30 minutes.
4. Cut the dough into thirds. Cut the thirds in half. Cut each half in half again. You should have twelve equal balls.
5. Heat a cast iron skillet over medium high heat. Roll your first ball of dough into a thin circle. If it's not totally circular, it's fine. Who's picky about shapes anyway?
6. Once the skillet is preheated, throw on your rolled out tortilla. Once bubbles form on the surface, flip it. Let that side cook for a few seconds. The whole thing will happen really quickly. Remove the tortilla and place it in a towel to stay soft and warm.
7. Repeat with the remaining dough until you have twelve cooked tortillas.
8. Eat em! Make tacos, burritos, enchiladas, ect. OR drizzle one with agave nectar, roll it up and enjoy. OR dip them into salsa or Food for Lovers Vegan Queso. Whoa baby.
If you find yourself at a Central Market be sure to pick up their Mitad & Mitad tortillas to try. This recipe is great, but so are the originals!