Before telling you about
How to Make Indoor Smoked BBQ Beet Nachos with Drunken Cashew Queso we gotta go to that good

ol

' disclaimer: Housevegan.com is a participant in the Amazon Services LLC Associates Program, an affiliate advertising program designed to provide a means for sites to earn advertising fees by advertising and linking to Amazon.com. This post contains Amazon affiliate links.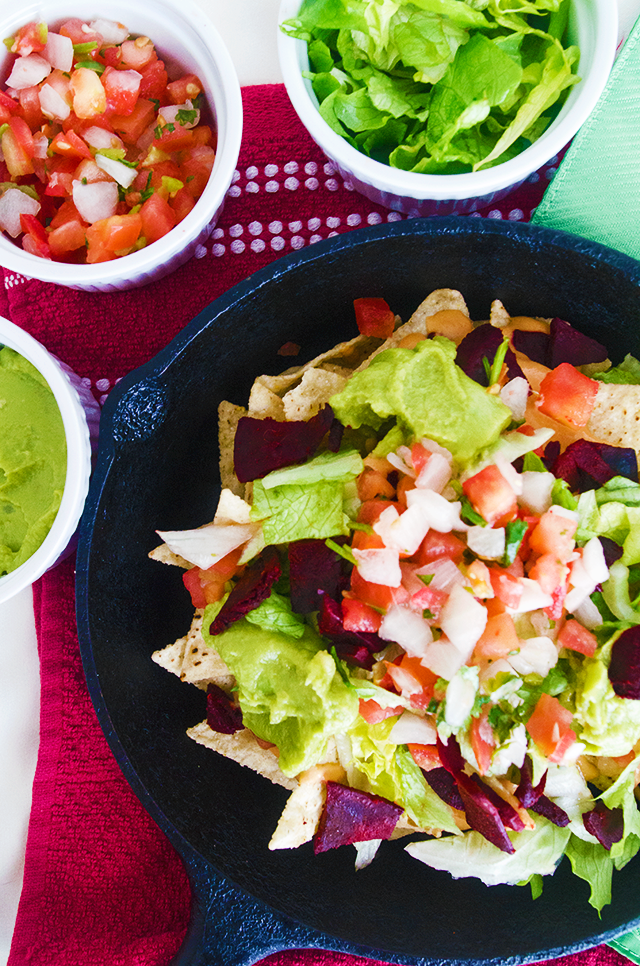 These nachos, you guys. These indoor smoked beets, you guys. Indoor smoking, you guys! I'm obsessed, and I think you should be too.
This started when I wanted to make some nachos for the Big Game, and I thought that something BBQ-y would be a fun change of pace. However, vegan bbq tends to just mean stuff flavored with liquid smoke, and while I'm down with liquid smoke, I really wanted something smoked for real. I may be vegan, but I'm also Texan, and I know the difference.
I knew indoor smoking was going to be my best bet (more on that later), so I just needed to figure out what to smoke.
I didn't want to do mushrooms because I wasn't feeling that texture on nachos. I thought about using soy curls, but I wasn't in the mood to drive to the store that sells them here. Then I remembered this pizza place in town that makes a vegan beet pepperoni that everyone swears is good. I figured if beets could be
pepperoni'd
then why not smoked?
It was a risky idea because my husband and I don't really like beets. I mean, they kinda just taste like dirt, right? That's not just us, is it?
I picked up a bag of beets anyway and got to thinking. I wanted smoke to be the primary flavor, so I decided not to worry about marinating them or anything like that. I just tossed them in some BBQ rub, and hoped for the best. Then I got to work on my homemade indoor smoker.
Years ago I came across
this
video from Saveur, and I bookmarked it for a rainy day. I was intimidated by the process (despite how easy it looked) because I tend to think that smoking/grilling/etc. is going to be a whole drawn out ordeal.
Years ago my husband was a big grilling enthusiast, and the whole thing seemed like such a process. Even when he was just using his indoor smoker (which always resulted in our cats smelling like hot dogs), it seemed like such a to-do. However, I had a vision for these nachos, darn it. Drunken Cashew Queso, guac, and something smoked. I needed to see this dream realized so I got to building.
Honestly, it's more assembling more building. This method doesn't require any fancy equipment, and I was able to get everything I needed for it at our regular grocery store.
First: I soaked a handful of wood chips in a little water for about ten minutes before draining.
Second: I lined the bottom of a medium sized pot with foil and poured the wood chips on top.
Third: I covered the wood chips with another sheet of foil, inserted my opened vegetable steamer, and viola! My smoker was done.
Remind me of how easy that was next time I'm intimidated by a new project.
Then I added my BBQ rub-tossed beets and got to smoking. The result blew. my. mind.
Beets are so whatever to me so I guess I was hoping that they wouldn't be recognizable. However, smoking didn't hide their flavor – it accentuated what's good about beets (the sweetness) and masked what's not so good (the dirt flavor) with smoke. Glorious and delicious pecan smoke.
Sweet and smokey is a combo that makes BBQ so enticing, and smoking beets achieves that in one easy swoop. They're perfect for this cooking method, and I can't believe that this isn't a thing that everyone has already discovered.
We've already made them multiple times for things like mac and cheese and sandwiches, and of course, nachos covered in beer queso.
When people go vegan I think there's an assumption that we have to abstain from certain tried-and-true cooking methods like smoking. We associate smoking with meat, and just don't look back.
However, going vegan not only opens you up to new ingredients and flavors, but it also offers you the opportunity to play around with cooking methods you already know. It's not always about recreating what you loved but discovering something similar yet new.
These nachos are really special, friends. They're not "everyday nachos", they're more like "wow everyone you know" nachos. Make these for the Big Game tomorrow, or for a movie night, or on any other occasion that calls for a group of people and nachos. Why? Because these are going to impress, and you should take advantage of that.
I'm now officially obsessed with indoor smoking, and I can't wait to see what new culinary delights this will open up. Y'all are gonna try this right? What are you going to smoke first??
Mentioned in this post and recipe:
How to Make Indoor Smoked BBQ Beet Nachos w/ Drunken Cashew Queso
by Hannah Teson Feb 4 2017
Equipment
1/2 cup smoking chips
1 cup water
lots of foil
1 medium sized pot with a tight fitting lid
1 standard sized metal vegetable steamer
Ingredients
2 tablespoons of your favorite BBQ rub

10 ounces sliced beets, thawed if previously frozen

1 tablespoon vegetable oil

tortilla chips

1 batch Drunken Cashew Queso (or Cashew Queso if you're not a drinker)

pico de gallo

guacamole

shredded lettuce
1. Combine the smoking chips and water in a bowl, and allow the chips to soak for ten minutes. Drain the water and save the chips.
2. Tear off 2 approximately 6 inch wide pieces of foil, and fold each piece of foil in half long ways. Place one piece of foil in the bottom of your pot. Transfer the drained wood chips to the pot over the first piece of foil. Top the wood chips with the second piece of folded foil.
3. Open the steamer, and slide it into the pot over the foil covered wood chips. Your indoor smoker is now assembled. Put it aside, and prepare your beets.
4. In a medium sized mixing bowl combine the beets and BBQ rub. Transfer the beets to the steamer basket in your assembled indoor smoker. Spread the beets out as much as you can, but don't worry too much about overlap.
Place the lid on top of the pot.
5. Tear off two large pieces of foil, and wrap them around the seal of the lid and pot. You want as little steam as possible to escape so this is creating an extra seal.
6. Put the smoker on the stove over high heat until it starts to smoke – this should take about five minutes. You'll know when it's smoking by the smell and sound (and if your seal wasn't great, the escaping smoke).
7. Turn the heat down to medium-low, and continue to smoke the beets for 10 minutes.
8. Remove the smoker from the heat, and let the beets sit, still covered, for 7 minutes.
9. When the beets are done smoking, carefully transfer them to a cutting board, and cut them into bite sized pieces. Once they're all chopped to your liking, heat the vegetable oil in a large skillet over medium heat.
10. Add the beets to the skillet and cook, stirring frequently, until the beets start to brown. Remove the beets from the heat, and salt to taste. Good, right?
11. Assemble your nachos by layering the tortilla chips, drunken cashew queso, pico, guacamole, and shredded lettuce.
Pin it!