Disclaimer: Housevegan.com contains Amazon Affiliate links. Please see the bottom of the left sidebar for HV's Amazon Affiliate disclosure, or feel free to read this site's
Disclaimer
.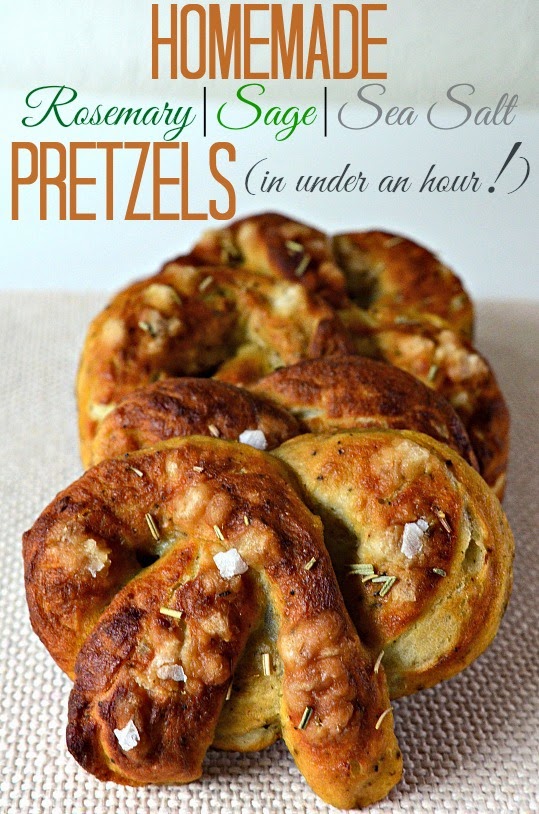 It's no joke – these rosemary, sage and sea salt pretzels really take less than an hour. And they're delicious! They're browned and salty and perfect like a pretzel should be.
Before we get into these pretzels can we talk about how Thanksgiving is next week? Next week! This is not a drill. I've done none of my baking, time line preparations,
or "get ready for visitors" cleaning. However, I do have my decorations up. Priorities?
What I'm trying to say is that I'm going to be very busy this weekend.
Ok, enough Thanksgiving panic. Let's take a pretzel break.
Soft pretzels always remind me of my father. He used to buy those frozen SuperPretzels. You know, the ones you would bake straight from the freezer? You would sprinkle them with that giant pretzel salt before baking only to have half of the salt fall off while eating…
These homemade pretzels are soft and delicious, but that's where the similarities to SuperPretzels end. First of all, using flaked sea salt instead of giant pretzel salt allows for maximum stick while keeping the giant salt texture. Second of all, these are packed with incredible herby flavor. You can use any herb you like, but I love rosemary and sage for this time of year.
The best part about these homemade pretzels is how quickly they come together. From start to finish they take less than 1 hour. 1 hour! I don't know how or why, but a delicious yeast dough is possible in this time frame. It's a life changing realization.
I can't say enough how good these are. We store them in an airtight container, and re-toast them in the oven for maximum crisp. And they take less than an hour. An hour! I still can't believe it.
Homemade Rosemary, Sage and Sea Salt Pretzels
Dough adapted from Happyhooligans.ca
Makes 8 Pretzels
Ingredients:
1 package dry, active yeast (or 2 1/4 teaspoons)

2 ½ cups all purpose flour

¼ cup non-gmo vegetable or olive oil

¾ teaspoon dried rosemary (plus a little more for sprinkling on top)

2 tablespoons of baking soda
Directions:
1. Preheat your oven to 450. Combine the yeast, sugar and water in a large bowl, and let it sit for 10 minutes. It should look frothy. Meanwhile, in another bowl combine the flour, sea salt, rosemary, and sage. Drizzle the oil into the flour mixture and stir to combine. The mixture should be crumbly.
2. When the yeast is ready add the flour mixture, and stir to combine (it should be messy). Let the dough sit for 5 minutes.
3. Meanwhile, in a large shallow pot bring the water to a boil. Add the baking soda, and turn the mixture down to a simmer.
4. Spray a baking sheet with oil spray, and set aside. Pour the dough onto a floured surface, and knead until it just comes together into a ball. Cut the ball into 8 equal pieces. Take a piece and roll it into a 16-18 inch long rope. Shape the rope into a pretzel-y shape. Repeat with the rest of the dough pieces.
5. Place the pretzels two at a time into the simmering water, and allow them to slightly puff up (about 45-60 seconds). Using a
fry ladle (or tongs)
transfer the simmered pretzels to the prepared baking sheet. Repeat with the remaining pretzels.
6. Brush the pretzels with a little bit of non-dairy milk or oil, and sprinkle with the flaked sea salt and a little rosemary. Bake for 15 minutes or until deeply browned. Not burned! Just browned.
Let's be friends! Follow HV on Facebook, Google+, Pinterest, Bloglovin', and Instagram! You can also get House Vegan posts delivered right to your inbox by clicking here!