Disclaimer: I am in no way affiliated with Graze nor did they contact me, compensate me, or supply me with anything. I only wish I had those connections! This review is all me 🙂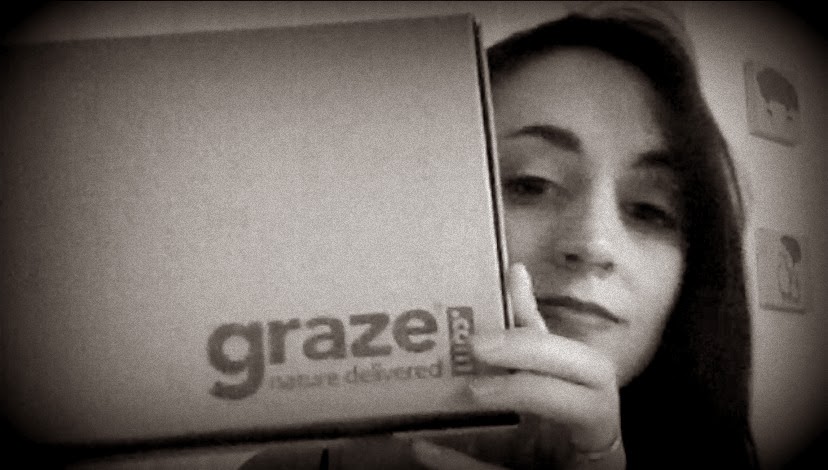 Don't mind if I do!
Have you heard of Graze subscription boxes? They're subscription boxes filled with four portioned out snacks. The snacks vary from dried fruit and nut mixes to dippers to crackers to you-name-its. It's not a vegan company, but they have a ton of vegan options. You can even go through their huge selection of offerings and select the snacks you'd like to try or trash. This is great for those of us with dietary requirements. I never have to worry about receiving something I won't eat.
After you try a snack in your box you can go to the Graze website to rate it. If you love something they'll send it to you often. If you like something you'll get it sometimes. If you hate something you can trash it. It's a great system.
I've received two Graze boxes so far, and I'm really loving them. Regularly getting a package of snacks in the mail is pretty much the best ever if – like me – you love eating.
First Box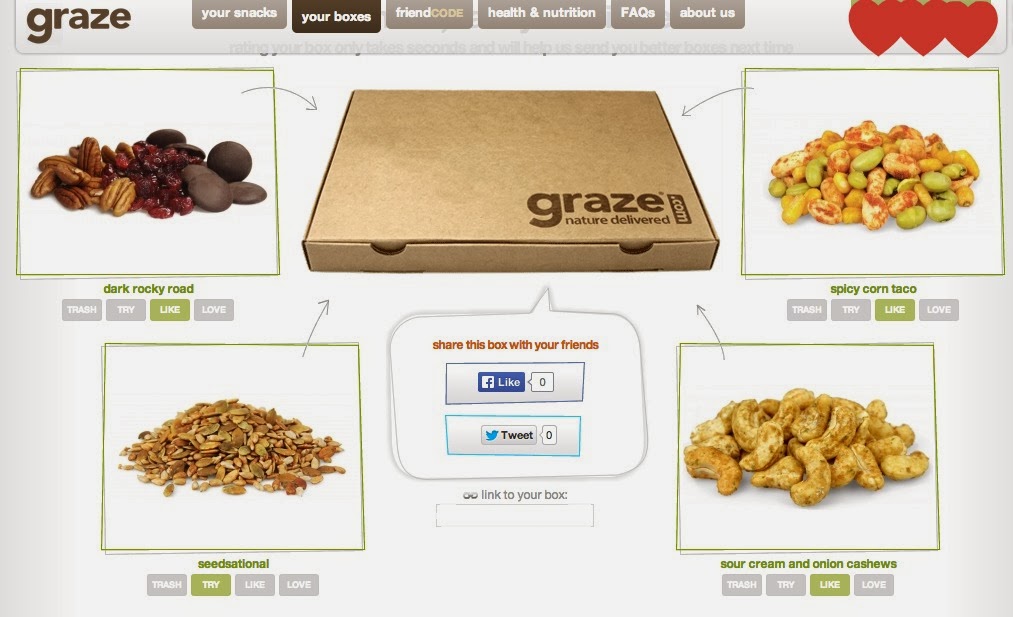 This image does not reflect my actual ratings.
Dark Rocky Road: pecan nuts, dark chocolate buttons and cranberries

Verdict: LOVE. The chocolate buttons are huge and a great compliment to pecans and cranberries.

Spicy Corn Taco: hot chili peanuts, edamame beans and roasted corn

Verdict: LOVE. I love it when people say spicy, and really mean spicy! I haven't had a corn nut since I was a kid, and they're just as delicious as I remember.

Seedsational: roasted pumpkin and sunflower seeds with soy sauce

Verdict: TRY. I left this one on "Try" because I wouldn't mind getting it again, but not often. It was a yummy little seed mix, but nothing special.

Sour Cream and Onion Cashews

Verdict: LOVE. Vegan sour cream and onion cashews?? Of course it was love at first taste.
Second Box
This image does not reflect my actual ratings.
Graze's Chocolate Orange: roasted hazelnuts, orange infused raisins and dark chocolate buttons

Verdict: LIKE. Graze's infused raisins are off the hook. They're really plump and yummy.

Crackling Black Pepper Cashews: black pepper cashews, roasted unsalted cashews and redskin peanuts

Verdict: LIKE. The black pepper cashews were really yummy!

Cherry Pie: cherry infused raisins, cranberries, almonds

Verdict: LOVE. Seriously, the infused raisins are really really good. This combo was delicious, and I wish I could keep a bucket of it in my pantry.

Korean Chili Rice Crackers: spicy chili rice crackers

Verdict: LOVE. They tasted exactly how they sound! What's not to love?
I'm really impressed with the snacks so far, and I can't wait for my next box. This is the first subscription box I've ever done, and what really pulled me in was how inexpensive and easy they are to get. Check it out:
How to subscribe: By invite! Graze subscribers with FriendCodes can provide invites to anyone not already subscribed. I'm providing mine below 🙂
Free Boxes, Ya'll: The 1st and 5th boxes are free if you use an invite.
How much when not free: $6/box. Shipping is included!
When: Boxes come every 2 weeks. You can also choose to receive them every four weeks, or in some cases every week. 2 weeks is the standard.
Perks: The 1st and 5th boxes are free, and you get a $1 credit for every person that signs up using your FriendCode.
If you're interested in trying Graze use my FriendCode: TGGPM4J2P or
click here
for your invite. Let me know how you like it!