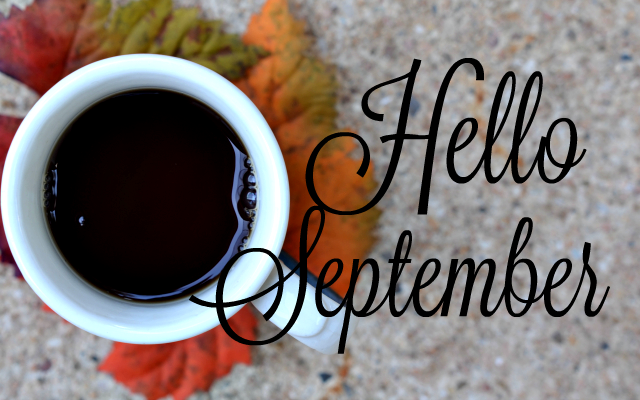 Happy September, friends! It's that time of year again – the time when I talk about fall, fall foods, and fall planning non-stop. I am so ready to bring you homey cozy recipes and tips to make this season as wonderful as it should be.
If you're new here, let me catch you up: two years ago I wrote an eBook called House Vegan: Fall FoMo No More. It is designed

to help fall lovers achieve their ultimate fall goals through organizing, list making, and realistic expectations. I truly believe that an amazing season

is just a few checklists away.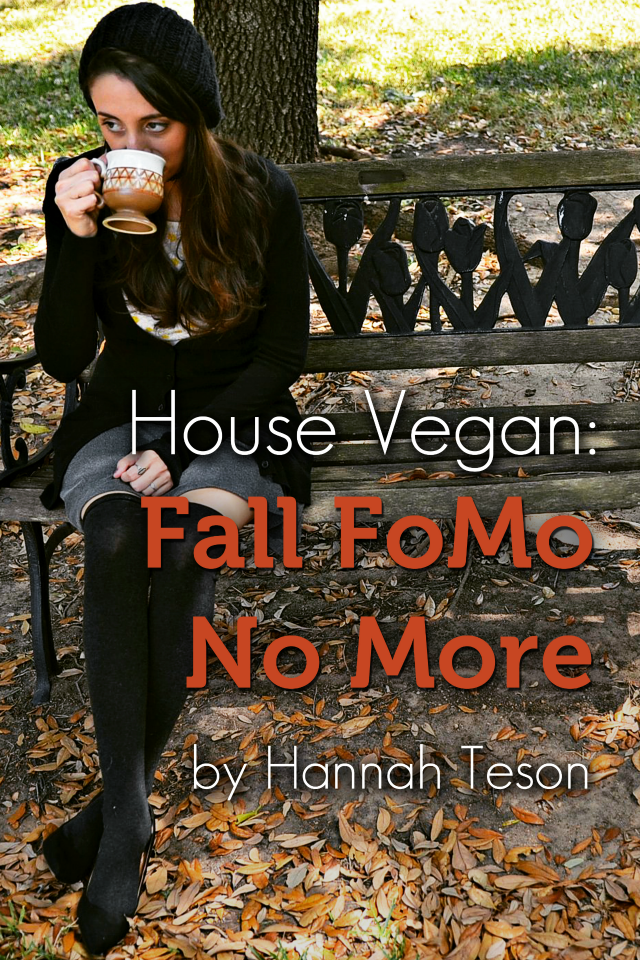 It is because I'm such a believer in checklists that I'm thrilled to offer three different sets of FREE fall planner printables! All you have to do is download whatever set inspires you, print the pages out, and get your plan on.It is absolutely possible to eliminate Fall FoMo, and these printables will get you well on your way.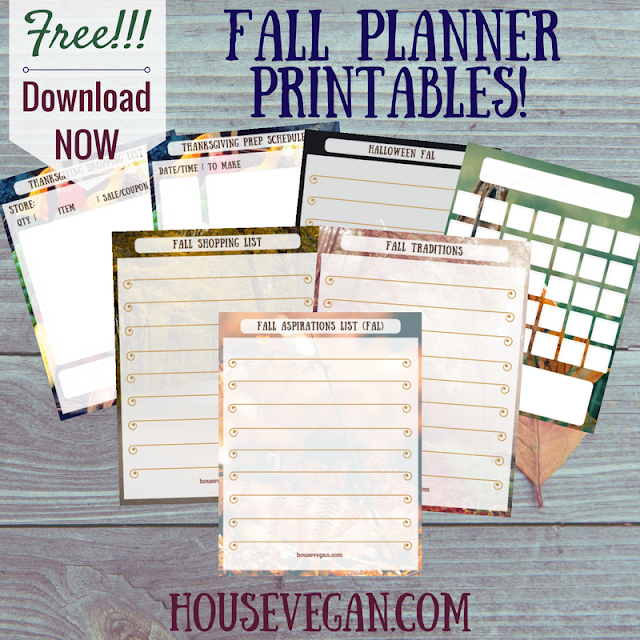 Visions of Fall
Simple Fall Planner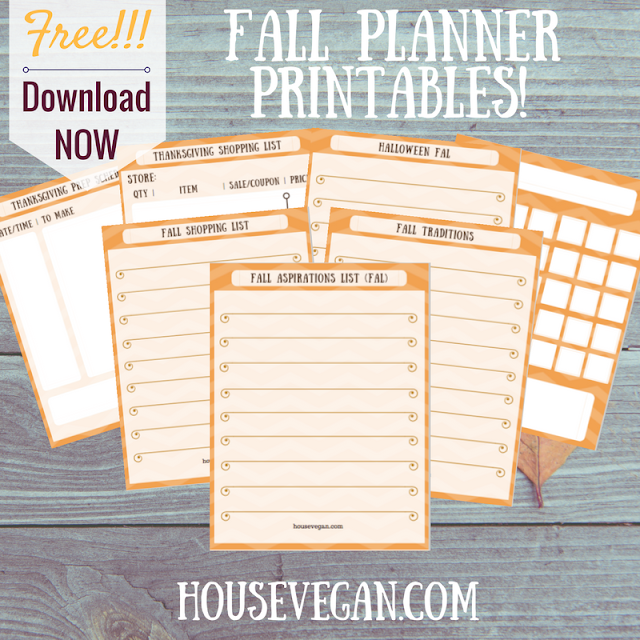 Fall Planner: Chevron
While they are designed to be used with House Vegan: Fall FoMo No More, the book is not required. These planner pages are free for everybody, easy to use, and include the following pages:
Here you can write down your fall traditions to reflect on the ones you love and which ones you might want to rethink.
Fall Aspirations List (FAL)
This is where all the magic happens. This is where you write down everything you want to do this fall (more info here).
Just like the original FAL, but for your Halloween plans.
You can use this page to write down all the ingredients, craft supplies, clothes, decor, etc. you're going to need this fall. This will help you budget well for your fall while ensuring that you don't forget to pick up what you need.
Fact: Fall is the best time for cooking because it has the greatest seasonal flavors. A cooking schedule will help keep your cooking projects organized.
Thanksgiving Prep Schedule
Thanksgiving is not a time for winging it, y'all. This page allows you to organize dates and times for what you need to prepare.
Thanksgiving Shopping List
Organizing is key to a successful and affordable Thanksgiving. Use this page to track what you need to buy, how much it costs, and if there are any sales or coupons available.
______
I've had Fall FoMo since June, so I'm beyond ready to get to planning. If you're ready too, download your favorite design to get started:
House Vegan: Fall FoMo No More $5.99
? 15+ cozy and
delicious fall-inspired recipes
? Helpful tips to make this your best fall yet
? Step-by-step instructions to ensure that you don't miss out on any of your favorite fall activities or pastimes
? Guides to celebrating Halloween and Thanksgiving the vegan way
? Extra special bonus recipes for bath and kitchen products
?

Immediate download

on Amazon Kindle or

in a PDF, ePub, or

mobi

format on Gumroad!

If you have any questions, comment below, send me an email or find me on Facebook or IG: @housevegan. If you take any pictures of your fall planning use #hvfallfomo to be featured!
Let's be friends! Follow HV on

Twitter, Facebook, Pinterest

,

Bloglovin'

&

Instagram