Before telling you about this
Dairy-Free Drunken Cashew Queso
we gotta go to that good ol' disclaimer: Housevegan.com is a participant in the Amazon Services LLC Associates Program, an affiliate advertising program designed to provide a means for sites to earn advertising fees by advertising and linking to Amazon.com. This post contains Amazon affiliate links.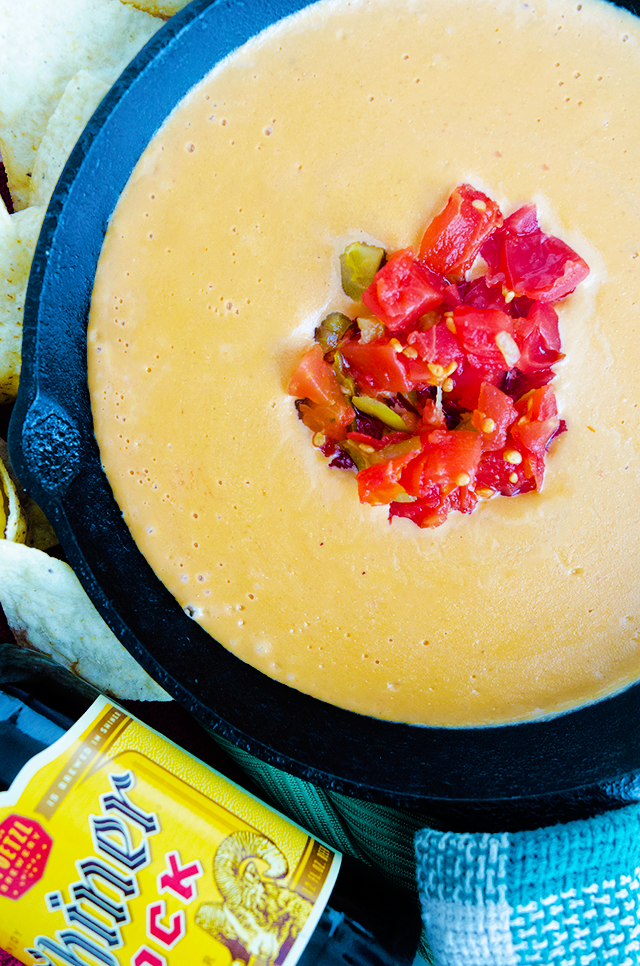 Oooh boy! I know this is a bit luxurious for a Monday afternoon, but couldn't you just dive into this skillet of rich, creamy, cheesy, beery queso?
The Big Game is this weekend, and we already have football food on our minds over here. My husband and I watched vegan junk food cooking videos on Youtube last night, and I think that we were both pretending that our lentil-based dinner was pizza. This weekend is going to be so busy for us what with packing and all (!!!) so I'm not sure that we'll even be able to watch the game. However, that won't stop us from frying things, dipping things, and drinking things. This is the last bit of football until fall, and we gotta do what we gotta do.
I love football food not only because it's delicious, but universal. You can "watch" football with your friends and family, but really only be there for the food. My first adult year of "watching" football with my husband was really just me eating and drinking while he yelled at the tv. It worked for us, and it was always fun. (And now I love football!)
It may be hard to imagine classic football foods made without meat or cheese, but it's not only doable, it's delicious for everyone. Seriously, not just vegans. Why? Because the indulgent qualities that make football food so appetizing like fattiness, spiciness, and richness are not reserved for meat and dairy – they're just as easy to achieve in plant-based foods.
This is why I'm never nervous about presenting dishes like cashew queso to non-vegans. They always always love it.
This recipe for Dairy-Free Drunken Cashew Queso is easy to make, and different enough from other cashew-quesos that it's worth trying. Unlike my Loaded Cashew Queso or Chili Con Cashew Queso, this dip is a little bit sweet thanks to the beer. And the beer isn't just for show, y'all. It imparts a flavor that makes this dish unique and oh so tasty. One batch served just me and my husband, and we ate it up ridiculously fast. Double up if you're sharing with a group!
I put together this recipe to go on some very special nachos that I'll be publishing this week. And incredibly, this amazing Drunken Cashew Queso is not even the best feature of the upcoming nacho recipe. That's right, there's something bigger, better, and more exciting in those nachos, and I promise you don't want to miss it – especially if you're planning to make some nachos for non-vegans.
Mentioned in this post and recipe:
Dairy-Free Drunken Cashew Queso
by Hannah Teson Jan 30 2017
1 10 ounce can diced tomatoes with chilies (like Ro-tel)

1 cup beer (nothing flavored, no stouts, no porters)

1 cup raw cashew pieces (must be raw, not roasted or salted)

3 tablespoons nutritional yeast

1 teaspoon salt

1/4 teaspoon garlic powder

2 teaspoons yellow mustard
1. Using a blender, blend 1/2 a cup of the tomatoes with chilies with the beer. Be careful because the beer will froth. If you're using an immersion blender make sure you're using a large blending cup. Set this mixture aside.
2. In a nut grinder or cleaned out coffee grinder, grind the cashews into a soft powder. Not too much, or you'll make cashew butter.
3. In a saucepan whisk together the cashew powder, nutritional yeast, salt, garlic powder, and tomato/beer mixture. Place the saucepan over medium heat, and whisk continuously until the mixture is thick and saucy like queso. Take the mixture off of the heat, and whisk in the mustard.
4. Using an immersion blender (or regular blender with the lid ajar so it doesn't explode), blend the queso until smooth. I do this because my grinder doesn't make a fine enough cashew powder to avoid graininess. If your queso isn't grainy then feel free to skip this step.
5. Add the remaining tomatoes with chilies to the Dairy-Free Drunken Cashew Queso, and return the dip to the stove over low heat to warm it up. Serve warm with tortilla chips.