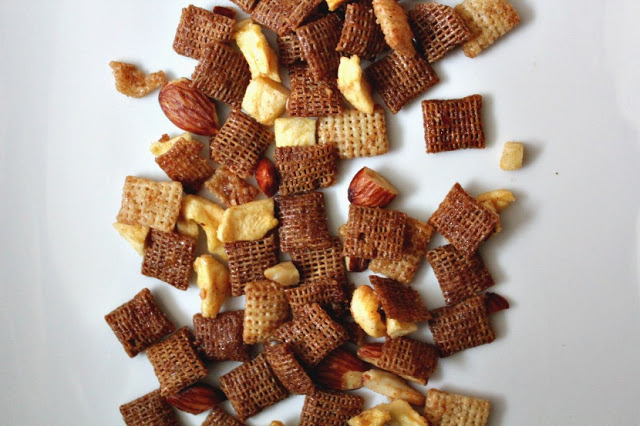 EDIT 10/2014: Since publishing this post it has come to my attention that Chex cereals are not vegan. There are lots of Chex like cereals out there that are vegan and would make a fine replacement.
I'm so excited to share this recipe for Cinnamon Apple Chex Mix! Chex Mix is quintessential Fall food for me so making a cinnamon apple version was a no-brainer.
I'll admit that I got this recipe right off a box of chex, but I did change a few ingredients to make it vegan and simple. If you haven't been able to get into the Fall spirit, these can definitely help!
5 cups chex like cereal (I used about 4 cups wheat and 1 cup rice)

1 cup almonds, lightly chopped (leave big chunks)

1/4 cup Earth Balance Natural Buttery Spread

1/3 cup packed brown sugar

2 tablespoon Bee Free Honee or agave nectar

1 teaspoon ground cinnamon

1 cup apple chips, chopped
1
. Preheat oven to 300 degrees. In a large bowl combine the chex and almonds. Set aside.
2. In a small saucepan over medium heat, combine the Earth Balance, sugar, Honee, and cinnamon. Stir constantly until it just comes to a boil. Remove from the heat.
3. Pour the sugar mixture over the chex and carefully stir to mix. Pour the chex mix over onto a lightly greased baking pan and spread it out completely.
4. Bake the chex mix for 30 minutes, stirring half way through (after 15 minutes).
5. Mix in the apple chips and bake for an additional 15 minutes.
6. Remove the mix from the oven and let it sit for at least 30-40 minutes before digging in. It takes a while to cool, and being burned by hot sugar is not fun!
7. Store in an airtight container.