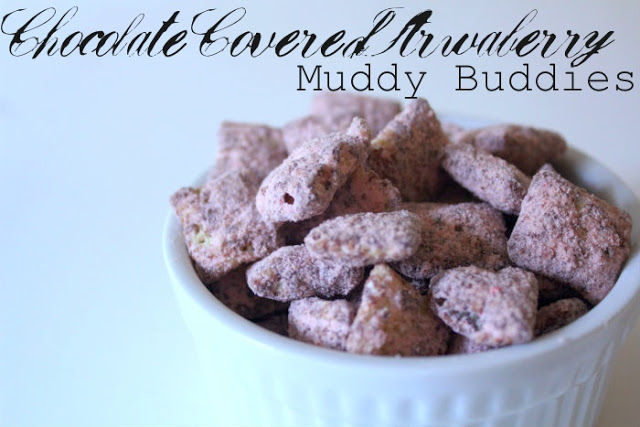 A romantic and Valentine's Day inspired take on Muddy Buddies!
Chocolate Covered Strawberry Muddy Buddies
Recipe adapted from Strawberry Cupcake Puppy Chow from Cookinfood.com
Ingredients
4 1/2 cups rice chex

2 Tablespoons Organic Earth Balance

3/4 cup chocolate chips

1/2 teaspoon vanilla

1 cup strawberry cake mix (Duncan Hines Strawberry Supreme is vegan*)

1/2 cup powdered sugar
1.In a saucepan over low heat, melt the margarine and chocolate chips. Remove the pan from the heat and stir in the vanilla extract.
2. Pour the chex in a paper bag. Pour the melted chocolate over the chex, seal the bag and shake shake shake to coat.
3. Pour the cake mix and powdered sugar over the chocolate coated chex and shake shake shake to coat again.
4.
Pour your Chocolate Covered Strawberry Muddy Buddies in a bowl and try not to eat them all. And then promise yourself that you'll only make these once a year because they're highly addictive and extremely bad for you.
5. If you get around to storing these, store them in an airtight container.
*Here's an article regarding the vegan cred of Duncan Hines' cake mixes.
Shared
Saturday: Get Schooled Saturday, Sweet Saturday
Sunday:
Linky Party Sundays @ Petite Hermine
Wednesday:
Whimsy Wednesday