Before telling you about these
Berry Yummy Red, White, and Blue Muddy Buddies
we gotta go to that good ol' disclaimer: Housevegan.com is a participant in the Amazon Services LLC Associates Program, an affiliate advertising program designed to provide a means for sites to earn advertising fees by advertising and linking to Amazon.com. This post contains Amazon affiliate links.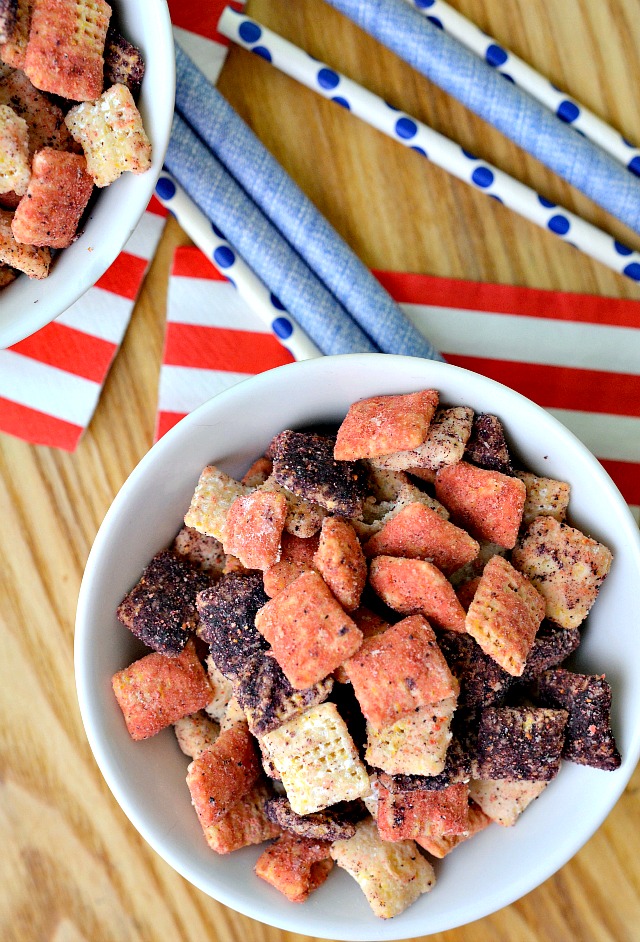 Don't you just love muddy buddies? I usually reserve them for Fall and Winter, but after seeing versions of this patriotic variety all over Pinterest I decided to make an exception. My Red, White, and Blue Muddy Buddies are vegan, and contain no artificial coloring. Dehydrated fruit is this recipe's secret to July 4th colors.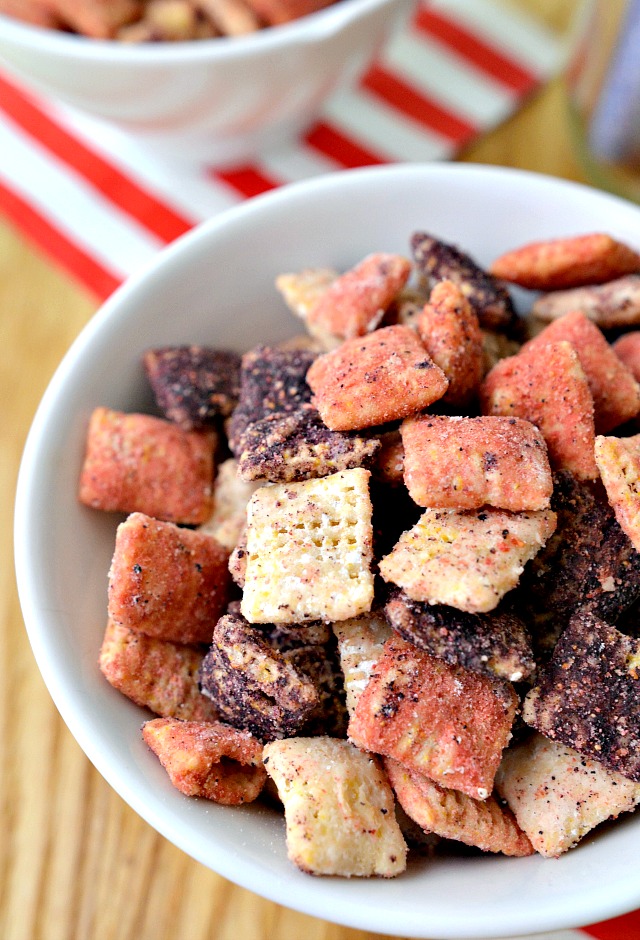 I'm a big fan of cooking for holidays, and these are really easy compared to other 4th of July foods. They're made similarly to traditional muddy buddies, but with just a few tweaks. For starters, I used cashew butter instead of peanut butter. Cashew butter has a milder, sweeter taste that can blend into the background for other flavors to shine.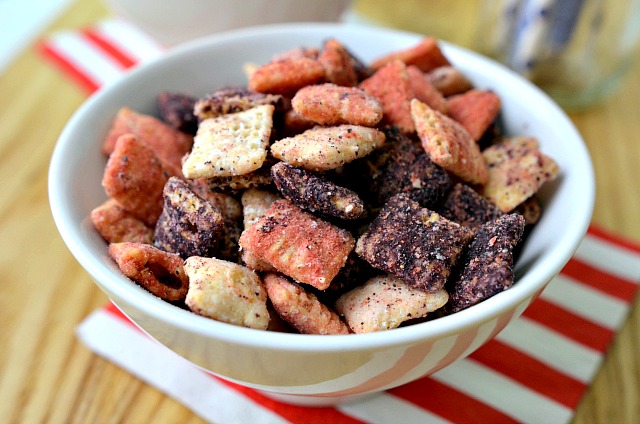 Since I wanted these to be red, white, and blue I used dairy free white chocolate chips instead of semisweet chocolate chips. They were perfect for binding the cereal together while keeping everything light in color.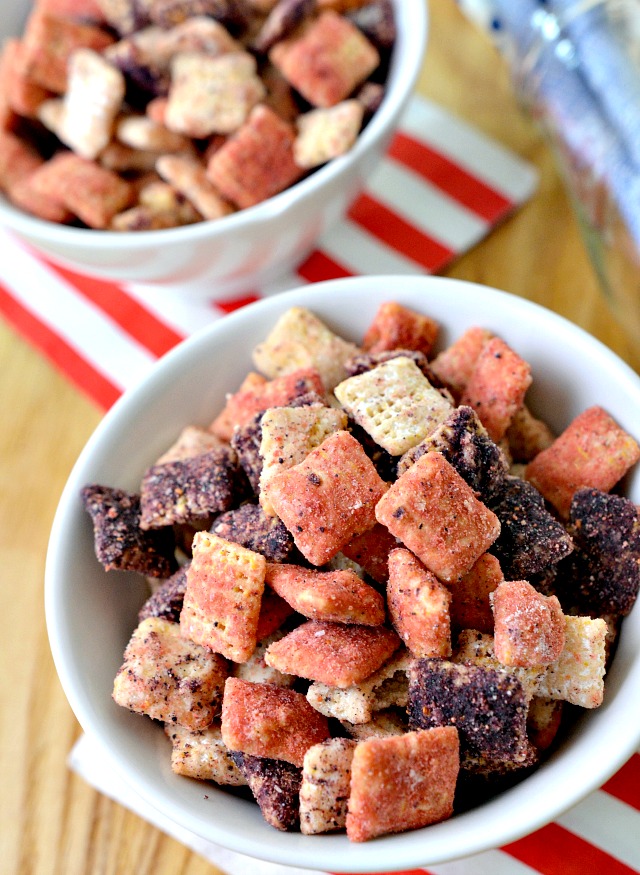 The last big change I made was lowering the powdered sugar, and adding powdered dehydrated berries. To do this I bought bags of dehydrated fruit at Trader Joes, and powdered them myself using a cleaned out coffee grinder. Easy peasy.
I just love the way these Muddy Buddies taste. They have a tangy fresh and fruity quality that is balanced by the sweetness of the sugar and white chocolate. Here's to seeing if I don't eat them all before July 4th!
Just a quick warning: this recipe requires a lot of bowls!
Mentioned in this recipe and post:
Berry Yummy Red, White, and Blue Muddy Buddies
Ingredients:
1 1/2 cups dehydrated strawberries

1 cup dehydrated blueberries (or a 1.2 oz bag)

1 1/4 cups powdered sugar

9 cups chex like cereal

1 cup vegan

white chocolate chips

1/2 cup

cashew butter

1/4 cup Earth Balance Buttery Spread

1 teaspoon vanilla extract
Directions:
1. Pour 3 cups of cereal into three separate large bowls, and set them aside.
2. Clean out your coffee or nut grinder. Grind the strawberries into a powder (in batches if need be), and pour the powder into a regular sized bowl. Wipe the grinder down as best as you can with a dry paper towel. Don't worry if there's some strawberry powder left behind. Repeat with the blueberries, and pour them into a separate bowl.
3. Add 1/4 cup of powdered sugar to the powdered blueberries, and another 1/4 cup
of powdered sugar
to the powdered strawberries. Set these aside.
4. In a small saucepan over low heat, melt the Earth Balance and cashew butter. Mix in the white chocolate chips and stir until they're melted and combined. Take the mixture off the heat and stir in the vanilla.
5. Evenly distribute the chocolate mixture among the three bowls of cereal. Using a flexible spatula carefully stir to completely coat the cereal.
6.
Add half a cup of plain powdered sugar to the first bowl of cereal and stir to coat. I actually use my hands for this. It makes it a lot easier! Rinse your hands and repeat with the blueberry sugar in one cereal bowl, and the strawberry sugar in the other. Wash your hands/spatula between each batch.
7.
Pour all of the cereals into one giant bowl, and mix them all together. Serve.
8. Store your muddy buddies in an airtight container at room temperature or in the fridge. It'll last a bit longer in the fridge, and they taste good cold.
Shared to:
Pin it!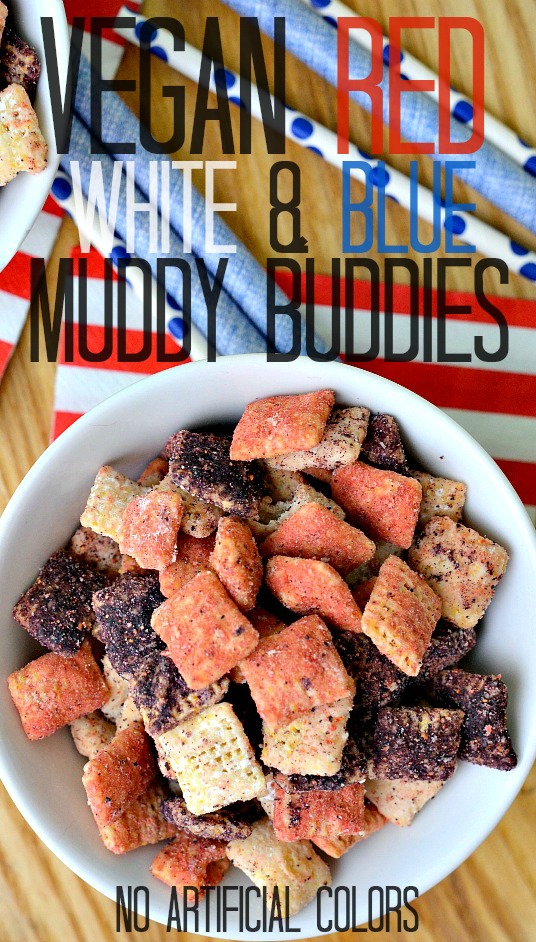 Let's be friends! Follow HV on Facebook, Google+, Pinterest, Bloglovin', and Instagram! You can also get House Vegan posts delivered right to your inbox by clicking here!