Before telling you about this Beauty and the Beast Inspired Blueberry Face and Body Mask & Strawberry Vanilla Sugar Scrub we gotta go to that good ol' disclaimer: Housevegan.com is a participant in the Amazon Services LLC Associates Program, an affiliate advertising program designed to provide a means for sites to earn advertising fees by advertising and linking to Amazon.com. This post contains Amazon affiliate links.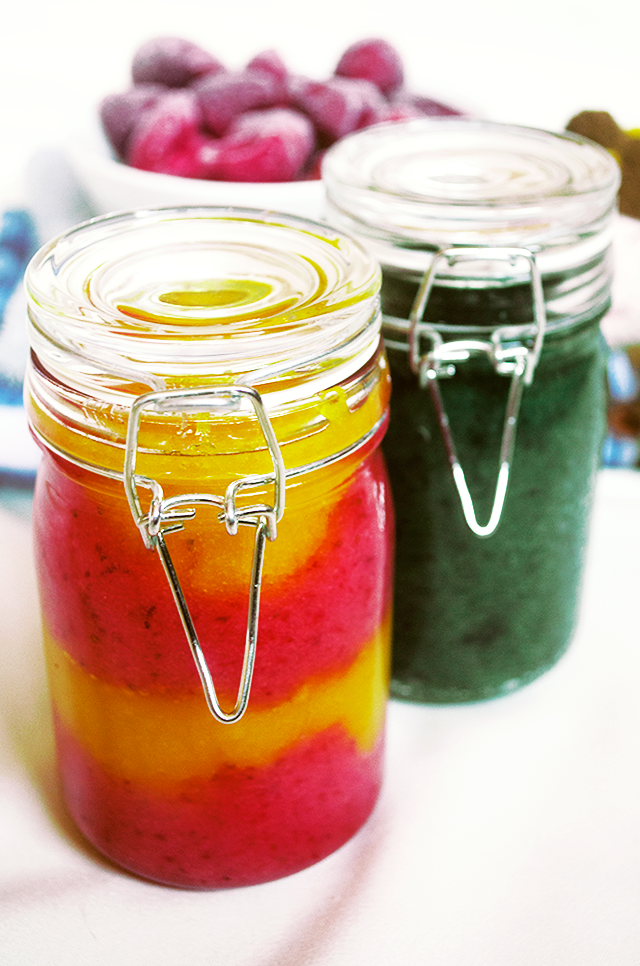 I am SO EXCITED for the new Beauty and the Beast movie, you guys! I'm honestly so behind on Disney's modern live action remakes – I've only seen The Jungle Book, but it was so good that I can't believe I've missed the others.
It's just hard to make time for movies, you know?
I'm all up on this one, though. It looks absolutely beautiful with those dark blues and that old-world Fantasyland castle. I'm mean lookit:
So yeah, I'm excited. And you know me, when I'm excited I like to create fun recipes to celebrate. Today I've got two Beauty and the Beast recipes to share with you, but not for food – for skin care.
You could say that these Disney DIYs will take you from a beast to a….(humor me and wait for it)……beauty
?
?
I'd see myself out, but this is my website.
For the Beauty and the Beast premiere, I thought some color-coordinated skincare would be an excellent way to get even more in the spirit of the occasion. Maybe I'm super smart or maybe I'm a dork. Either way, I'm loving these products!
First, we have a Blueberry and Black Tea Face and Body Mask inspired by those beautiful blues draped over the Beast. This mask is thick, gently exfoliating, and filled with real blueberries – a fruit known to be excellent for the skin.
If you've never used a body mask, it's just like a face mask but for all over. I like to put my hair up, slather it on, and let it sit for about five minutes while I prepare my shower. I don't do my whole body at once because that would just have me standing there covered in goo from head to toe. I like to split it up, but you do you.
Next, we have a Strawberry Vanilla Sugar Scrub inspired by Belle's classic yellow and red color scheme. I am OBSESSING over this scrub right now, y'all.

In my post for my Coffee and Donuts Themed Beauty Routine I talked about how I'm done with oily body scrubs, and I meant it. They're messy, slippery, and just not for me. This aloe-based sugar scrub is the total opposite of that nonsense. It's soft and easy to use without leaving a gross residue all over the place.
On top of that, this low-oil scrub is my softest, most effective sugar scrub yet. It also smells so incredible – like a bowl of fresh strawberries topped with vanilla whipped cream. You'll just want to dive into it.
Because it's not enough to just make my own DIYs in anticipation, I've also been stalking other people's projects. I have so many bookmarked for later, but let's be real, what am I going to do with a whole bunch of Beauty and the Beast stuff? I mean, it's not even my favorite Disney storyline, I'm just a freak.
Are you crafty? Check out these other Beauty and the Beast DIYs that I'm loving right now. Maybe you'll find a fun weekend project to do after seeing the film. I still kind of want to make those mugs, not gonna lie.
Have you seen Beauty and the Beast yet? Are you going to? My husband has a business trip next weekend, but I want us to go soon after he gets back. Years of being behind on movies has made me really patient so I know I can wait!
Mentioned in This Post and Recipe:
Blueberry and Black Tea Face and Body Mask
1 1/2 cups blueberries

1/4 cup oat flour

1/4 cup almond flour

2 tablespoons cornstarch

2 tablespoons baking soda

1 teaspoon loose dried black tea (ground)
Instructions
1. In a cleaned out coffee grinder grind the tea into a powder.
2. In a blender or food processor blend the blueberries until smooth. Mostly smooth is fine however they should be really juicey and watery.
3. In a mixing bowl mix together the oat flour, almond flour, cornstarch, baking soda, and ground tea.
4. Pour the blueberries into the flour mixture, and stir to combine. Place the bowl in the fridge to settle. Once the baking soda calms down the mixture will shrink. If it's too thick at that point feel free to thin it out a little with water. Otherwise store your face and body mask in an airtight container, and store it in the fridge for up to 2 weeks.
To use: Slather on your skin in a thin layer, and allow it to set until it begins to dry, about 5 – 10 minutes.
Strawberry Vanilla Sugar Scrub
3 cups granulated sugar

1/2 cup strawberries

3 tablespoons aloe vera gel

2 teaspoons oil (jojoba, almond, and olive would all work)

1 tablespoon vanilla extract

vegetable based yellow and red food coloring (optional)
Instructions
1. Pull out two mixing bowls, and pour 1 1/2 cups of sugar into each.
2.
In a blender or food processor blend the strawberries until they're smooth. Mostly smooth is fine. Add 2 tablespoons of the aloe vera gel and 1 teaspoon of oil, and blend until smooth. Add this mixture and a few drops of red food coloring (if using) to one of the bowls of sugar, and stir to combine.
3. Add the vanilla, remaining aloe vera gel and oil, and a few drops of yellow food coloring (if using) to the second bowl of sugar, and stir to combine.
4. Add the two scented scrubs to the same airtight container alternating between each one.
To use:
In the shower, use your hands to rub the scrub over any part of your body that needs to be exfoliated. Rinse it off with soap and water.
Pin it!