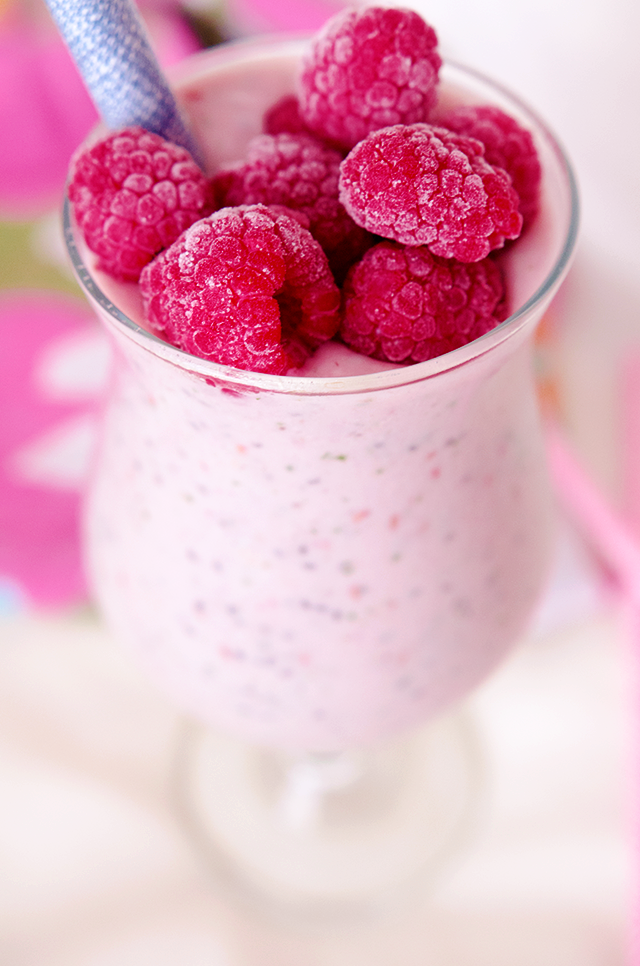 You know those beautiful instagram accounts that are full of bright and colorful smoothies? Yeah, that will never be my IG. While my husband and I do use colorful produce, our smoothies are often one of three colors: brown, beige, or (sometimes) purple. So that's boring.
This recipe is likely one the most beautiful smoothies I've ever made, and it was such a delightful happenstance. I'm lucky to be part of Becky Striepe's blog tour for her gorgeous book, 40 Days of Green Smoothies, and I just sort of put myself down for the smoothie that sounded particularly good to me at that moment. I didn't realize that it was going to be this amazing princess-pink cloud of goodness!
If you're not already familiar with her work, Becky is the vegan food writer and cookbook author behind GlueandGlitter.com. Her recipes are relatable and fun, and this newest book follows suite – as you can see from the official description:
"Kickstart your mornings with this 40 day program designed to develop your green smoothie habit! The ingredients aren't always what you'd expect – discover how avocado can help make a smoothie creamy and how chocolate can turn it into a decadent yet healthy treat."
Like I said, our smoothies are usually brown or beige so we could use something like Becky's book in our lives.
It isn't that we don't like smoothies. We love smoothies! However, we usually only have them after we workout so they become an afterthought. This needs to change because let's be real, a smoothie is the easiest way to get in your fruits and veggies.
My husband and I are busy people so if I don't plan our meals well, dinners can end up being carb on carb on carb. We love carbs, but we definitely feel it when we don't eat our veggies. With green smoothies, we could solve this issue even on the busiest days. Like, why have we not been doing this all along?
This smoothie is perfect, and I love that it's green without actually being green. While there's parsley and chia in there it really just tastes like a raspberry banana cloud. And while my choice was plenty amazing, check out what a few other bloggers have been featuring on this tour:
I can't wait to dive into her other smoothie recipes. It's about time I started making it easier for us to get our produce.
Do you want a copy of Becky's book, 40 Days of Green Smoothies? I'm giving one away! You can win your own PDF or Kindle copy of the book starting now. Here are the details:
Prize includes 1 PDF or Kindle copy of

40 Days of Green Smoothies by Becky Striepe

Open from 1/24/2017 to 2/1/2017 12AM CT

Enter below by leaving a comment telling me your favorite smoothie ingredients. I will choose a winner at random.
Or you could go ahead and buy a copy here if you don't want to wait :).
Banana Berry Fresh Smoothie
1/2 cup frozen banana

1/2 cup frozen raspberries

1-2 tablespoons of fresh parsley

1 tablespoon chia seeds

1/2-1 cup water (as needed, to get things moving)

4 ice cubes
Yield:
1 serving
Reprinted with permission from 40 Days of Green Smoothies, © Becky Striepe