Disclaimer: This post includes Amazon Affiliate links. I only endorse products that I use and love 🙂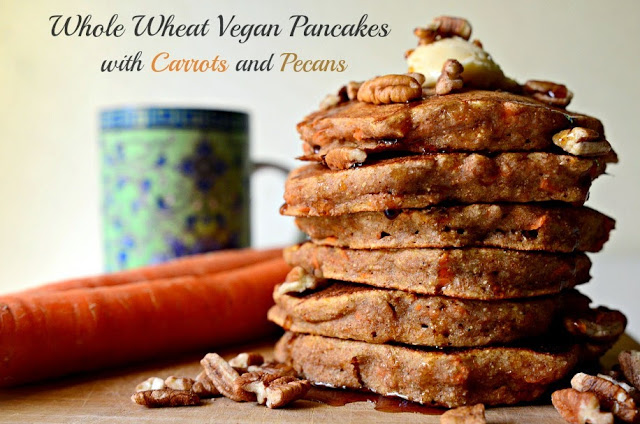 These Whole Wheat Vegan Pancakes with Carrots and Pecans are delicious, and so much better for you than traditional pancakes. They're
whole grain,
low in fat, and chock full of carrots and pecans. And don't they just look like Sunday morning on a plate?

What I love most about these is that they're fluffy. How many times have we all attempted whole wheat pancakes only to be left with dense pucks? No thank you!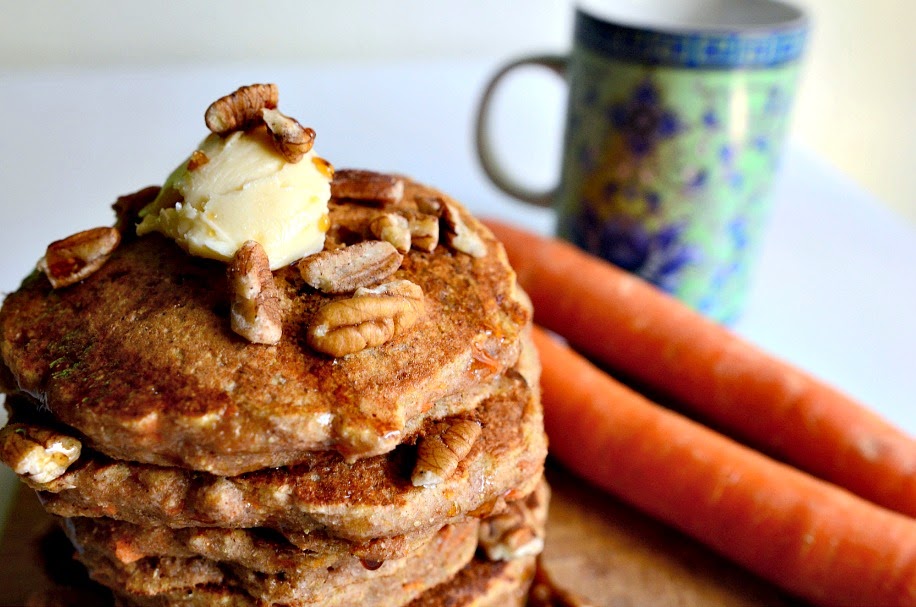 These vegan pancakes are not as cloyingly sweet as pancakes can be so they really feel a touch more sophisticated. Gotta love that.
Whole Wheat Vegan Pancakes with Carrots and Pecans
Ingredients
1 cup non-dairy milk

1 teaspoon apple cider vinegar

1 1/4 cup whole wheat flour

2 teaspoons baking powder

1/2 teaspoon salt

3/4 teaspoon cinnamon

1/2 teaspoon ground ginger

1/4 teaspoon ground allspice

2 tablespoons unsweetened applesauce

1/2 cup water

3 tablespoons Bee-Free Honee, agave nectar or maple syrup

2 teaspoons canola oil

1 teaspoon vanilla extract

1 medium sized carrot, peeled and shredded

1/2 cup pecans, chopped
1. In a medium sized bowl combine the milk and vinegar. Set Aside.
2. In a large bowl combine the flour, baking powder, salt, cinnamon, ginger and allspice.
3. To the milk and vinegar combo stir in the applesauce, water,
Honee
,
canola oil
, and vanilla. Add this to the flour mixture and stir until just combine. Fold in the carrots and pecans.
4. Let the batter sit for at least 5 minutes. While your batter rests preheat a large skillet over medium heat. Just medium! Too hot will cause uneven browning.
5. Spray the skillet with oil (or spread on some Earth Balance to lightly coat the bottom), and pour in 1/4 cup of pancake batter. Flip it when you see the edges of the pancake start to brown. This should take about two minutes. Let it cook for another two minutes on the flipped side. Repeat until you're out of batter.