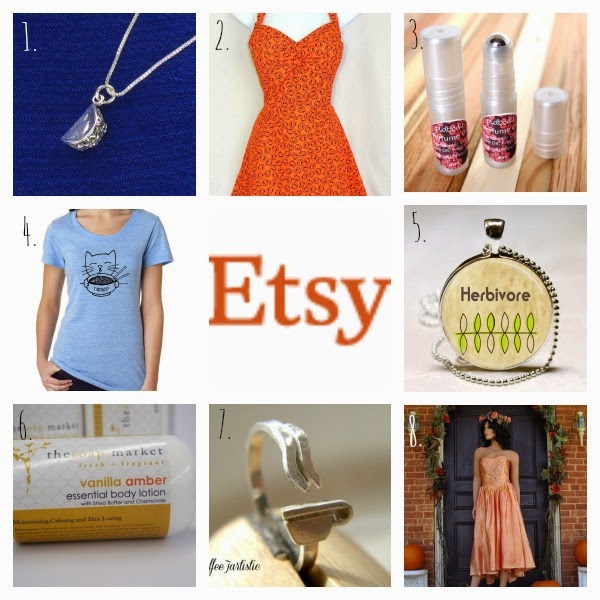 The thing I adore about Etsy is finding shops that sell the specific and weird things I'm into, like Star Trek baby gear and Peter Pan office supplies. Because of that, I love finding people who, like me, like food so much they're willing to wear it (in a manner of speaking).
Here are some food-related Etsy items that I am completely drooling over these days. Clockwise from the left:
1. Taco Necklace from The Classy Cook: I love tacos, and would wear one with pride. The only downside is that I get hungry just thinking about tacos so I don't know how efficient this necklace would be. The upside is that I'd probably eat more tacos.
2. Halloween Pumpkin Dress by Rebecca's Dorky Designs: It's no secret that I love pumpkins, jack o' lanterns, and all things gourd. I don't care how silly this dress is, I would wear it all throughout October. It's too cute!
3. Cinnamon Perfume Oil Roll-On by pldbody: I actually own this roll-on, and I really really love it. It smells like pure cinnamon and the scent lasts a lot longer than I usually expect from oils. Because it smells so strongly it's really nice when paired with a vanilla-y lotion. I'm ordering more as soon as I'm out!
4. Ramen Cat Bowl Shirt by Zing: This adorable shirt combines two of my very favorite things: cats and ramen! Luckily my cats are rarely interested in my ramen when I make it. I want this shirt!
5. Herbivore Necklace from Missing Pieces Studio: I've had my eye on this necklace for a while. It's simple and would let others know right off the bat what I'm all about.
6. Vanilla Amber Lotion by The Soap Market: One wouldn't normally eat amber, but vanilla totally qualifies this vegan lotion. Remember that cinnamon roll-on? I bet it would smell heavenly on top of this scent! I want to order from this company asap. Their products look incredible, and they're all vegan. Gotta love that!
7. Coffee Lovers Ring by CoffeeJArtistic: Can you even get over this ring? It's so cool! I don't have anything that shows off my love for coffee so this gorgeous ring would be perfect.
8. Pumpkin Patch Fairy Costume from TheBohemianGoddess: This pumpkin-inspired dress is so beautiful, it makes me want to go to a Halloween ball! I don't know if I'd wear it is as a costume. I think I would just forego the wings and crown and wear the dress out. What a beautiful Fall formal.
Do you have any Etsy sellers or items that you love? Let me know! I've been perusing the website today in between cooking and Fallifying my house. I've culled my Halloween decor over the last few years, so I mostly decorate with pumpkins. However, I still have a few choice items that come out every year, like my jack o' lantern votive holder and Halloween kitchen towels. I'm a dork through and through.