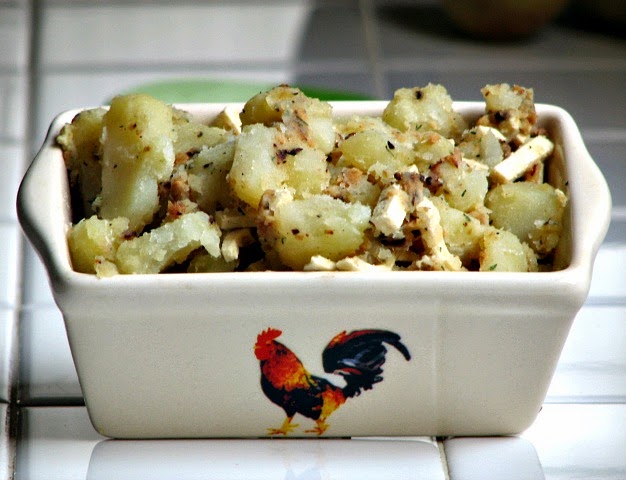 What constitutes a German potato salad? Does it have to be warm? Sans mayo? Made by a German? I don't know. This salad is not warm, but it does not contain mayo and it's made by a German: my Oma. I was totally spoiled as a kid with this salad. To me, potato salad always meant potatoes, bacon, eggs and pickles. I was really turned off when I saw people eating gloopy potato salad with mayonnaise.
I always crave this salad, but with the eggs and bacon, it seemed kind of a pain to veganize. False! It's totally easy. I'm so glad to have this salad back in my life. It's sans gloop and super tasty. Thank God I can finally eat it again. I've felt really left out at family events :-(. Now I can make my own, and show them that a delicious vegan version is totally possible.
It seems like there's a lot to this recipe, but it's just prep work. You can even take some short cuts if you want. Read on:
Oma's Potato Salad
(makes 4 side dish servings)
4 medium sized yukon gold potatoes, peeled, cubed (or sliced) and cooked

1/4 cup TVP bacon bits (recipe follows) or any vegan bacon, chopped and browned

2 oz. salad tofu egg (recipe follows)

2 tsp. olive oil

1/2 tsp. apple cider vinegar

1 tsp. vegetable broth powder dissolved in 2 tsp. water

1 medium sized pickle, small diced

2 tbls. onion, small diced

salt and pepper to taste
1. In a bowl carefully toss together potatoes, "bacon", tofu egg, pickle and onion.
2. Into potato combo drizzle olive oil, vinegar and vegetable broth. Caferfully toss together. If it looks too dry, add a little more oil or vegetable broth. It will be dryer than mayonnaise-y potato salad, but it should stay together when stirred. The consitancy you want is dry, but stuck together. Does that make sense?
3. Salt and pepper to taste. Serve at room temp or cold.
TPV Bacon Bits
(should make about 1/4 cup)
2 Tbls. tvp granules

2 Tbls. hot water

1 1/2 tsp. soy sauce

1/2 tsp. liquid smoke

1/4 tsp. maple syrup

1/4 tsp. rice vinegar
1. Combine tvp and water to rehydrate.
2. Into the tvp, mix in the rest of the ingredients. Combine well!
3. Brown tvp in a cast iron skillet. I just spray with a little bit of canola oil spray and stir often. The bacon only needs to be a little browned so it should only take a few minutes.
Salad Tofu Egg
(if you're like me and miss hard boiled eggs on yo
ur salads)
2 oz firm tofu, only slightly pressed

1/4 tsp. olive oil

1 generous pinch Kala Namak (indian black salt)
1. Cut the tofu in 1 inch long thin strips.
2. Carefully toss with olive oil and black salt
I just want to point out how stellar this recipe is for potlucks and picnics. It doesn't have to be kept cold (no mayo!) and actually tastes better at room temperature.