Before this Silky Vegan Cheese Soup we gotta go to that good ol' disclaimer: Housevegan.com is a participant in the Amazon Services LLC Associates Program, an affiliate advertising program designed to provide a means for sites to earn advertising fees by advertising and linking to Amazon.com. This post contains Amazon affiliate links.
This Silky Vegan Cheese Soup is a food that I've been dreaming of for years. I'm grateful for today's MoFo prompt for inspiring me to finally make it! Today's theme is
Recreate a meal from your childhood.
Despite my aversion to cheese, this soup was my favorite menu item at Schlotzsky's (what used to be a local chain that has since gone national). My mother worked there when I was a baby, so it was an ever-present restaurant in my childhood. Everyone in my family would order sandwiches except for my Mom and me. We always opted for the Wisconsin Cheese Soup served with a few handfuls of saltines.
I'm not sure if Schlotzsky's even sells this soup anymore, but in the 90's I was all about it.
It's been a good 15 years since I've had the OG, but my version tastes exactly as I remember – silky, cheesy, smokey and rich. My husband was weirded out by the idea of cheese soup, but he loved it. Thank goodness, because I want to make it regularly!
Mom, if you're reading: we can finally have cruelty-free cheese soup! Vegan mothers and daughters rejoice!
Mentioned in this post and recipe:
Silky Vegan Cheese Soup
– Makes 6 Servings
1 tablespoon cooking oil

1 medium onion, small diced

1 medium bell pepper, small diced

5.5 ounces vegan bacon, small diced

3/4 cup all-purpose flour

2/3 cup nutritional yeast

3 1/2 – 4 cups vegetarian broth, like vegetable or no-chicken

2 cups unsweetened non-dairy milk (I use Flax)

1 tablespoon mustard

1/2 teaspoon sriracha

salt to taste

coarse black pepper

1 whole scallion, sliced

Saltines (optional)
1. Heat the oil in a large pot, or dutch oven over medium heat. Add the onion, bell pepper, and bacon. Cook the mixture, stirring often until the onion and peppers are softened – about 10 minutes.
2. Add the flour and nutritional yeast to the pot, and stir it into completely coat the vegetable/bacon mixture. Slowly whisk in the 3 1/2 cups of the vegetable broth until it's completely incorporated and is thickening. Whisk in the milk. Turn the soup to low heat, and allow it to simmer for 5-10 minutes, whisking frequently. If it gets too thick, add the remaining broth.
3. Remove the soup from the heat, and whisk in the mustard and sriracha. Taste the soup for salt and pepper, and season it to taste.
4. Serve the soup warm with saltines on the side, topped with scallions.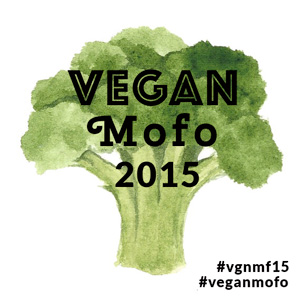 Let's be friends! Follow HV on Facebook, Google+, Pinterest, Bloglovin', and Instagram! You can also get House Vegan posts delivered right to your inbox by clicking here!