Before telling you about these Vegan Rainbow Poptarts we gotta go to that good ol' disclaimer: Housevegan.com is a participant in the Amazon Services LLC Associates Program, an affiliate advertising program designed to provide a means for sites to earn advertising fees by advertising and linking to Amazon.com. This post contains Amazon affiliate links.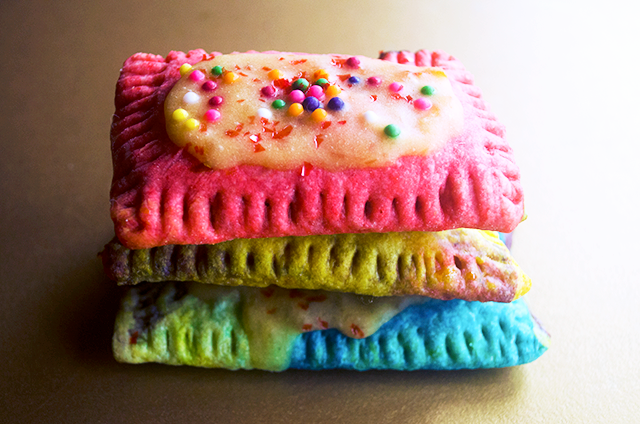 Oh my God, these are SO pretty, you guys. I don't think I've ever made rainbow-inspired food, but now I may be hooked. I want to make rainbow everything.
Every year for St. Patrick's Day I find myself trying to come up with a good recipe that isn't so St. Patrick's Day-ish. While all the green foods are fun and adorable, I've always been much more interested in exploring spring flavors and/or Irish recipes instead Dr. Suessing my meals. I love seeing other people's green treats, but it's never been my thing.
However, this year I couldn't really come up with a recipe that thrilled me. I didn't want to do a whole green meal, Colcannon, Bangers and Mash, etc.. While those are delicious and never really get old, they've been done. So I did that which I normally refuse: I accepted the whimsy. In doing so I kind of went full force, and concluded that I should eat a rainbow. In a manner of speaking…
I'm sure rainbows are a bit of a stretch for St. Patrick's Day food, especially if you choose to ignore the iconic imagery of leprechauns. I mean, they're kind of problematic, right? Did I make that up? All I know is rainbows are never problematic so I'm just letting these babies stand alone.
Do you love rainbows, and want a different but super fun recipe for St. Patrick's Day? Then these beauties are calling to you. Step outside of the box, and celebrate St. Patty's Day in a new way. Rainbow all the things!
I don't have a recipe for you today because these Rainbow Poptarts are made up of several different recipes. Honestly, you could use whatever pie crust and filling you'd like. The real technique is in making them rainbowy. Here's what I did:
For the crust, I made this Coconut Oil Pie Crust from Minimalist Baker.

For the filling, I used plain store-bought apricot jam.

For the icing I used powdered sugar, a little apricot jam, and non-dairy milk.

For the instructions on how to rainbow-ify my vegan poptarts, I used this video from Taste Made. (Warning: not vegan)
For food coloring I used Americolors.

For the sprinkles, I used some from Wilton that I had on hand. I really wanted a new jar of sprinkles, but I found absolutely zero without confectioners glaze. I swear, it's getting more difficult these days. Wilton, can we move on from the bugs, please? It's weird.
What are y'all making for St. Patrick's Day? Anything cute?