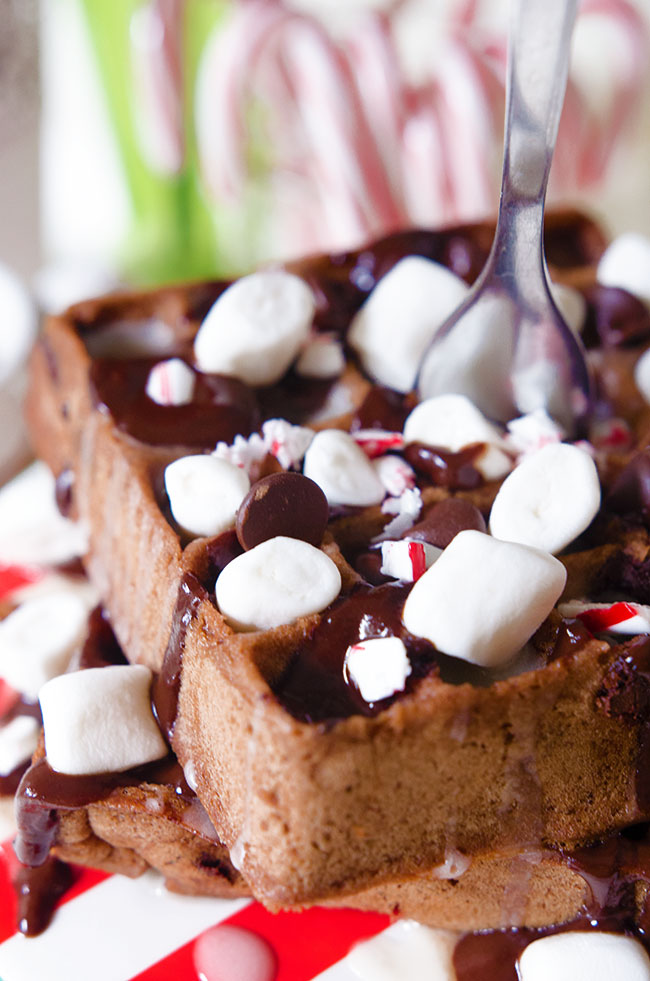 Happy Christmas in July, friends! It certainly has felt like Christmas in July for us. We just got back from a week long vacation in California which included trips to Disneyland and a mountain top resort. Pure magic all around! We also spent a ton of time in LA which is just one of my all time favorite cities. We tried Impossible Burgers at Crossroads, ate produce from the Hollywood Farmer's Market, tried Veggie Grill for the first time, and enjoyed beautiful wine and cats on the Central Coast. Southern California is so invigorating and renewing. Whenever we visit we come home super inspired in food, lifestyle, and health.
Speaking of health, let's talk about this ludicrously unhealthy recipe, Christmas in July, and upcoming seasons.
I adore Christmas in July even if it isn't much of a thing in the states. Last year we went all out by getting into our Christmas decorations, making Christmas cookies, and having friends over to watch Elf and drink Gingerbread White Wine Cocktails. Like, I will never be able to just kind of do something, you know? I'm a go big or go home kind of girl.
We didn't do anything for Christmas in July this year, but I couldn't just let it pass us by. That's where this insane recipe comes in. Let me tell you about these peppermint hot chocolate inspired waffles.
Who was the famous chef that recently said something about how Americans don't eat breakfast, they eat dessert in the morning? This is dessert in the morning 100%. I wanted to make something decadent, over the top, and super reminiscent of Christmas morning. To me, peppermint hot chocolate is one of the most Christmassy flavors in existence.
These Peppermint Hot Chocolate Chip Waffles will transport you to cold mornings, marshmallow covered everything and sweet sticky candy canes. And should you make them around actual Christmas, you'll find that they fit right into those lazy winter mornings that are meant for comfort and happiness.
Listening to Christmas music and writing this post has been a wonderful reminder of the seasons to come. Long time readers know that I've been ready for fall since May, and now those autumn months are just around the corner. Teachers are preparing for back-to-school and craft stores are stocking up on next season's decor. Fall and winter will be here before we know it.
I'm going to enjoy this little bit of Christmas in July, savor the last bits of summer, and get excited about fall here on the blog. I've already started planning fall recipe tests, and let me tell you, it's going to be a delicious season over here on House Vegan. Don't worry though, we still have a few weeks of summer left over here!
Peppermint Hot Chocolate Chip Waffles
Adapted from Chocolate Beer Waffles in Vegan Brunch
Ingredients
Waffles
1 cup soy milk

1 teaspoon apple cider vinegar

1 1/3 cup all-purpose flour

1/3 cup cocoa powder

2 teaspoons baking powder

3/4 teaspoon salt

1/2 cup granulated sugar

3/4 cup unflavored sparkling water

1/4 cup melted vegan butter or margarine

1 teaspoon peppermint extract

1/2 teaspoon vanilla extract

3/4 cup vegan chocolate chips (or chunks)
Vanilla Glaze
1 cup powdered sugar

1 tablespoon nondairy milk

1 teaspoon vanilla
Chocolate Glaze
1/2 cup nondairy milk

1/2 cup chocolate chips

1/4 teaspoon peppermint extract
Optional Toppings
vegan marshmallows (I use Dandies)

crushed candy canes (or red and white peppermints)

extra vegan chocolate chips
Instructions
1. In a medium sized mixing bowl stir together the soy milk and vinegar. Set this aside for later.
2. In a large bowl stir together the
all-purpose flour,
cocoa powder,
baking powder,
and salt.
3. To the vinegar and milk mixture whisk in the sugar,
unflavored sparkling water,
melted vegan butter or margarine,
peppermint extract, and
vanilla extract.
4. Pour the liquid mixture into the flour mixture and whisk until just combined. Stir in the chocolate chips, and preheat your waffle iron.
5. While your waffle iron preheats make your glazes. For the vanilla glaze, whisk together the ingredients in a small bowl. For the chocolate glaze place the nondairy milk and chocolate chips in a small pot over medium heat. Stir continuously until the chocolate is melted. Remove the sauce from the heat, and stir in the peppermint extract.
6. Cook the waffles in your waffle iron according to the manufacturer's directions. Serve the waffles warm, drizzled with the glazes, and (if desired) topped with marshmallows, crushed candy canes (or mints), and chocolate chips.