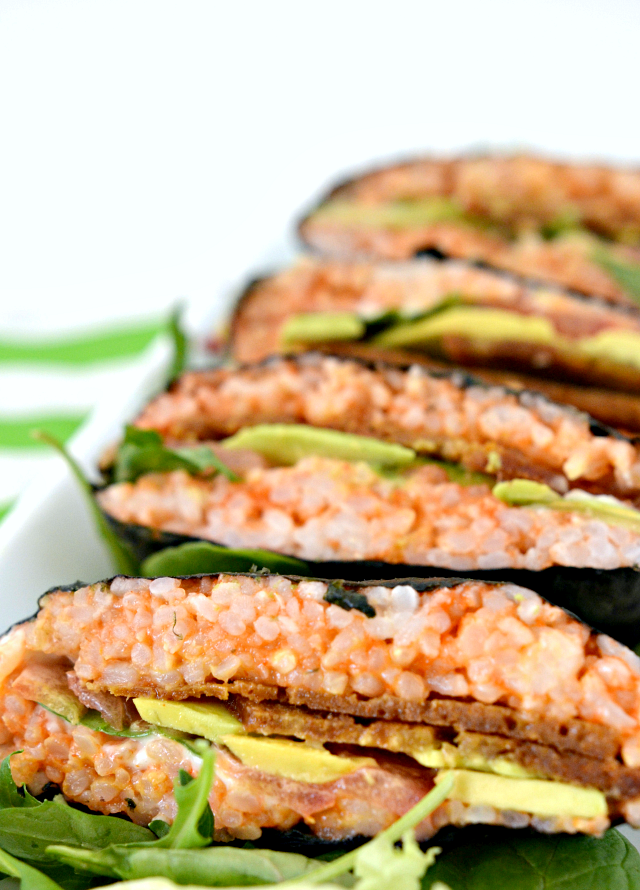 These crazy looking things are vegan onigirazu, a dish that I've been wanting to make for months. Have y'all heard of onigirazu? It's a style of onigiri that apparently became very popular in Japan last year. In case you've never heard of it, onigiri is a Japanese dish made from white rice that is filled (usually with something like umeboshi), formed into a ball or triangle, and often wrapped in nori. Onigirazu is similar to onigiri, but thanks to the way it's built, it's able to hold more filling. Think of it like a nori covered sandwich using rice instead of bread.
Thinking of these things as sandwiches, I decided to doll up a classic American filling in my first
onigirazu. A vegan BLAT (v
egan bacon, lettuce, avocado, and tomato) seemed like it would be basic enough to take on some other flavors, and test the nature of this new-to-me dish. Here's how it went:
I laid out some nori like you do, and scooped about 1/4 cup of sriracha rice into the middle of it. I wet the tips of my fingers with water, and used them to press the rice down into an oblong patty shape. I was going for circular, but what can you do? Then I started in with the fillings. First, a halved slice of homemade vegan bacon (I used this recipe which we thought was excellent) followed by avocado. So far so good.
Next came the tomato, and a handful of lettuce. I used salad greens, but something crunchy like romaine would have been fabulous. Then I topped everything off with Just Mayo for my husband, and a little drizzle of soy sauce. Finally, I scooped another 1/4 cup of rice onto the filling, and again used wet finger tips to pat it down.
Then it was time for the wrapping.
I watched some videos on Youtube of Japanese women wrapping onigirazu, and I noticed that we all seemed to have similarly slender fingers. Naturally, I thought this was going to be rather easy since my fingers were clearly built for wrapping rice efficiently. Well, it turns out that's not a thing because my wrapped onigirazu, and their wrapped onigirazu were not esthetically equal at all. I mean, the end result on my end was tightly wrapped
onigirazu, but they weren't nearly as clean as those in the videos. Honestly though
, I'm confident that I'll get the hang of it. My first sushi roll was crazy looking, but now I can roll like a skilled enthusiast. These will just take some practice. And who's even going to notice, right?
So how did we like our Vegan Sriracha BLAT Onigirazu? We loved them. The sriracha, soy sauce, and nori took the concept of a BLAT somewhere new. The saltiness of the soy sauce nicely seasoned the vegan ingredients while contributing to the wonderful umami quality already present from the tomato. Sriracha added just a bit of kick to the whole dish while the avocado came in with its dreamy creamy texture. As for the onigirazu itself, we loved how much filling we could fit into each one, and how easy they were to eat. It was like lunching on sushi sandwiches.
We officially adore
onigirazu
, and will be making a lot more of them in the future. Imagine all of the spring and summer produce we'll be able to use!
Vegan Sriracha Bacon, Lettuce, Avocado, and Tomato Onigirazu
Makes 4 onigirazu (2 servings)
Ingredients:
2 cups cooked white sushi rice

2 tablespoons sriracha

2 teaspoons vegetable or olive oil

4 thin slices vegan bacon, store bought or homemade

4 sheets of toasted nori

water for patting and brushing

8 very thin slices of tomato

4 very thin slices of avocado, cut in half

1 cup salad greens, or lettuce

soy sauce

4 tablespoons vegan mayonnaise (optional)
Directions:
1. In a small mixing bowl use a rice paddle or fork to combine the sushi rice and sriracha. Set this aside.
2. Heat the oil in a skillet over medium heat. Add the vegan bacon to the oil, and let it cook until it starts to brown, about a minute or two. Using tongs, flip the bacon over, and allow it to cook on the other side until it's browned to your liking. Remove the bacon slices from the pan, and allow them to cool to the touch. Once they're cool, slice each piece in half. Now it's time to assemble your first onigirazu.
3. Lay out your first piece of nori, and add 1/4 cup of the sriracha rice to the middle of it. Wet your finger tips in the water, and use them to pat the rice into a patty shape. Top the rice with 2 bacon halves, 2 slices of tomato, 2 avocado halves, and about 1/4 cup of greens. Drizzle a little soy sauce onto the filling, and top it all with a tablespoon of mayonnaise (if using). Top the fillings with another 1/4 cup of rice, again using wet fingers to pat it down.
4. To soften the nori for folding, brush the exposed seaweed with water. Tightly fold the nori over the rice and filling starting with the corner closest to you. Keep wrapping the rice with the corners of the nori. Use the above image as a guide. O
nce it's wrapped, turn the onigirazu seam side down, and use your hands to shape it into a patty.
5. Repeat steps 3 and 4 to make the rest of the onigirazu. Once they're all done, cut
each
in half and serve.
Pin it!
Let's be friends! Follow HV on

Facebook

,

Google+, Pinterest

,

Bloglovin'

&

Instagram

! You can also get House Vegan posts delivered right to your inbox by clicking

here

!