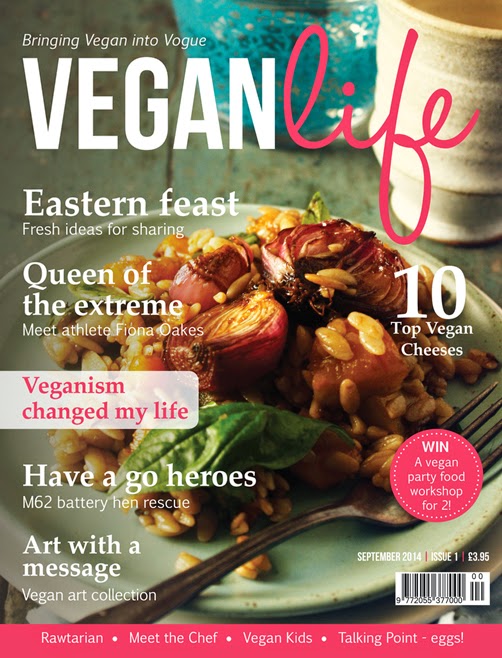 There's a new magazine on the horizon and I'm going to give you quite the preview!
About
Vegan Life is a UK-based magazine whose mission:
"….aims to encompass social, economic, ecological and political considerations to assist in bringing about a change in attitudes by encouraging the adoption of a plant based diet by bringing Vegan into Vogue."
Veganism and plant-based eating are undeniably on the rise, and the demand for more vegan publications is a great testament to that.
With 100 pages available in each issue, Vegan Life is going to be a fantastic way to stay in tuned to the goings on in the vegan world. The magazine promises to showcase the best in vegan cooks, new food, restaurants, recipes, blogs, events, music and art as well as offering information on nutrition and other issues important to the vegan community.
My Thoughts
Based on the preview of the first issue (available

on their website

) I can tell you that I'm very excited to welcome this magazine to the world of vegan press. As an enthusiastic eater, my main interest was in the prevalence of food. The preview did not disappoint. The food photography throughout Vegan Life is gorgeous while the recipes are really impressive.
Follow
In preparation for its release, I highly suggest following Vegan Life on Facebook and Twitter. Their social media presence has been excellent so far with shared news articles, thoughtful images, recipes and adorable animal pics:
Facebook: facebook.com/veganlifemagazine
Twitter: twitter.com/VeganLife_Mag
Subscribe
Vegan Life is an international magazine, and will release 6 issues a year by subscription. The price of a subscription varies based on your location:
UK – £14.50

Europe – £31.42

Rest of the World – £37.30
A digital subscription will also be available starting August 21st. For more information please see subscription details here.
Extra Piece of Cool
Vegan Life is doing something really awesome by including a network of vegan bloggers in their Vegan Blogger Community. By including a blogger presence Vegan Life is
promoting creativity and community through existing blogs in the vegan world. I'm grateful and thrilled to see how this will benefit the community as a whole.
On their website you can see my crazy mug next to a handful of some of my favorite bloggers around. So cool!