Before telling you about this Vegan Drunken Eggnog Dip we gotta go to that good ol' disclaimer: Housevegan.com is a participant in the Amazon Services LLC Associates Program, an affiliate advertising program designed to provide a means for sites to earn advertising fees by advertising and linking to Amazon.com. This post contains Amazon affiliate links.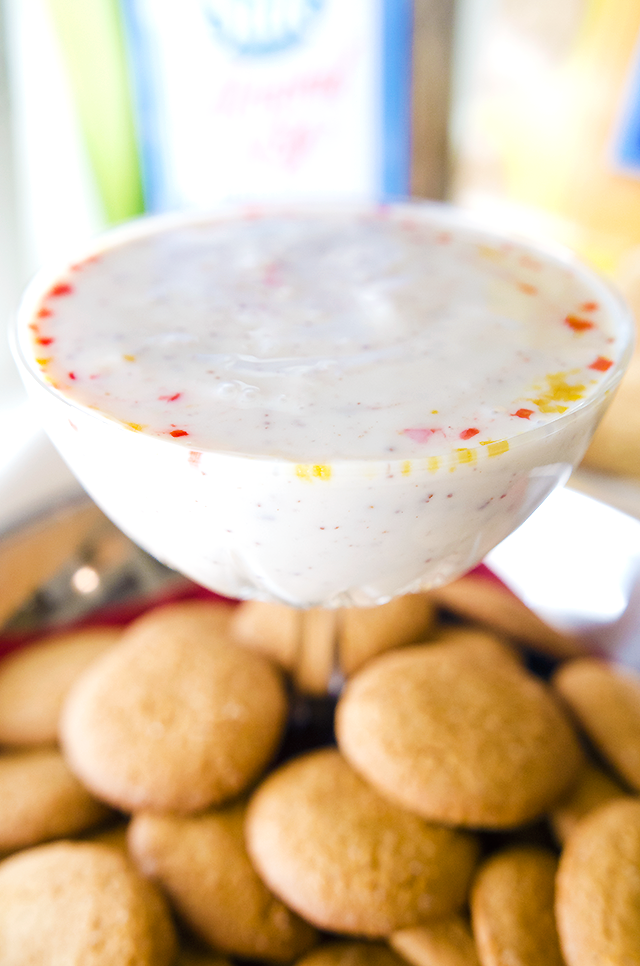 So this is a fun one! Christmas is over, the tree has been put away, the holiday decor has been stored, and my household is ready to move on to January. Which is weird because I usually hate January. It's cold, it's boring, it's dark out. People have to go back to work and school, and it's just all around a bummer. But this year I'm making an effort to love it – to find ways to love the cold, the dark, and the slower (boring) moments. I:
– Bought white flowers for the desk.
– Gave myself a frosty blue mani/pedi
– Made a list of winter movies to watch
– Bought special wax melts specifically for January
– Bought special planner stickers for January
– Planned out some great kitchen and reading projects
– Planned to see some comedy and music. We already saw Louis CK this week, and he was hilarious!
Our January looks pretty fun right? It has been, but it's hard to move on with Christmas stragglers in our kitchen. Like that half carton of eggnog in the fridge. I don't know about y'all but I'm kind of sick of eggnog by now, but I don't want to throw it away (despite my mantra that I'm not a trash can). Enter Vegan Drunken Eggnog Dip.
This eggnog dip is super creamy and comes together quickly. I wouldn't call it healthy, but it does contain tofu so that's something. You can't taste it though, I promise. The dip is vanilla and rum through and through with a hint of winter spice from the cinnamon and nutmeg.
I served this dip with vanilla snaps, but I bet apples or
leftover gingerbread
would be good. Go ahead and use this recipe as an opportunity to get through those leftover Christmas treats. Throwing them away is such a bummer, right?
Also, are you wondering what the red and gold flakes are? They're edible red and gold flakes for added flare. I wasn't going to say anything, but they're red and gold for our USC Trojans who just happen to be Rose Bowl champions this year. Fight on ✌!
Mentioned in this recipe:
8 oz firm silken tofu

3.5 oz vegan vanilla pudding mix

1/2 cup vegan eggnog

2 tablespoons rum

pinch nutmeg

pinch cinnamon

vegan vanilla cookies for dipping (I like Mi-Del Swedish Style Vanilla Snaps)
1. Place the tofu and eggnog in a blender or food processor, and blend the mixture until it is completely smooth.
2. Add the rest of the ingredients (except for the cookies) to the blender, and blend until it is totally smooth.
3. Place the dip in the fridge to cool completely. Serve cold with vegan vanilla wafers (or gingerbread cookies or animal crackers – whatever you like).