Housevegan.com contains Amazon Affiliate links. Purchases from these links could result in a small commission used to support Housevegan.com.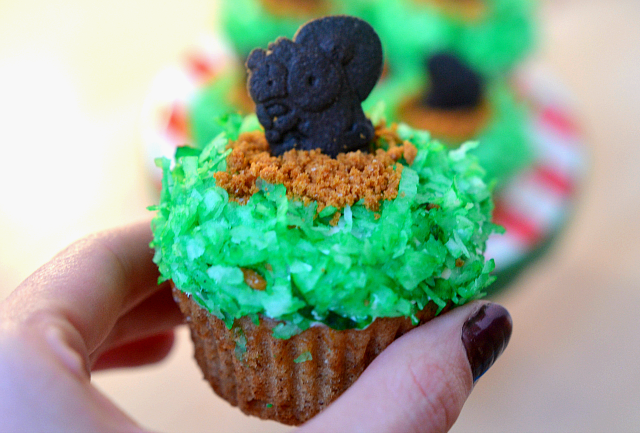 Next Tuesday (February 2) is Groundhog day which kind of blows my mind. Wasn't it just Christmas? How is it almost February? It's a good thing though. February brings us Mardi Gras and Valentine's Day, and then March comes around with its spring break and sunshine.
Do you ever pay attention to Groundhog Day? When I was a kid I took the lore of the groundhog very seriously. I remember my teachers talking about it in school, and sharing if we were to have six more weeks of winter or an early spring. I never questioned whether or not it made sense. It seemed scientific enough for me. Groundhogs are animals and therefor in touch with all things Earthly, right? Why wouldn't they know where the weather was going?
Don't you sometimes wish that you could just accept fanciful things as fact like you did as a kid? Just the harmless and nice things.
Groundhog day might not be a very celebrated holiday, but it's an opportunity to have some cheesy fun in the middle of winter. Make a batch of these cupcakes, watch Groundhog Day, and remind yourself not to worry too much about long winters or early springs. If the recent blizzard up north taught me anything it's that people will find a way to have fun no matter what the temperature is outside.
These cupcakes were a little tricky to assemble due to the
tears of laughter compromising my
vision. I had this design in my mind, and I've seen plenty others just like them, but I could not handle having them in front of my face. They're just so cute and silly.
Cinnamon Orange Groundhog Day Cupcakes
Makes 12 Cupcakes
Adapted from the Golden Vanilla Cupcakes from Vegan Cupcakes Take Over the World
Ingredients:
2 cups sweetened shredded coconut

vegetable based green food coloring (or blue and yellow to make green)

1 cup non-dairy milk

1 teaspoon apple cider vinegar

1 1/4 cups all-purpose flour

2 tablespoons cornstarch

1 teaspoon cinnamon

3/4 teaspoons baking powder

1/2

teaspoon

baking soda
1/2

teaspoon

salt

3/4 cup granulated sugar

1/3 cup canola oil

zest from 2 medium sized oranges

1

teaspoon

vanilla extract

6

Biscoff cookies

or vegan graham crackers

3/4-1 cup vegan vanilla frosting, store bought or homemade

12 vegan groundhog looking snack cookies (I used

Skeeter Nut Free Chocolate Grahams

)
Directions:
1. In a medium sized mixing bowl combine the coconut with a few drops of the food coloring to make the edible grass. Set this aside for later.
2. Pre-heat your oven to 350°F, and line a 12-cup muffin tin with paper or parchment baking cups.
3. In a small mixing bowl combine the non-dairy milk and apple cider vinegar, and set this aside while you assemble the other ingredients.
4. In a large mixing bowl sift together the flour, corn starch, cinnamon, baking powder, baking soda, and salt.
5. In another large mixing bowl whisk together the sugar, oil, orange zest, vanilla extract, and milk and vinegar mixture until thoroughly combined.
6. Carefully pour the flour mixture into the sugar mixture, and use a spatula to fold the ingredients together until no large lumps remain.
7. Fill the baking cups two thirds of the way full with the cupcake batter. Place the cupcakes in the oven to bake for 20-22 minutes, or until a toothpick inserted in the middle of one comes out clean. Allow them to cool completely before decorating.
8. While the cupcakes cool, make your speculoos dirt by placing the Biscoff cookies into a food processor and processing them until they're completely broken up and crumbled. There should be no large chunks.
9. When the cupcakes are totally (100%) cool start decorating. Spread a thin layer of frosting on the top and top sides of a cupcake. By "top sides" I mean that little bit of smooth cake right before you hit the ridges from the baking cup. The frosting should be just thick enough that you don't see any brown peeking through.
10. Leaving a 1 inch circle clear on the top for the speculoos dirt, start covering the remaining top and sides of the cupcake with the green coconut
using just a little bit at a time. Like a big pinch full. Keep adding the coconut, and pressing it in really well until you no longer see the white of the icing (except at the very top). When you're done you should be able to touch the coconut part without it sticking to your hand and coming off. That's how pressed in it should be.
11. Once the coconut is on, carefully spoon about a teaspoon of the speculoos dirt onto that empty top of the cupcake. Insert your cookie into the crumbs so that it looks like it's coming out of the ground. That's it! Repeat with the rest of the cupcakes.