Before telling you about these Vegan Blueberry Peach Muffin Tops we gotta go to that good ol' disclaimer: Housevegan.com is a participant in the Amazon Services LLC Associates Program, an affiliate advertising program designed to provide a means for sites to earn advertising fees by advertising and linking to Amazon.com. This post contains Amazon affiliate links.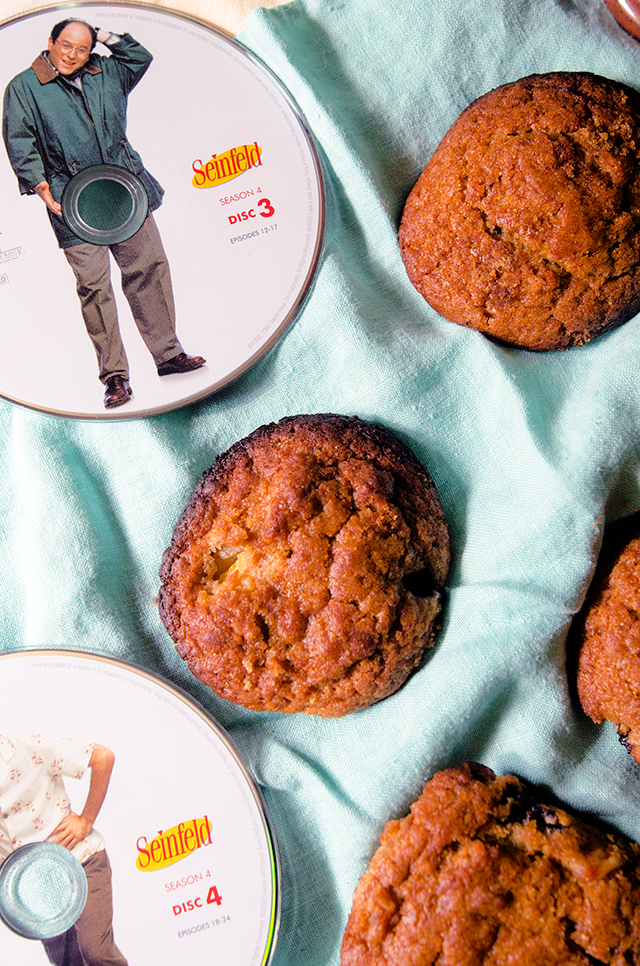 Top of the muffin to you! I have two big and exciting things to share. Ready?
Exciting thing #1: We bought a house!!! This is obviously the most exciting thing. I don't have too many details that I can share yet, but I can say that it's very cute, very 80s, and very cottagey yet modern. It's just our style. I can't wait to tell/show you more, but that is for another post.
Exciting thing #2: We're going to see Jerry Seinfeld!!! Last year our dear friends surprised us with Seinfeld tickets, and we couldn't even believe it. Like, how lucky are we? This will be my second time seeing him, and I'm totally thrilled. I'm such a fan of his, and not just his 90s work.
The latter event is what brings us to today's recipe for Blueberry Peach Muffin Tops. I haven't done a Seinfeld-inspired recipe in almost a year so I was happy to get back in the kitchen and pay homage to my favorite show about nothing.
I've written about my love for Seinfeld before, but if you're new here I'll give you the gist:
When I was a kid Seinfeld was my dad's favorite show. One of my chores was to record it for him to watch when he got home from work. However I couldn't just record it, I had to pause the recording at the commercial breaks so that he didn't have to deal with the commercials. So I would watch the episode as I recorded it, and then usually again with my dad when he got home from work. After doing this for years (and watching it in syndication) you can imagine how vast and useless my knowledge is of this show.
In an episode called "The Muffin Tops" Elaine mentions that she only eats the tops of muffins and not the stumps. She says "It's the best part. It's crunchy, it's explosive, it's where the muffin breaks free of the pan and sort of does its own thing. I'll tell you, that's a million dollar idea right there. Just sell the tops.". And she was right, the top is 100% the best part of a muffin
These muffin tops are crunchy and definitely exploding with flavor. I used a combination of blueberry and peach, but instead of making them bright with something like lemon zest, I kept them a little more wintery with cinnamon as a complimentary flavor. The result is a bit deeper and cozier than your usual blueberry muffin.
I could have used a whoopie pie pan for these vegan muffin tops, but I opted to take Elaine's advice (min 1:12) and pop the tops right off of whole muffins. Does it really make a difference in flavor? I don't know, but it did leave me with leftover stumps which inspired me to come up with a second recipe that utilizes leftover muffins. You'll have to come back for that!
So January hasn't been the worst month ever like it usually is. I hope you all are enjoying yourselves too, but if not, treat yourself to a muffin top and some Seinfeld. That's a combo that is garunteed to lift your mood.
Mentioned in this post and recipe:
Blueberry Peach Muffin Tops
by
Jan 13 2017
1 1/4 cups all-purpose flour

1/2 teaspoon cinnamon

1 teaspoon baking powder

3/4 teaspoon baking soda

1/4 teaspoon salt

1/4 cup maple syrup or Bee Free Honee

6 tablespoons granulated sugar

1/2 cup melted vegan butter or margarine

1/2 cup unsweetened applesauce

1 1/4 teaspoon vanilla extract

2 tablespoons unsweetened non-dairy milk

1/2 cup blueberries (thawed if previously frozen)

1/2 cup chopped peaches (thawed if previously frozen)
1. Preheat the oven to

350°F and spray a muffin pan with non-stick spray.
2. In a large mixing bowl stir together the all-purpose flour, cinnamon, baking powder, baking soda, and salt. Set this aside.
3. In a smaller mixing bowl whisk together the maple syrup, vegan butter, applesauce, vanilla extract, and non-dairy milk.
4. Pour the wet mixture over the dry mixture, and use a flexible spatula to fold the ingredients together until just combined. A few small lumps are ok. Fold in the blueberries and peaches.
5. Pour the batter evenly among the muffin cups, filling each cup a little over halfway.
6. Bake the muffins for 15-17 minutes, or until a toothpick inserted into the middle of one comes out clean.
7. Allow the muffins to cool completely before popping off the tops. You can also use a knife to slice them off if that's easier. Store the muffin tops and muffin stumps in separate airtight containers. If that seems arbitrary, then come back in the next couple days. I'll have a recipe for those stumps on here soon! You can also just eat them, but that's no fun.
Yield:
8-9 muffins/muffin tops