Before telling you about this Vegan BBQ Bacon Chicken Naan Pizza we gotta go to that good ol' disclaimer: Housevegan.com is a participant in the Amazon Services LLC Associates Program, an affiliate advertising program designed to provide a means for sites to earn advertising fees by advertising and linking to Amazon.com. This post contains Amazon affiliate links.
I'm not sure how many of y'all care, but college football season is around the corner and hockey preseason is around the other corner, and I'm stoked. Not only because I enjoy sports. Not only because I'm a rabid USC fan. Not only because I follow the LA Kings faithfully. Not only because game food is so great.
I really love how things calm down when fall and winter sports start. Summer is great, but it's hot and people get all riled up. When the weather cools and the games are on, people can chill out and focus their intense energies into their fandom. Maybe I'm projecting. Who knows? But I love it.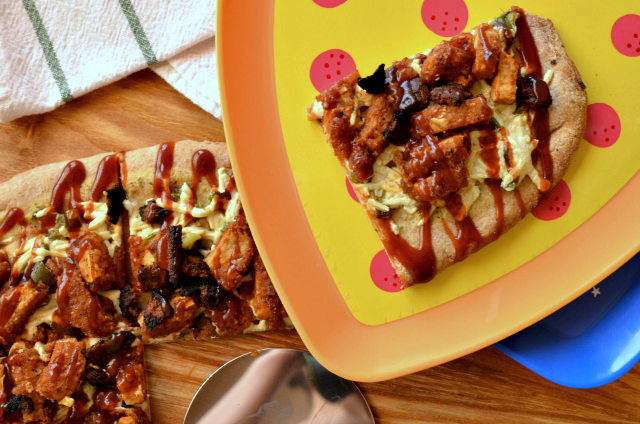 Our favorite teams are getting ready for their seasons, and we're getting ready right along with them. The first game is on Saturday which means USC paraphernalia can be seen peppered throughout our home. From the porcelain Tommy Trojan on our bar, to the USC pillows and throw blankets on our couch. All that's left now is to make the
Chex Mix
and pick up a few beers. We're so ready.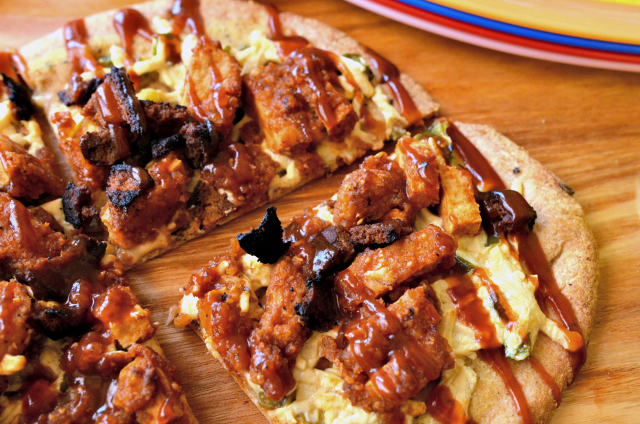 This Vegan BBQ Bacon Chicken Naan Pizza is inspired totally by our anticipation for fall and winter sports. We love making game day food to enjoy during games, and the easier and more flavorful the better. This recipe is more of an assembly guide than actual cooking instructions, but it does include of my trick for taking vegan pizza to the next level: adding seasoning directly to the cheese. That little step gives our pizzas extra oomph and it's so simple. You'll see what I mean. And since this pizza is all about BBQ flavors, I opted to include some jalapeno. You know, to make it just a little more Texan and a lot more delicious.
We don't want to be in the kitchen forever when a game is on so we like to use naan for crust. They make for great personal sized pizzas in no time. Our local grocery store sells labeled vegan naan in their bakery, but if your's doesn't just make sure to check the ingredients before you buy. Many naans aren't vegan. If you can't find naan, a soft pita would work as well.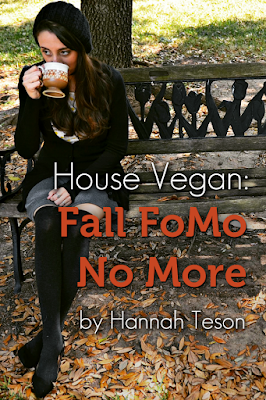 House Vegan:
Fall FoMo No More $5.99
Includes:
? Helpful tips to make this your best fall yet
?Step-by-step instructions to ensure that you don't miss out on any of your favorite fall activities or pastimes
?Guides to celebrating Halloween and Thanksgiving the vegan way
Vegan BBQ Bacon Chicken Naan Pizza
9 oz vegan chicken tenders (we use Gardein)
1 1/2 cups shredded vegan mozzarella (we love Follow Your Heart)
1 teaspoon onion powder
1/2 teaspoon garlic powder
2 tablespoons chopped pickled jalapenos
2 teaspoons jalapeno pickling juice
1/4 cup favorite bbq sauce (plus more for drizzling)
3 slices favorite vegan bacon, coarsely chopped
1 batch favorite White Pizza Sauce (I used this recipe from Vegan in the Freezer and left out the herbs)
3 store-bought vegan naans
1. Cook the tenders according to the package directions. While the tenders cook, prepare your cheese.
2. In a mixing bowl combine the vegan mozzarella, onion powder, garlic powder, chopped jalapenos, and jalapeno pickling juice. Use a spatula to mix it all up until the seasonings are evenly distributed among the cheese.
3. When the tenders are done, remove them from the oven and turn the heat down to 350ºF if it's not there already. Allow the tenders to cool to the touch before proceeding.
4. When the tenders are cool enough to handle, chop them into bite-sized pieces. Toss them into a mixing bowl with the BBQ sauce, and carefully toss them to coat.
5. To assemble the pizza, spread a layer of the white sauce on each naan. Follow with a layer of cheese, then the coated vegan chicken and chopped vegan bacon.
6. Bake the Vegan BBQ Bacon Chicken Naan Pizzas until the cheese has melted and the pizzas are a little crispy along the edges – around 8-10 minutes.
7. Remove the pizzas from the oven and drizzle with more BBQ sauce. Serve immediately.
Let's be friends! Follow HV on Facebook, Pinterest, Bloglovin' & Instagram