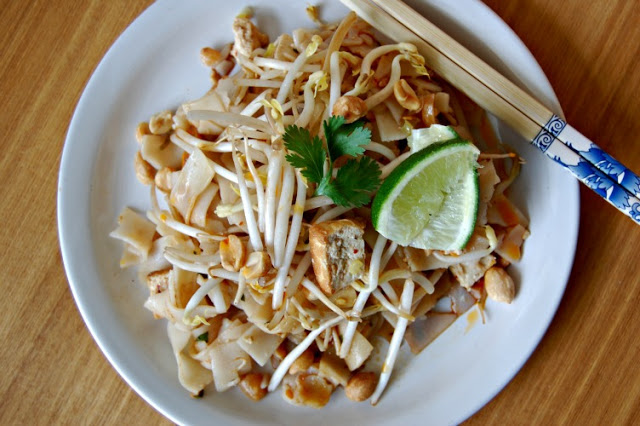 There is something about Pad Thai that is just addicting. I resisted trying Pad Thai for so long because it seemed so obvious. It's what everyone orders! I don't remember when I finally gave in, but I can tell you that it was at a wonderful Thai restaurant in downtown Austin called Thai Passion. It was an eye opening experience. The freshness of the bean sprouts and lime, the salty tanginess of the sauce, I couldn't get over it. Two days later I went back for more. I was obsessed!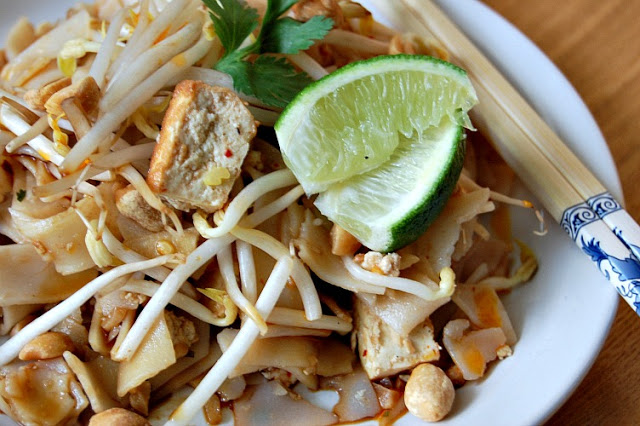 Since going out for Pad Thai every other day is not sustainable, I needed a recipe. This one is very basic. Pad Thai really doesn't need to be complicated to be delicious. You will need to buy some special ingredients, but they're not too hard to come by. Give it a try!
Tofu Pad Thai
Makes 4 Servings
Ingredients:
12 ounces extra firm tofu, sliced into four blocks and pressed (instructions for pressing tofu)
8 ounces rice noodles (like these though I've never used that brand. I just get whatever looks good and inexpensive at the grocery store), cooked according to the package directions
Sauce:
3/4 cup tamarind concentrate (available in well stocked grocery stores, Asian markets and online)

3/4 cup vegetarian fish sauce (

available in Asian markets and online or make your own)

1-2 tablespoons soy sauce

2-4 tablespoons palm or brown sugar

ground cayenne pepper to taste
Pad Thai:
3-4 tablespoons oil, like peanut or rice bran

3 garlic cloves, sliced

1/2 cup unsalted roasted peanuts, crushed

2 cups bean sprouts

scallions, sliced

1 lime, cut into four wedges

cilantro, chopped (optional)*1
1. Bring a small pot of heavily salted water to a boil. Remove the pot from the heat and add the tofu to soak for 15 minutes. After 15 minutes, remove the tofu and pat dry. Cut the tofu into 1/2 inch cubes and set aside.*2
2. In a small pot, mix together the tamarind and fish sauce. Add the sugar starting with 2 tablespoons and the soy sauce starting with 1 tablespoon. Give the sauce a taste and adjust the sweetness/saltiness to your preferences. (Tamarind concentrates and fish sauces vary in sweetness and saltiness so it's best to add sugar/soy sauce according to your taste) Add the cayenne pepper to taste. Put the sauce over low heat and stir occasionally. Don't let it boil! Just warm it up.
3. In a large pan or wok, heat your oil over medium high heat. When the oil is hot, add the tofu and stir fry until they're nice and golden. Add more oil if need be.
4. Add the garlic, noodles and half of the peanuts and give the whole thing a good stir with a few choice tosses.
5. Add the sauce and toss everything to combine. Give it a taste for saltiness.
6. Divide the Pad Thai among four servings. Top each serving with 1/2 cup bean sprouts, crushed peanuts, scallions, a lime wedge and cilantro.
*2-You can skip the salt water soak and move onto the pan fry. Know that the soak makes the tofu really extra delicious. Read this Herbivoracious article on the matter!
*1-I don't know how authentic the cilantro addition is, but I love it!