On Memorial Day my husband and I threw ourselves a Tex-Mex Vegan BBQ. To be clear, I wanted a pretty even melding of the Tex and the Mex. A fusion, if you will. I was not necessarily looking to stay in the confines of the delicious regional cuisine of the same name. Of course the Tex-Mex we all know and love influences much of what I touch so I don't know how successful I was!
We started off with some drinks and snacks while the grill got going!

You know we had some margaritas! Hand squeezed lime juice, agave nectar and tequila were the only ingredients in this classic cocktail.

We needed something the keep our appetites satiated so we snacked on some chips and salsa. The salsa was Roasted Habanero Hot Salsa made by a small salsa company in San Antonio, Tio Mike's. I'm in love with this salsa! It's so flavorful with a generous heat.
Naturally the margaritas ran out so we switched to beer. We bought some Good JuJu by Left Hand Brewing Company and a small growler at The Growler Room, a new business in Austin dedicated to filling your growlers.

Look at that amazing Come and Fill It growler that I bought there! Google "B

attle of Gonzales" if you need some context. It's a really bitchin growler.
It didn't take
long for our food to get on and off the grill. Mealtime was really good!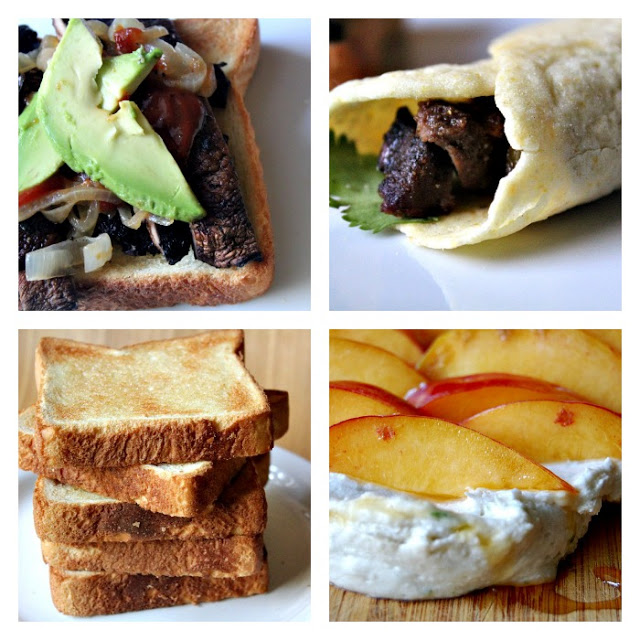 Grilled portabellas with BBQ sauce, caramelized onions and avocado on Texas Toast

Carne Asada made with Gardein Beefless Tips on homemade Mitad Y Mitad Tortillas – I marinated the beefless tips in orange juice, lime juice, garlic, jalapelo, cilantro, cumin and olive oil for a few hours before grilling!

Texas Toast – broiled of course

Dessert – Peaches with Lime Whipped Cream and a drizzle of Pineapple Tequila syrup. This dessert will be getting it's own post!
It was a wonderful kick off to summer! I look forward to more BBQs, more summer food and obviously more margaritas. Hello Summer!