Meet Spooky: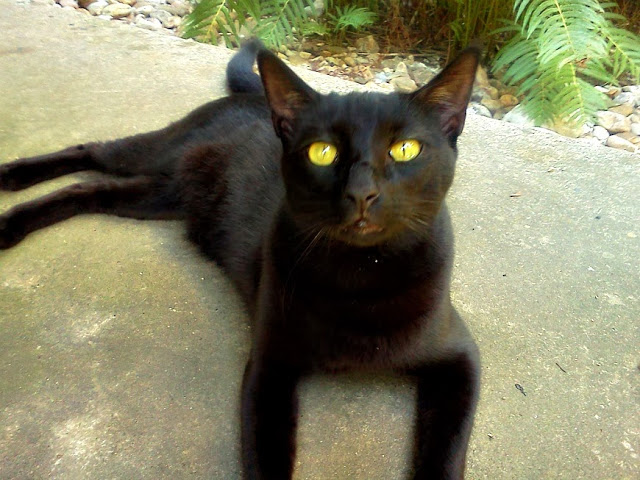 I met Spooky on 10/30/12 – the day before Halloween. I heard something outside of our apartment meowing something fierce, and when I went to investigate I saw this beautiful jet black cat looking at me like "Well?". I put my hand down to say hello and he ran right to me like we were old friends.
I spent some time walking with him around the complex, and he followed me everywhere.
He was extremely talkative,
and kept up a very good conversation! After about an hour of walks, purrs, meows and head boops he bid me adieu. I never saw him again so I'm pretty sure he was some kind of Halloween angel. I'm glad I took this picture to remember him by!
Black cats have it rough with their unlucky reputation. Did you know that black cats are half as likely to be adopted as non-black cats? Crazy! The speculated reasons vary from "black cats aren't photogenic" to "black cats aren't unique", but I think we're beating around the bush here. Black cats aren't being adopted because people are crazy.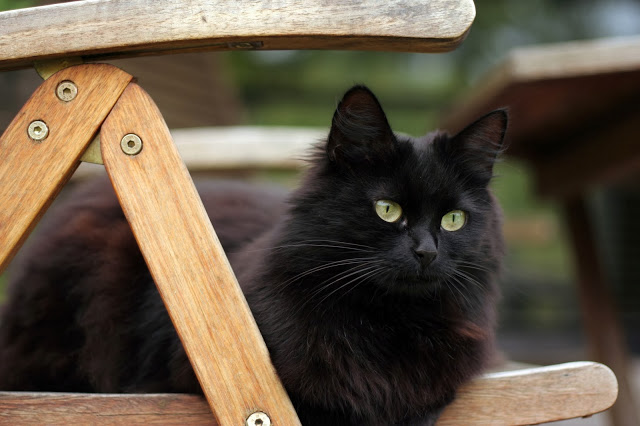 In my research on this issue I stumbled across this incredible organization in Boston, MA called Black Cat Rescue. They're a volunteer based group of foster homes for homeless black cats. Their fosters provide love and care while searching for forever homes for these "spooky" felines. What an amazing and generous group of people!
In honor of my own Spooky (and black cats everywhere) I added Spooky Black Cat Cookies to my Halloween cookie list. Like most cookies I make they're straight from Vegan Cookies Invade Your Cookie Jar by Isa Chandra Moskowitz
. Why
stray
from perfection?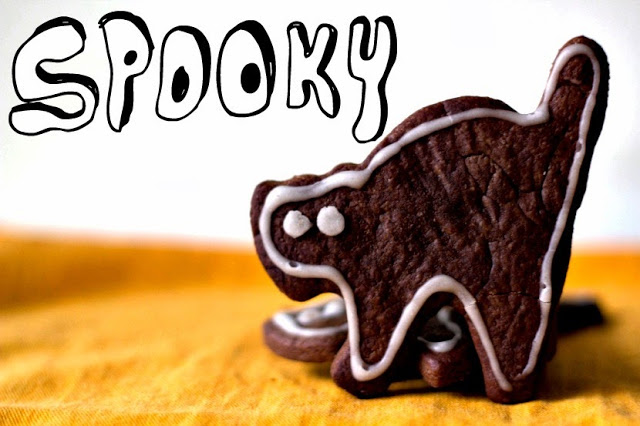 Chocolate Cut-Out Cookies
Makes 36 cookies depending on the size of your cutter
Adapted From Vegan Cookies Invade Your Cookie Jar
Ingredients:
2/3 cup sugar

1/4 cup oil

1/4 cup nondairy milk

1 teaspoon vanilla extract

1 cup all purpose flour

1/2 cup cocoa powder

1 tablespoon cornstarch

1/2 teaspoon baking powder

1/4 teaspoon salt
1. In a mixing bowl whisk together the sugar, oil, milk and vanilla.
2. Add the flour, cocoa powder, cornstarch, baking powder and salt to the sugar mixture and stir to combine. The dough should be slightly stiff and workable. If it's too wet add a little more flour a teaspoon at a time. I had to add about 3 extra teaspoons of flour.
3. Divide the dough in half and refrigerate for at least an hour to firm up.
4. Preheat your oven to 350.
5. Roll one of the dough halves to 1/4 – 1/8 inch thick. Cut out your desired shapes and bake them on an un-greased baking sheet for 7 minutes
. Let the cookies sit on the baking sheet for a couple of minutes before transferring them to a cooling rack. Repeat with the remaining dough.
6. Let the cookies cool completely before decorating.