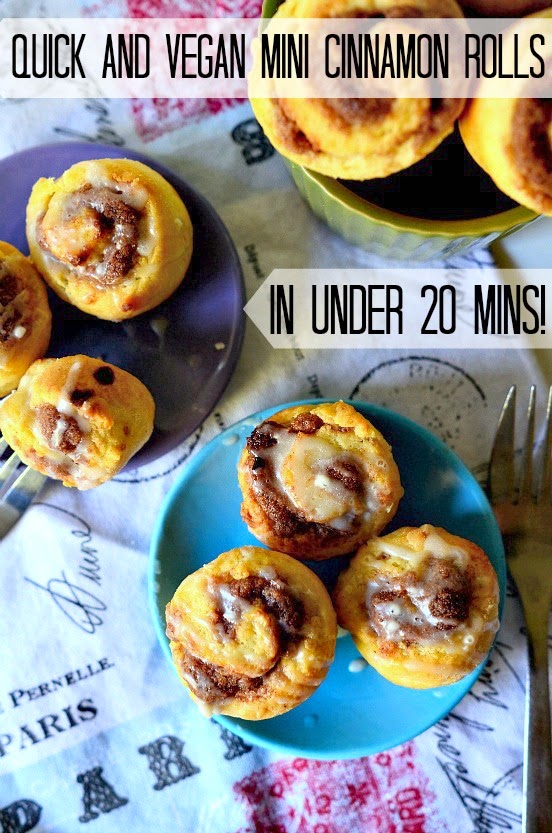 If you will it – it is no dream! These quick and vegan mini cinnamon rolls take less than 20 minutes to put together thanks to biscuit dough.
I've seen a million of these little guys all over Pinterest, and decided it was about time I gave them a shot with my own dough.
I'm sure at this point it seems like
all
we
eat
is
biscuits
. I wish! It's hard to beat a good biscuit.
I want you all to know that these are not merely cinnamon flavored biscuits. They definitely taste like teeny tiny cinnamon rolls.
These are great for weekend mornings when you want something decadent and fast. Plus look at how mini they are! Have you ever? I mean…can you even? I'm such a sucker for cute and tiny treats. These would make an especially fun addition to a breakfast bento or an appetizer on a brunch table. You could stick popsicle sticks in them for cinnamon roll pops! There are so many possibilities.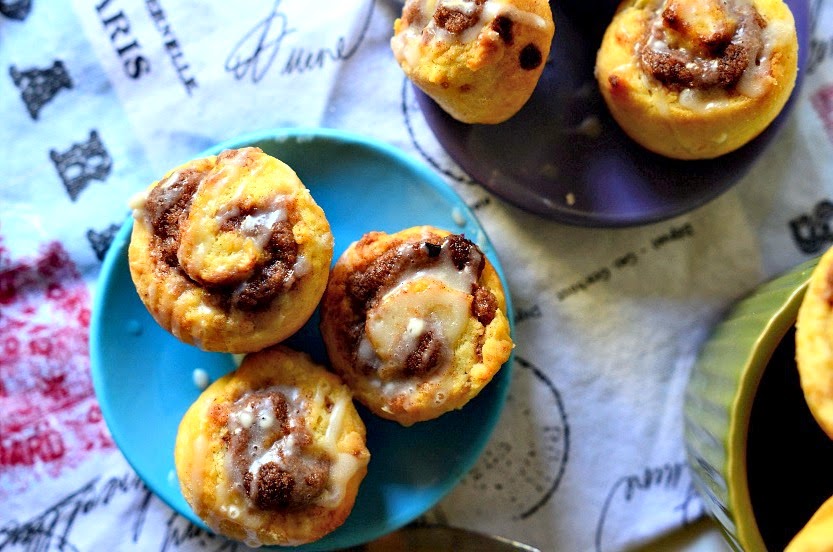 Quick and Vegan Mini Cinnamon Rolls – Makes 12
Biscuits Adapted from Cream Biscuits from The Art of Simple Food by Alice Waters
Biscuit Ingredients:
3/4 cup all purpose flour

1/8 teaspoon salt

1 1/2 teaspoons sugar

1 teaspoon baking powder

3 tablespoons Earth Balance (vegan margarine), cut into medium sized pieces

6 tablespoons non-dairy milk
2 tablespoons melted Earth Balance

2 tablespoons all purpose flour

1/4 cup sugar

1 teaspoon cinnamon
Instructions
1. Preheat your oven to 400. Lightly grease a mini muffin tin and set aside.
2. In a small bowl combine the filling ingredients and set aside.
3. In a medium bowl combine the flour, salt, sugar and baking powder.
4. With your fingers or a pastry cutter cut in the Earth Balance pieces until they are the size of peas.
5. Pour the milk over the flour and stir gently with a spatula until it comes together.
6. Pour the dough onto a floured surface and gently knead it a few times until it's not super sticky. Pat it out gently to a 1/4″-1/2″ thick rectangle. Evenly sprinkle the filling all over the dough. This may seem tricky because the filling is paste like. It'll all even out so don't fret too much. Just disperse it as evenly as you can.
7. S
tarting on a long end carefully roll the dough until you have a long roll
. With a serrated knife cut the roll in thirds. Cut each third in half for 6 pieces. Cut each piece in half leaving you with 12 rolls. Place the rolls in the greased mini muffin tin.
8. Bake for 10-12 minutes until the tops are golden. Let cool before eating or drizzling with icing.