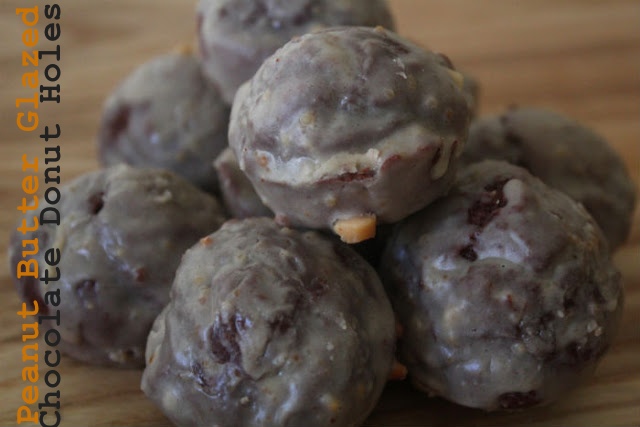 Because sometimes you just need to. These are particularly great because not only are they baked, but the unglazed donut is not sweet. That means that the glaze is a welcomed partner as opposed to an intrusive, saccharine treat ruiner. If you've ever thought of glaze like that anyway.
Peanut Butter Glazed Chocolate Donut Holes
Ingredients:
1/2 cup non-dairy milk

1/4 teaspoon vinegar

3/4 cup all-purpose flour

1/4 cup cocoa powder

1/3 cup sugar

1 teaspoon baking powder

1/2 teaspoon salt

1/4 cup Earth Balance, melted

1 teaspoon vanilla

1 cup powdered sugar

2 tablespoons peanut butter

3 tablespoons non-dairy milk

1/2 teaspoon vanilla
1. Spray a 12 cup mini muffin tin with oil and turn your oven to 375 degrees.
2. In a medium sized bowl, combine the 1/2 cup of milk with the vinegar. Set this aside.
3. In a large bowl, combine the flour, cocoa powder, sugar, baking powder and salt. Set this aside.
4. Add the Earth Balance and vanilla to the milk and vinegar and stir to combine. Pour this into the flour mixture and fold the batter with a spatula to combine. It may seem a little dry. Just keep folding until it's just come together.
5. Spoon the batter into the prepared muffin tin, filling them about 3/4 full.
6. Bake the donut holes for 10-12 minutes. Definitely check on them after 10. Just in case.
7. While these are baking, make the glaze: Whisk together the powdered sugar, peanut butter, milk and vanilla.
8. When the donut holes are finished baking, let them sit for a couple of minutes before putting them on a baking rack to finish cooling.
9. When the donuts are completely cool, place them in the bowl with the glaze and carefully stir (or shake) to coat. Shake the excess glaze off each donut hole before placing them back on the baking rack to set. The glaze should be set after about 10-15 minutes.