Before telling you about this Delicious Vegan Mulligatawny (Inspired by Seinfeld) we gotta go to that good ol' disclaimer: Housevegan.com is a participant in the Amazon Services LLC Associates Program, an affiliate advertising program designed to provide a means for sites to earn advertising fees by advertising and linking to Amazon.com. This post contains Amazon affiliate links.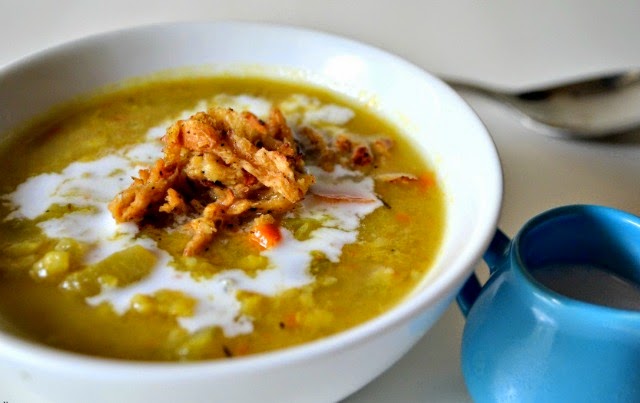 I'd never tried this Anglo-Indian soup before making this recipe.
My only connection to Mulligatawny is from my favorite show growing up, Seinfeld.(
As previously mentioned
!)
In the Soup Nazi episode Mulligatawny (whose name translates to "pepper water") gets several mentions. Like in this scene when the SN realizes that a disgruntled Elaine now possesses all of his recipes – including the Mulligatawny!
I decided to write my own recipe instead of following someone else's. This seems nuts considering my lack of experience with the soup, but the recipes I found just varied so drastically. I took some common denominators and used my extensive soup making knowledge to come up with t
his Mulligatawny. The end result had my husband saying "Mmmmmmmmmmm", and I was right there with him! I am completely and thoroughly in love with this soup. It's spicy, curry-y, complex and homey.
To make the recipe vegan I substituted coconut milk for the usual cream and soy curls for the chicken. I cooked the soy curls separately and used them as an optional topping instead of a key ingredient. That way anything can be used for a protein. I'm thinking pan-fried seitan or warm chickpeas would be good substitutes, but you could also just omit the extra protein.
In my opinion, the spice is pretty mild, but if you're sensitive feel free to adjust the pepper according to your tastes.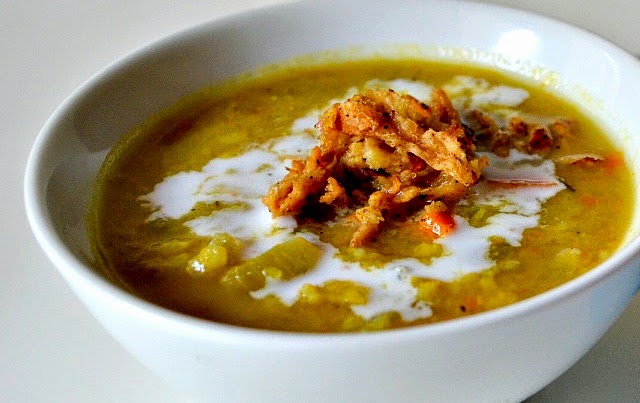 Mentioned in This Post and Recipe
Delicious Vegan Mulligatawny (Inspired by Seinfeld)
Ingredients:
1 large carrot, peeled and diced

1 green apple, peeled and shredded

2 1/2 teaspoons all-purpose flour

5 teaspoons yellow Indian curry powder

3/4 teaspoon black pepper
1/2 cup white rice, uncooked

6 tablespoons light coconut milk

12 oz protein of your choice, cooked (optional)
Directions:
1. Heat the olive oil i
n a large pot
over medium heat. Add the onions, carrots, and apple, and cook until the onions are translucent and soft.
2. Add the garlic, flour, curry powder, black pepper, cumin, celery salt, turmeric, and thyme to the pot and stir to combine. Add the bay leaves, rice, and broth, and bring the mixture to a boil.
3. Once boiling, reduce to a simmer and cover the pot. Let the soup cook for 20 minutes or until the rice is done.
4. While the soup simmers heat the coconut milk in a small pot over low heat. Don't let it boil – just heat it through.
5. When the rice is done feel free to use a stick blender to partially puree the soup. We did this, and it resulted in a slightly thicker dish. This is a very optional step, but definitely worth it if you own a stick blender!
6. When the Mulligatawny is done serve it right away with a good drizzle of the heated coconut milk and topped with your protein (if using).
7. Eat the soup with bread unless the Soup Nazi doesn't give you any. At that point "Just forget it – let it go."