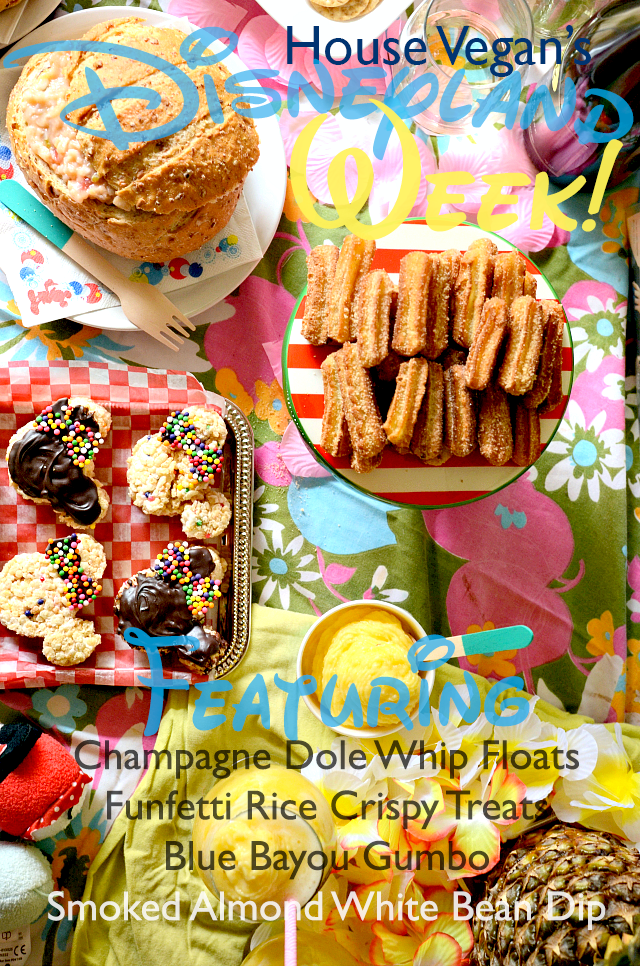 Welcome to Disneyland week! My husband and I are going back to the Happiest Place on Earth at the end of the month, and I'm not only impatient, but I want to bring all of you darlings in on the fun. I hope you're ready for lots of kitsch and (cashew)cheesiness!
Disneyland is such a special place to me. We had annual passes when we lived in LA, and would visit the parks all the time. Sometimes we'd spend the whole day exploring Disneyland and CA Adventure, sometimes we'd go just to ride
Astro Blasters
over and over again, and sometimes we'd go just to eat dinner. I didn't anticipate how much of my heart I would leave at Disneyland when we left California, and I've missed it ever since. It hasn't been easy trying to satiate my yearning from 1400 miles away. Let's just say that this
Disneyland Legacy Collection gets a whole lot of play in our house:
My love for Disneyland goes a bit b
eyond appreciation for its general fun
. Growing up in the 80s and 90s I was constantly being told that I could be anything I wanted to be. It seemed like a nice idea, but even in my youth I was skeptical of that sentiment. I was a dark haired little weirdo with stressed out parents, and a wardrobe and bedroom made almost entirely of hand-me-downs. I wanted to be an
American Girl
, or Wendy Darling, or a Pink Lady. Those dreams felt really unattainable given my living situation. As a kid there's only so much you can do on your own, and if your parents don't have the resources to help you then you're stuck. I learned very early on not to get my hopes up about travel, adventure, or luxuries.
Still, I was very aware that these beautiful experiences were out there, and the one place that I really really wanted to visit was Disneyland. I never told anyone, but I'm sure it was obvious. My favorite Disney Sing-Along Songs was Disneyland Fun, I adored this commercial (and still have it memorized), and I was pretty stoked when ABC shows started doing Disney World episodes. No one else in my family liked them, but I knew it was the only way I'd ever get to experience any kind of magical kingdom.
Fast forward about 11 years, and my husband (boyfriend at the time) and I were chilling in his Burbank bungalow when his high school buddy called him out of the blue to hang out. You never know where you'll find yourself with those two, and that afternoon I found myself entering the gates to the one place little kid Hannah never thought she'd see. My Disney dreams had been long since forgotten, but in that moment they came flooding back to me. I felt like I was nine years old again, and some handsome prince had whisked me away to a magical place that I was never supposed to see.
I grew up with a very black and white view of the world. Some things were meant for certain kinds of people, and other things were meant for other kinds of people. Even as a young child, I recognized that I was a broke Texan, and that I would likely always be a broke Texan.
Even though I'd had lots of great adventures since my sometimes despondent childhood, going to Disneyland was a real eye opener. It gave me the opportunity to confront those black and white beliefs that I still held on to. At 9 years old I just knew that I would never get to go to Disneyland, but 11 years later there I was. I realized that who I was and what I was meant for wasn't pre-written. Such a small thing like spending a day in Anaheim really changed my perspective. I still struggle with a black and white outlook, but I'm aware of it now and challenge it. Disneyland was one of the first impossibilities that I ever achieved.
As we get closer to our visit, I get less and less patient. I'm ready to cross over the drawbridge into Fantasyland.
I'm ready to try my first official Dole Whip. They weren't vegan when we lived there!
I'm ready for gumbo in New Orleans Square. Oh my God, I am so ready for that gumbo.
I'm ready to sing with grim grinning ghosts.
I'm ready to go on Mr. Toad's Wild Ride.
I'm ready to spin myself nauseous on some teacups.
And I'm absolutely ready to try all of the new vegan treats. Before we moved the only vegan snacks I knew about were fruit and pretzels. There's so much more now!
The snacks at Disneyland that I always wished were vegan were the Mickey and Minnie rice crispy treats.
Disneyland sells the biggest, most gorgeous rice crispy treats, and I just wanted them to be vegan so bad. Whenever I think of Disneyland's food my mind always goes to those rice crispy treats so w
hat better goody to start with on this Disneyland inspired menu?
These Vegan Funfetti Rice Crispy Treats aren't humungous, but they certainly could be. I chose shape over size because at the moment I kind of want everything that I eat to be Mickey or Minnie shaped. Plus, I was looking for an excuse to pipe some bows. I mean, how adorable are these Minnies?
It may look like these are just plain vegan rice crispy treats with sprinkles thrown in, but no way. This recipe has a higher marshmallow to crisped rice ratio than your average rice crispy treat so they're ooey-er and gooey-er than usual. Oh man, they're good.
When looking for vegan sprinkles, make sure you're not buying anything with confectioners glaze. Wilton has a few vegan varieties, as does Edward and Sons.
Vegan Funfetti Rice Crispy Treats
Serving size varies on the size of your cutter
10 oz

Dandies

Vegan Vanilla Marshmallows, preferably mini

3 tablespoons vegan margarine (I used

Earth Balance

)

1 teaspoon vanilla extract

5 cups crispy rice cereal

1/2 cup vegan sprinkles
Directions:
1. Pour ½ cup of the marshmallows into a small bowl to reserve for later. If you're using the large marshmallows just skip this step.
2. Melt the margarine in a large stock pot over medium heat. Once the margarine has melted a
dd the remaining marshmallows, and stir constantly until they're completely melted.
3. Remove the pot from the heat, and stir in the
vanilla. Stir in
the crispy rice cereal, reserved marshmallows, and sprinkles.
4.
Pour the mixture into a greased 9×13 inch pan, pressing it into the pan. Let the rice crispy treats cool for 30 minutes before cutting in.
To make Minnie Mouse treats:
parchment paper

1 cup semi-sweet chocolate chips

2 tablespoons vegan sprinkles

a piping bag with a thin tip or more parchment paper

mickey mouse cookie cutter or

1 2″ round cookie cutter and 1 1″ round cookie cutter
1. On a piece of parchment paper use a pencil to draw 12 2″ (approximately) bows using this image as a guide. I kept the image pretty juvenile because that's what you're going for. The bows will be filled with chocolate and covered in sprinkles so keep it simple:
Once the bows are drawn, turn the parchment paper over (drawing side down) and place it onto a baking sheet.
2. Melt the chocolate chips i
n a double boiler (or homemade double boiler solution) over medium heat. Be sure to stir the chocolate with a spatula every now and then until it melts. Once the chocolate is totally melted remove it from the heat. Let it sit to cool for 10 minutes.
3. If you don't have a piping bag with the appropriate tip, you can make a piping bag with parchment paper. That's what I do. I can never remember how to do it by heart so I use this tutorial.
4. Spoon the melted chocolate into your piping bag, and start piping the chocolate bows using the parchment template you made. I draw the outlines first and then fill the bows in. Next, evenly sprinkle the sprinkles over the chocolate bows. Place the bows into the fridge until they're completely hard. Meanwhile, cut out your Minnie Mouse Funfetti Rice Crispy Treats.
5. Use a Mickey Mouse cookie cutter or the two round cookie cutters to cut out Minnie Mouse shaped rice crispy treats. If you're using the round cookie cutters, make sure to cut two 1″ circles for every one 2″ circle. The rice crispies should still be sticky enough that you can just use a little force to stick two smaller circles onto a big circle for ears.
6. When the bows are completely hard, add one to each Minnie Mouse. If necessary, dab a little bit of melted chocolate onto the middle of each bow to get it to stick to the treat.
7. Eat your
vegan
Funfetti Rice Crispy Treats
immediately or store them
in an airtight container at room temperature for up to four days.
Shared to:

Pin it!
Let's be friends! Follow HV on

Facebook

,

Google+, Pinterest

,

Bloglovin'

&

Instagram

! You can also get House Vegan posts delivered right to your inbox by using the opt-in option on the very top of this site!