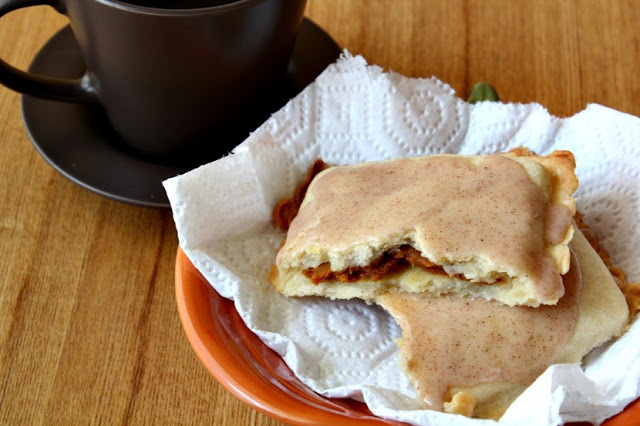 I take pumpkins very seriously in the Fall. Pumpkin beer, pumpkin candles, pumpkin coffee, pumpkin bread, pumpkins around my house, pumpkins on my porch, pumpkins 4 life! When
I found this T
oaster Pastry Press
on super clearance a few weeks ago, I knew that I
had
to use it to make pumpkin pop tarts.
I just had to.
These are so good and are the perfect introduction to this year's Fall baking. The crust is buttery and flakey while the filling is creamy and warmly kissed with brown sugar, cinnamon and ginger. The whole thing is topped with a sweet glaze consisting of Fall's best spices.
They are kitschy enough to be fun while sophisticated enough be enjoyed with a hot cup of coffee.
Pumpkins, I've missed you.
Homemade Pumpkin Pie Pop Tarts
Ingredients:
Crust:
Adapted from Ina's Perfect Pie Crust
3 cups all-purpose flour

1 teaspoon kosher salt

1 tablespoon sugar

1 1/2 cups Earth Balance Natural Buttery Spread

1/3 cup Earth Balance Natural Shortening

6 to 8 tablespoons ice water
1. Add the flour, salt and sugar to a food processor and pulse it a few times to combine. Add the Buttery Spread and Shortening to the flour and pulse until the Earth Balance is the size of peas. Slowly add the ice water until a dough forms. Dump the dough on a floured surface and shape it into a ball. Wrap your dough in plastic wrap and place it in the fridge until you're ready to use it.
Filling:
1 1/2 Tablespoons cornstarch

2 Tablespoons non-dairy milk

1/4 cup brown sugar

1 heaping cup pureed pure pumpkin

1 teaspoon vanilla extract

1 teaspoon cinnamon

1/4 teaspoon ground ginger

1/4 teaspoon ground nutmeg

1/8 teaspoon ground allspice
1. In a medium sized bowl mix together the cornstarch, milk and sugar.
2. Add the rest the ingredients to the cornstarch mixture and stir to combine.
Tarts:
2. On a floured surface, roll the pie dough

out to about 1/8 inch thick. Not too thin, not too thick.
3.
Cut out your desired shape into even portions until you're out of dough. (I got about 16 pieces with the pastry press.) Add a small amount of the filling to the middle of one of your cutouts, and top it with another cut out. Pinch the edges together and brush the top with some non-dairy milk. Repeat the process until you run out of dough. You will most likely have leftover filling. Save the leftovers to add to oatmeal!
4. Bake your tarts on an un-greased baking sheet for 20-30 minutes or until they're brown around the edges. Start checking on them regularly after about 10 minutes. Pie dough can be very moody!
5. Let the finished tarts rest on a cooling rack until they are completely cool. At least an hour.
6. While your tarts cool make your glaze:
Glaze:


1. Combine the powdered sugar, cinnamon, allspice and nutmeg. Slowly drizzle in the milk until it reaches a thick and syrupy consistency.
7. Carefully spread the glaze over the tops of your tarts. Allow them to completely harden before storing.