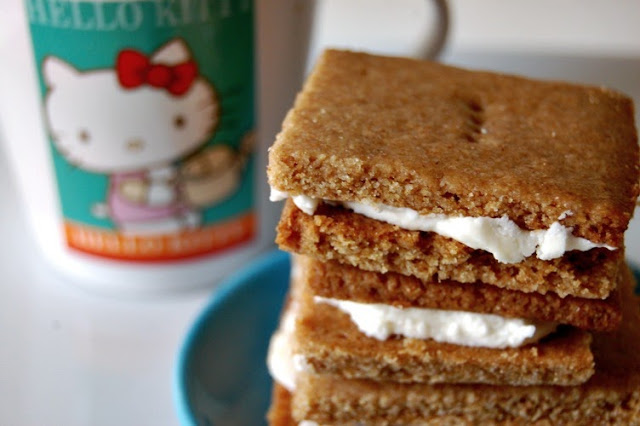 When I was a little girl, my Grandmother used to make me graham crackers and icing. While the flavors of brown sugar, honey and vanilla obviously compliment each other you might not think to put them together in the form of a graham cracker and icing sandwich. But she did and I grew up on them.
Now that I'm a grown up I still crave graham crackers and icing, but not the preservatives that come with them. So I took my favorite summer treat and made them as clean as possible.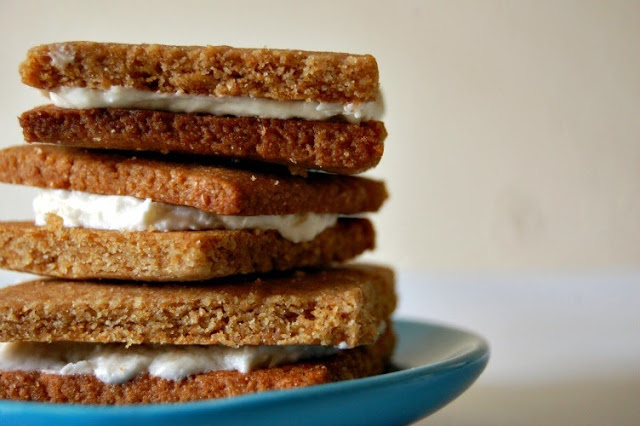 My Grandma and PapPap are in their 70s and just now on their first trip to Europe. I thought about them the whole time I was making these!
Graham Crackers and Icing
Graham Crackers
Adapted from Homemade Graham Crackers at The Sweet Life
Ingredients:
3/4 cup all purpose flour

3/4 cup stone ground whole wheat flour or graham flour

1/2 teaspoon baking soda

1/4 teaspoon salt

1/2 cup Earth Balance

1/4 cup + 2 tablespoons brown sugar

2 teaspoons honey flavored or regular agave nectar

1 tablespoon water
1. In a small bowl combine the flours, baking soda and salt. Set aside.
2. Cream together the Earth Balance and sugar until fluffy. Mix in the agave nectar and water.
3. Add the flours and to the sugar mixture and stir to combine. It should just come together without being overly wet. Don't over mix!
4. Separate the dough into two balls. Over a sheet of parchment paper roll the first ball into a rectangle about 6×9″ and 1/8″ thick. Cut the rectangle into 12 equal pieces and place the whole thing in the freezer. Repeat with the second ball and let them chill for 20 minutes.
5. Preheat the oven to 350 degrees and make your icing:
Vanilla Icing
Adapted from Vegan Fluffy Buttercream Frosting in

Vegan Cupcakes Take Over the World
Ingredients:
3/4 cup + 2 tablespoons powdered sugar

1/4 teaspoon vanilla extract

splash non-dairy milk (optional)

1. In a stand mixer whip the Earth Balance until fluffy. Add the powdered sugar and whip for about two minutes. Add the vanilla and whip for another minute until fluffy. If the icing needs to be loosened a little bit add a splash of non-dairy milk and whip until, you guessed it, fluffy. Refrigerate until ready to use.
6. Remove the first sheet of dough from the freezer and place the whole thing on a baking sheet. Bake the crackers for 10 minutes, rotating the pan in the oven half way through. The edges should be slightly browned when the crackers are done. Let them cool for a minute or two and then transfer to a cooling rack.
Repeat with the second sheet of crackers.
7. Let the crackers cool completely, at least 30 minutes, before putting on the icing.
8. When the crackers are cool remove the icing from the fridge. Spread about two teaspoons of icing on one cracker and top the icing with another cracker. Repeat until you're out of crackers. Store in the fridge for up to three days.