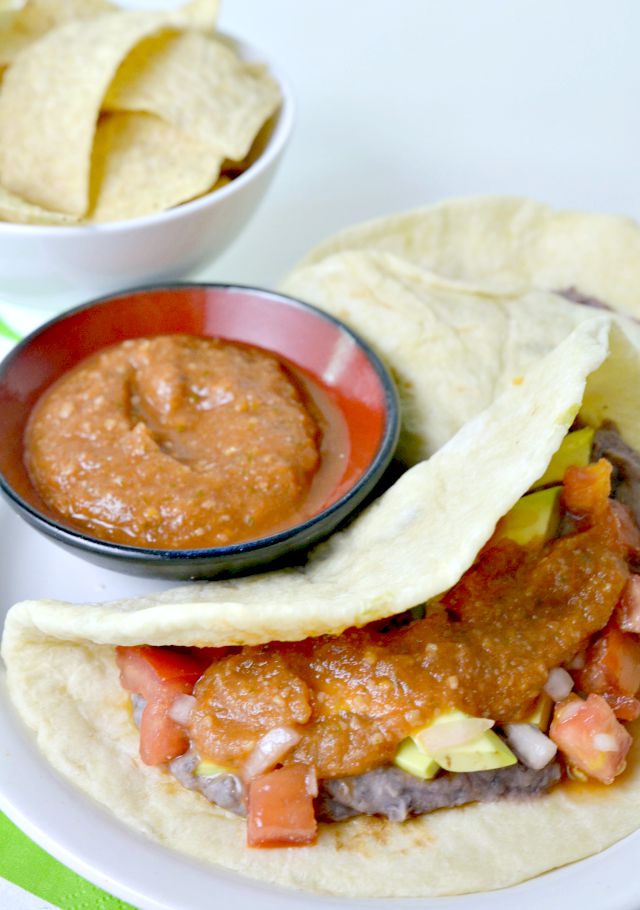 Today's MoFo prompt is to Re-create a restaurant meal, and I decided to go with my favorite taco in town from a place called Taco Deli.
Taco Deli is an Austin chain that I arbitrarily avoided for years. The name sounded so cheesy, and I didn't trust that it would be legit. My undeterred husband decided to try it for himself, and subsequently spent a lot of time convincing me that it was delicious. Eventually I gave in to his pleas to join him, and the trip resulted in something really annoying: I had to admit that I was wrong.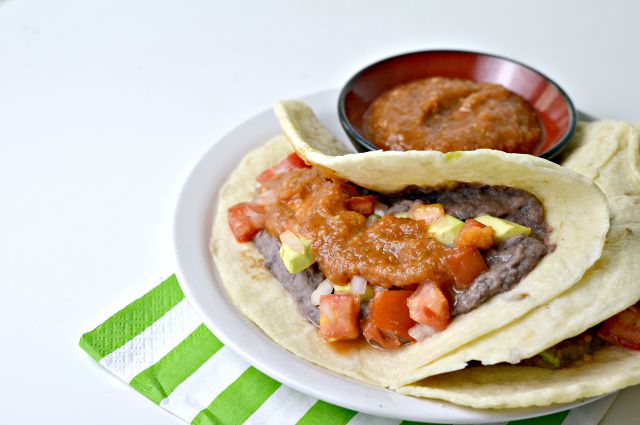 My husband was so right about Taco Deli – it is delicious. They even have a ton of vegetarian options including a taco called the Freakin' Vegan. It's a super simple soft taco filled with creamy black beans, pico de gallo, and lots of avocado. It's the most low key vegan taco I know of in this city, and it's one of the best.
As good as the Freakin' Vegan taco is though, it's not even the most exciting part about going to Taco Deli. To me, their star item is the
Salsa Roja.
Their Salsa Roja a roasty smokey salsa with an almost burned quality that makes it irresistible. I always grab at least four little containers per taco. I need two to add to the taco, one to dip the taco into, and one to shoot like a spicy non-alcoholic shot. I love this salsa so much that I really had no choice but to start
making my own copycat recipe.
My Salsa Roja includes a burned corn tortilla which is key to achieving that addictive charred flavor.
I saw that tip on Reddit, and it makes so much sense. The freshly toasted tortilla provides a very specific flavor that takes roasted salsa from merely "real good" to "really truly incredible".
What I'm giving you here isn't just a great salsa accompanying a basic bean taco.
Going simple doesn't mean going boring. Although this taco is uncomplicated, e
ach ingredient is made and used with intention and purpose. My copycat Freakin' Vegans are comforting, satisfying, and full of love – j
ust like the OGs from Taco Deli.
Before I give you the recipe though, here's just a quick reminder that I have an active mini giveaway going on right now. Entering is so easy: Just click here, and follow the instructions. Free stuff, y'all!
Homemade Freakin' Vegan Tacos w/ Salsa Roja (Taco Deli Copycat!)
– Makes 4 Tacos
Inspired by Taco Deli
Ingredients:
4 tortillas, flour or corn (double up if using corn)

1 warm batch Easy Creamy Black Beans, recipe below

1 avocado, thinly sliced

1/2 cup pico de gallo

Salsa Roja, recipe below
1
. Preheat a cast iron skillet over medium high heat.
Take your first tortilla and place it on the pre-heated pan for about 10 seconds, using tongs to flip it halfway. You just want to warm it enough to make it malleable.
2. Spread some black beans onto the tortilla, and top them with a few slices of avocado, and a spoonful of pico de gallo. Repeat this step with the rest of the tortillas.
3. Serve your tacos with lots of Salsa Roja.
Easy Creamy Black Beans
Ingredients:
1 tablespoon olive oil

1/2 medium onion, small diced

1 garlic clove, minced

1 15 ounce can whole black beans

6 tablespoons unsweetened non-dairy milk (I use Flax)

Salt to taste
1. Heat the oil in a large skillet over medium heat. Add the onions, and cook until they're translucent and beginning to brown. Add the garlic, and cook just until fragrant.
2. Add the beans, and the milk to the skillet. Using a fork or potato masher, mash the beans as well as you can. They don't need to be completely mashed, just enough to release some starches to thicken the mixture.
3. Using an immersion blender, puree the beans until they're completely broken up and super creamy. Alternatively, you can transfer the bean mixture to your food processor and puree them in there.
4. Season your beans with salt to taste. They are now ready to use.
Salsa Roja
Adapted from Rick Bayless
Ingredients:
1 corn tortilla

1 1/2 pounds fresh tomatoes, quartered

1/2 large onion, quartered

3 garlic cloves, whole

1 serrano chili, halved and seeded (Unless you like some spice. If so, don't seed it.)

1/3 cup cilantro, chopped

Juice from 1 medium sized lime

Salt to taste
Directions
1. Preheat your oven to

3

50°F

. Place the tortilla on a baking sheet, and put it in the oven for 15-20 minutes, using tongs to flip it over half way through cooking. You want it to be brown and crisp. Remove the tortilla from the oven, and set it aside. Turn the oven to 375

°F

.
2. Lightly spray the baking sheet with oil. Add the tomatoes in a single layer, and bake them for 20 minutes using tongs to flip them over half way through cooking. When they're done, carefully transfer the tomatoes to your blender or food processor, but don't process them yet.
3. Wipe down the baking pan or pull out a clean one to use. Place the onions, garlic, and serrano onto the baking pan, and roast them for 15 minutes using tongs to flip each vegetable over half way though cooking. They should be soft and browned.
4. When the vegetables are done cooking, add them to the tomatoes. Puree the mixture until the vegetables have broken into small pieces.
5. Crumble the crisped tortilla and add it along with the cilantro and lime to the salsa. Puree the mixture until everything is broken up. It should be a thinner salsa as opposed to chunky.
6. Add salt to taste, and transfer the salsa to an airtight container. Store it in the fridge to cool. Serve cold.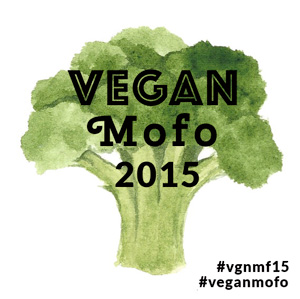 Let's be friends! Follow HV on Facebook, Google+, Pinterest, Bloglovin', and Instagram! You can also get House Vegan posts delivered right to your inbox by clicking here!