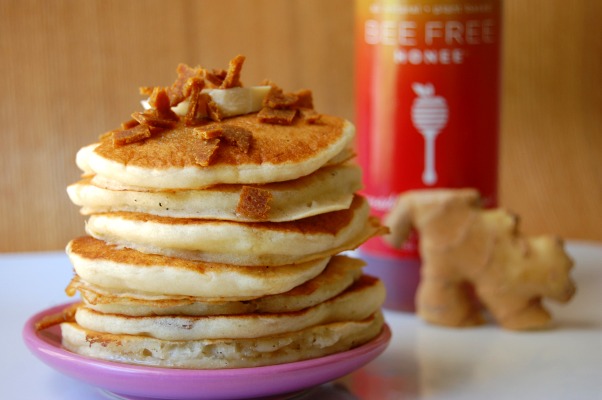 I finally saw
Upton's Naturals
Bacon
Seitan
at Whole Foods and bought some to use for something special. While many might not consider pancakes special, I really feel like they can be. The flavor possibilities are endless.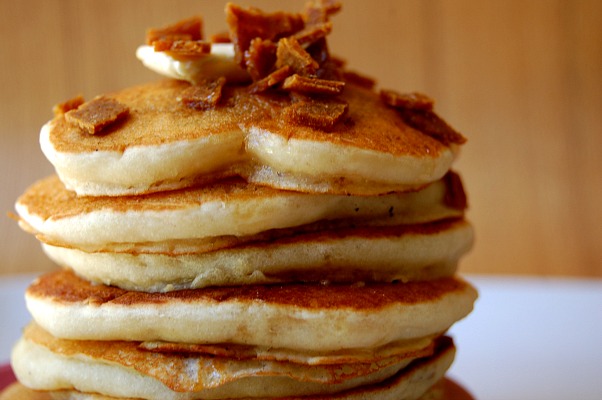 I love ginger so I actually put in a little more than the recipe says. My Husband finds ginger a little too medicinal so I cut it down for the recipe. Adjust based on your preference!
Ginger, Bacon and Honey Mini Pancakes
Adapted from Perfect Pancakes from Vegan Brunch
Ingredients:
1 1/4 cup flour

2 teaspoons baking powder

1/2 teaspoon salt

2 tablespoons canola oil

1/3 cup water

1-1 1/4 cup nondairy milk

2 tablespoons vegan honey (Like Bee Free Honee or Sohgave Honey Flavored Agave Nectar)

1 teaspoon vanilla extract

12 strips vegan bacon (store bought or homemade), cooked and crumbled

1/2 teaspoon fresh ginger, minced
1. Preheat a large skillet over medium heat. Just medium. Too hot will cause uneven browning.
2. In a medium sized bowl combine the flour, baking powder and salt.
3. To the flour add the canola oil, water, milk, honey and vanilla. Stir until just combined.
4. Reserve 2 tablespoons of the bacon. Fold the rest of the bacon and the ginger into the pancake batter.
5. Spray the skillet with oil (or spread some Earth Balance to lightly coat the bottom.) and pour the pancakes onto the skillet using 2 tablespoons of batter per pancake. Once the batter touches the skillet, don't touch it. Don't spread it, don't shake it, don't point at it until you see little bubbles on the surface of the batter. Then you can flip the pancake and let it cook for about another minute on the other side. Repeat until you're out of batter.
6. Serve these drizzled with vegan honey and topped with Earth Balance and the reserved bacon.