Before telling you about these Vegan German Fried Noodles we gotta go to that good ol' disclaimer: Housevegan.com is a participant in the Amazon Services LLC Associates Program, an affiliate advertising program designed to provide a means for sites to earn advertising fees by advertising and linking to Amazon.com. This post contains Amazon affiliate links.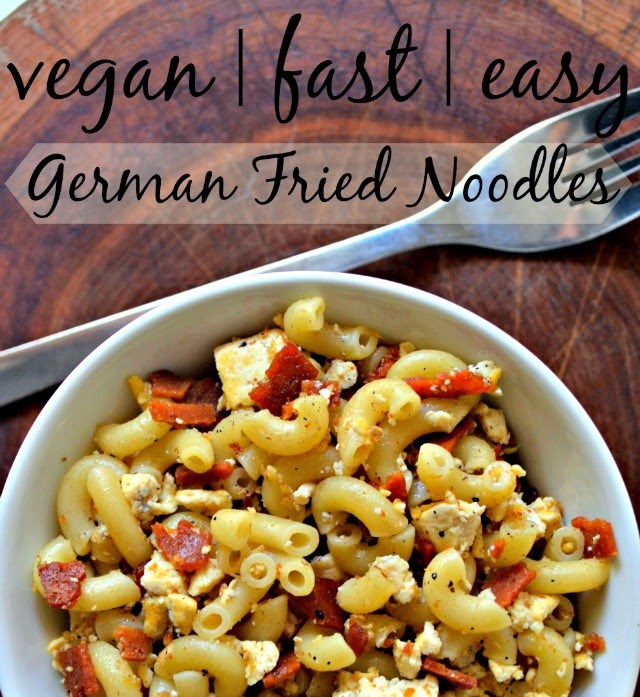 My post today is very exciting for me. I am sharing one of my very favorite family recipes!
There is not a soul in my family that doesn't love a giant serving of Fried Noodles. When I went vegan I longed for the day that my cooking skills would be able to carry me to a vegan revision.
Fried Noodles are an incredibly economical dinner usually made with smallish noodles, bacon and various other ingredients based on the particular family's recipe. I'm told it's a common German dish that varies between households. In my Oma's German household the dish comprises of elbow noodles, bacon, and eggs. It sounds breakfasty, but Fried Noodles are strictly a dinner food.
As new vegan products have been released and discovered over the years the recipe has really taken new shape. In my opinion, it's finally reached its peak in taste and texture. I've successfully served this version to my family who's been eating the original for 40 years. That's a big deal when veganizing something iconic!
Once you try my German Fried Noodles you'll be hooked. The noodles are tender, the tofu is soft, salty and eggy, and the seitan is perfectly crisp. We're talking comfort food at its best here.
German Vegan Fried Noodles – Serves 2
Ingredients:
4 ounces elbow macaroni

olive oil for cooking

6 slices bacon style seitan (like Upton's Naturals), chopped into small pieces

1 cup firm tofu, crumbled

kala namak salt

Black pepper
1. Cook the macaroni according to the package directions. Set aside until you're ready to use it.
2. While the pasta boils heat the olive oil in a skillet over medium heat. When the olive oil is good and hot add the seitan. Stir occasionally with a wooden spoon until the seitan is just getting crisp.
3. Add the tofu, 1/4 teaspoon of kala namak and a pinch of pepper to the skillet and cook until the tofu starts drying out. It should barely be getting brown.
4. Add the cooked pasta to the skillet and carefully stir it into the tofu and seitan. Give it a few good stirs to cover the macaroni with all the oil and flavor in the skillet. You just want the noodles warmed and combined – you do not want them to brown.
5. Take the skillet off the heat and add more kala namak to taste. Season with pepper to taste and serve.