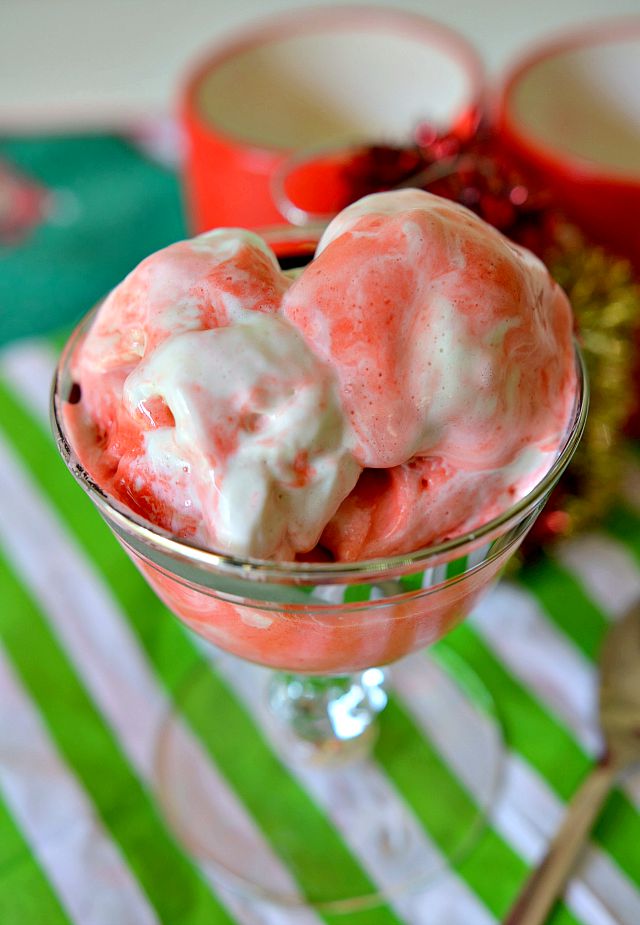 I know I'm scootchin in right at the end of Xmas in July, but better late than never, right? Do y'all know that I usually start my real Christmas preparations in July? That sounds insane, but if you do a little bit each month it makes for a smoother, more enjoyable holiday. However, this year I can't even begin to think about Christmas. I'm like really late to Christmas in July in so many ways. But let's not dwell. Today, I'm sharing with you my new creation that I predict will win hearts and bellies world over: Frozen Fluff.
Frozen Fluff is a hybrid of freezer whip (ala Cool Whip) and marshmallow fluff. The texture is gooey and fluffy, and really fun to eat. It's easy to make, requires just a few ingredients, and contains no nuts, milk (dairy or otherwise), bananas, or gluten. So what the heck is in it?
Aquafaba! I've written about aquafaba before, but if you're new I'll explain. Aquafaba is the cooking or storing liquid of beans. You can use that liquid to make treats like meringues, macarons, and even omelettes. No, really. This recipe calls for 1/2 cup of aquafaba which is one can's worth. Just drain the liquid (which is your aquafaba) into a bowl, and store your chickpeas for a later use.
Like many great things, Frozen Fluff was born out of experimentation and enthusiasm.
I had just made Pumpkin Pie Ice Cream for an upcoming secret project (announcement coming soon), and it inspired me to play around with the ingredients. The ice cream was soft and creamy, but contained those ice crystals commonly found in non-dairy and hastily made dairy ice creams. Not a bad thing at all, but I wandered what the texture would be like without it. S
o I whipped up some more aquafaba, and added some xanthan gum to see what would happen.
As it whipped up it started to get sticky. It remained fluffy and stiff, but it developed a gooeyness very similar to marshmallow fluff. I am a lover of all things (vegan) marshmallow so I went with it. I added some flavorings, and threw it into the freezer overnight. When I tried my creation the next morning I was so pleased with the results. It was like gooey whipped cream or super whipped marshmallow fluff. It was like eating a pillowy cartoon cloud. It was fun to eat, and I knew the flavor options were endless. This candy cane version is really quite lovely. Very refreshing, and totally acceptable to eat in Summer.
Just a few things to know before moving forward, and making the frozen fluff:
Aquafaba does not like oil. It is important to use a metal or glass bowl since plastic can hold on to oil. Make sure your extracts and colorings are oil free as well.

Some peppermint extracts are stronger than others so start with 1/4 teaspoon, and add a little bit more at a time until you get the flavor you want. If you add too much your Frozen Candy Cane Fluff might taste like toothpaste.
Feel free to experiment with other flavors. See what you like, and then let me know about it.
1/2 cup chickpea or white bean aquafaba

1/2 teaspoon cream of tarter

1/2 teaspoon xanthan gum

1/2 cup granulated sugar

2 teaspoons vanilla extract

¼-½ teaspoon peppermint extract

vegan red food coloring (store bought or homemade)
1. Using an electric mixer with a whisk attachment beat the aquafaba, cream of tarter, and xanthan gum on high speed until it becomes foamy.
2. Beat in half of the sugar, and allow it to fully integrate before adding the rest. Once all of the sugar is added beat the aquafaba on high until it's very stiff, and starts looking sticky. It should look a little sticky, but remain fluffy.
3. Pour in the vanilla extract, and beat the mixture to incorporate.
4. Gently scoop out half of the vanilla fluff, and transfer it a 10-12 inch shallow container with a lid. Try to keep the fluff to one side of the container.
5. Add ¼ teaspoon of the peppermint extract and a few drops of coloring to the remaining fluff, and beat it to incorporate. Taste the mixture for peppermint strength, and adjust it to your preference. Pour the mint fluff into the container next to the vanilla fluff.
6. Using a spoon/chopstick/what-have-you swirl together the two flavored fluffs. Do this gently so that you don't disrupt the air bubbles in the mixtures.
7. Cover the fluff, and place it in the freezer to cool for at least 8 hours or overnight.