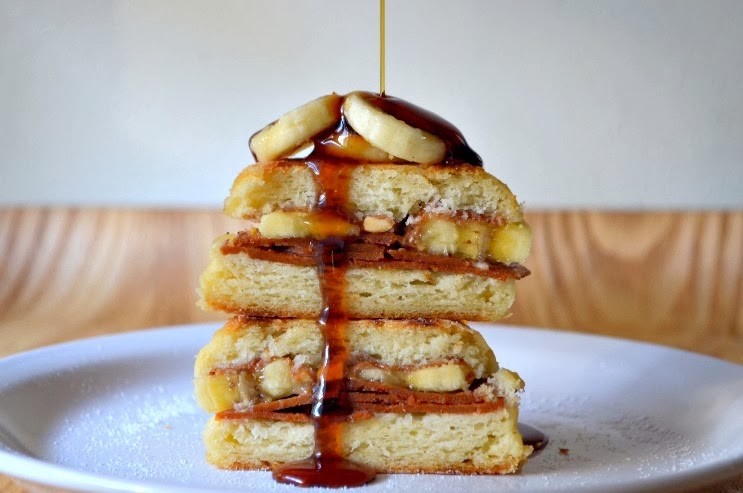 If this sounds like a crazy thing to do it's because it
is
a crazy thing to do
.
HV needed an obligatory Elvis recipe, and this seemed like the tastiest way possible to make that happen.
Look, this sandwich is ridiculous. Really
really
yummy, but still ridiculous.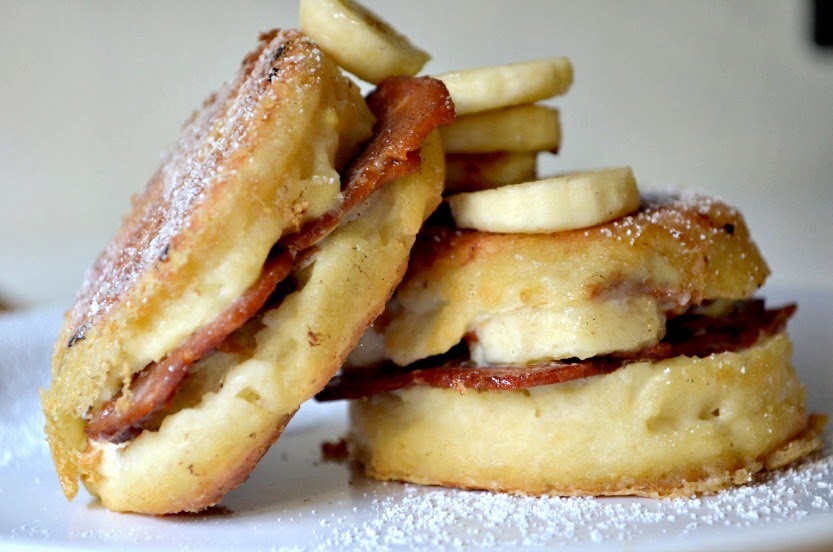 French Toasted Bacon, Banana and Peanut Butter Biscuit Sandwiches
Makes 4
Fronch Toast Batter
Lightly adapted from Vegan with a
Vengeance by Isa Chandra Moskowitz
1 cup non-dairy milk

2 tablespoons cornstarch

1/4 cup chickpea flour

1/4 teaspoon kala namak (optional)
1. In a shallow bowl whisk together the milk and cornstarch until the cornstarch has completely dissolved.
2. Whisk in the chickpea flour and kala namak (if using) and set aside.
Sandwiches:
Ingredients:
4 Perfect Fluffy Biscuits, cut in half

8 pieces of veggie bacon (I use Upton's Naturals), cooked and sliced in half

1 medium sized banana, sliced

peanut butter

1 batch Fronch Toast batter
1. Preheat a skillet over medium heat.
2. Hollow out the top half of each sliced biscuit by scooping out the fluffy insides.
2. Spread a small amount of peanut butter in each top biscuit half.
3. Evenly distribute the bacon and bananas on each bottom biscuit half. Top with the peanut buttered top biscuits and carefully give it a smoosh.
4. Spray the preheated skillet with a good spray of oil. Submerge the first sandwich into the Fronch Toast batter and let the excess drip off. Add to the skillet and cook until brown. Carefully flip the sandwich and give it a gentle smoosh again. Cook until that side is browned. Repeat with the remaining sandwiches.
5. Serve with powdered sugar and maple syrup.