Before telling you about this Everyday Nut-Free Vegan Cheddar we gotta go to that good

ol

' disclaimer:

Housevegan.com

is a participant in the Amazon Services LLC Associates Program, an affiliate advertising program designed to provide a means for sites to earn advertising fees by advertising and linking to

Amazon.com

. This post contains Amazon affiliate links.
Hi friends! Y'all, I know it's not technically fall yet, but the weather in ATX has been rainy and cool and really cozy. By "cool" I mean like high 70s low 80s, which is a lot cooler than 100 in my defense.
The feeling outside has been inspiring me to get in the kitchen to food prep. I've been cooking up so many new and wonderful things, stocking the fridge and pantry, and celebrating the flavors and textures of the upcoming season.
While we usually have things like soy milk, vegan butter, and grains and pasta on hand, one standard item that we don't always have is cheddar cheese. As much as we love it (like the good Texans that we are) it's kind of a pain to buy. Vegan cheddar widely available, but it's either too pricey for us to justify using every day, or I just don't like it enough to consider it versatile. I'm really picky about cheese.
Enter this beautiful staple recipe.
I really like cheddar, but only some cheddar used in some ways. I made this because I wanted a vegan cheddar cheese that we could love unconditionally and keep on hand for cheap.
I modeled our perfect cheddar off of my
Wisconson Cheese Soup
because it is so cheesy and wonderful and basic in flavor. Meaning it could be used in a variety of ways. Texturally, it's soft, but it does cut, slice, and shred.
Because I use sunflower seeds, my Everyday Vegan Cheddar is both affordable and nut-free. The only possibly difficult-to-find ingredient is agar powder. However, any Asian market should have it, or you can order it off Amazon. Just be sure to use powder and NOT flakes. It won't firm up correctly with flakes and the texture will be all wrong.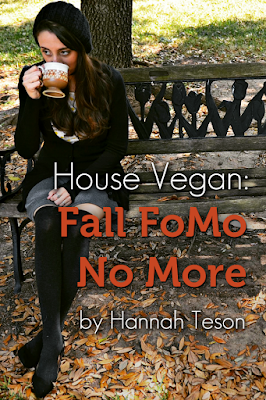 House Vegan:
Fall FoMo No More $5.99
Includes:
? Helpful tips to make this your best fall yet
?Step-by-step instructions to ensure that you don't miss out on any of your favorite fall activities or pastimes
?Guides to celebrating Halloween and Thanksgiving the vegan way
Everyday Nut-Free Vegan Cheddar
2 teaspoons cooking oil
1/2 small onion, small diced
1/2 medium red bell pepper, small diced
1 cup raw sunflower seeds
1/3 cup nutritional yeast
1 1/2 teaspoons salt
1/2 teaspoon garlic powder
1/2 teaspoon onion powder
1/2 teaspoon paprika
1/2 teaspoon turmeric
1/4 teaspoon black pepper
1 tablespoon + 2 teaspoons agar powder (not flakes)
3/4 cup vegetable broth (or water)
6 tablespoons original unsweetened non-dairy milk
1 tablespoon white miso paste
2 teaspoons yellow mustard
1. Heat the oil in a skillet over medium-high heat. Add the onion and bell pepper and cook, stirring often, until the veggies soften, and just barely start to brown. Remove the vegetables from the heat and allow them to cool for 5-10 minutes before proceeding.
2. In a high powered blender, add the sunflower seeds, nutritional yeast, salt, garlic powder, onion powder, paprika, turmeric, and black pepper. Pulse on a medium speed about 4-5 times just to break up the seeds.
3. In a saucepan over medium heat, whisk together the agar powder, vegetable broth, and milk. Whisk continuously until the mixture comes to a boil. The agar powder should be dissolved, and the liquid should have a shiny sheen to it. It should also be thicker.
4. Add the agar mixture, white miso paste, and mustard to the sunflower seed mixture in the blender, and blend until the mixture is smooth. Give it a taste for salt.
5. Pour the cheese into a mold (a bowl, Tupperware, or ramekin all work), place the cheese in the fridge to fully harden (around 2-3 hours). After the cheese has hardened, you can remove it from your mold by running a knife along the edge, and popping it out. From here it's ready to use on sandwiches, in mac and cheese, on tacos, whatever you want!
6. Store in an air-tight container in the fridge for up to two weeks. You'll probably eat it all before then though!
Let's be friends! Follow HV on Facebook, Pinterest, Bloglovin' & Instagram