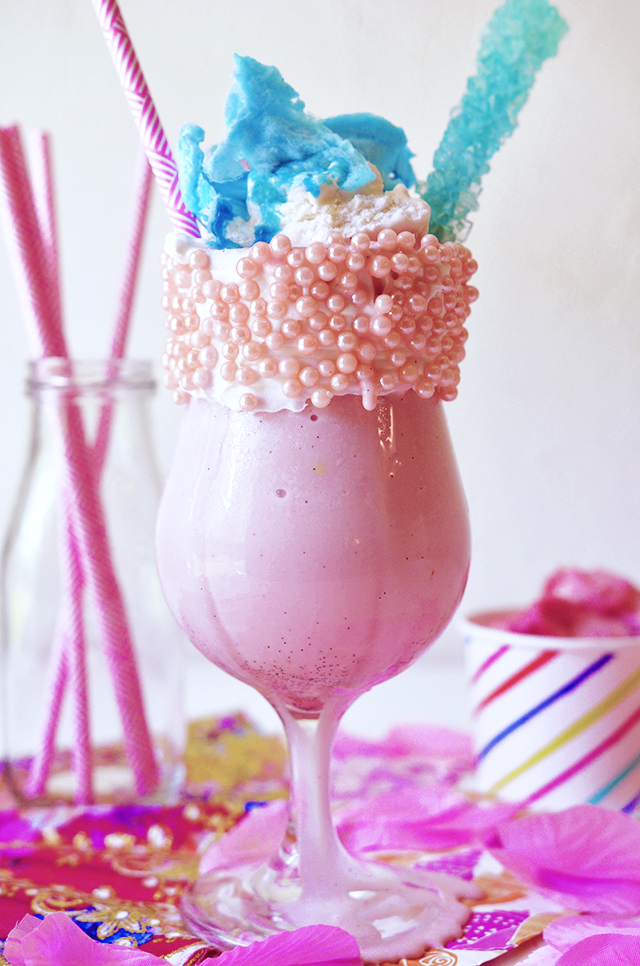 These beautiful Dairy-Free Cotton Candy Milkshakes are my goodbye to this rough summer.
If you asked me in May what I thought my summer would look like I would have basically described this milkshake. Bright, happy, colorful, sweet, and really really pink. Cotton candy milkshakes had a real moment at the beginning of summer, and maybe that influenced me a bit. Or maybe it was the fact that my 30s were mere weeks away.
Either way, I wanted a neon summer with stickers, and coloring, and pink and sprinkles, and cookies, and donuts and more cookies. While I ended up having very few of those things, I did get some pink foods in by way of rosé and pops.
Rosé on my birthday, pops at the farmers market, & summer planning by the pool.
When summers approach, I can't help but think of summers past. With my ridiculous birthday hangups I found myself thinking a lot about past summers this year. Including:
– the summer I moved to LA to be with my boyfriend followed by the summer that same man moved back to Austin with me as his wife.
– the summer of 1995 when my cousins and I spent day and night playing unsupervised in the family neighborhood. Like tiny nomads we all lived in a different family member's house according to our whims. Days were spent swimming in swimming holes, sneaking popsicles, and listening to the radio in the one treehouse available. I was always dirty, always hot, and always excited for the next adventure. It was my first taste of independence while I was still young enough to feel like a lost boy (or girl). It was the kind of summer you only read about in coming-of-age stories, and it was amazing.
– the summer I turned 13. I was obsessed with the 50s, but I was still a 90s girl. I wanted to be cute and coy like early Britney Spears, but also super sassy and confident like Shania Twain. I dreamt of being mistaken for a member of S Club 7 or B*witched, and I longed for the boys of 5ive to fight over me. I wanted my summer look to be track pants, a halter top, the frostiest eye-shadow I could find, Dr. Pepper lipgloss, and hair that reached Topanga levels of crazy.
Was this really too much to ask?
However, my reality was that I was an uncomfortable and awkward little weirdo. My summer look was a giant t-shirt under overalls, and I spent my days swimming in the community pool draped in more giant t-shirts because I developed early and felt like a freak. Nights were spent by myself (I kind of hated my friends) watching Vault Disney or Stand By Me because I was obsessed with both. Kind of a sad summer, right? I wanted so badly to be cool, and just couldn't grasp what that even meant beyond the girls on the Disney channel.
Me reading aloud my childhood writings about Stand By Me at Mortified. The obsession was real.
My childhood wasn't charmed, and wanting for things was common. I had food, shelter, and parents who were doing their best, but there was no option to express myself beyond words. That can feel suffocating when you're a kid. Most of the things I had were hand-me-downs, and it was difficult to build my own path while being forced to walk down someone else's.
As much as I wanted to be a cute and colorful dolphin in a sea of neon fish, I was more like Wednesday Addams with a huge chip on my shoulder.
It's ok, I owned it. However, I think I felt a bit repressed with the adorable things that I loved just beyond my reach.
Looking back, I'm sure my current love of pink and cuteness is somewhat an extension of my unfulfilled childhood desires.
Bet you didn't think a post about Cotton Candy Milkshakes was gonna go this deep, did ya?
Everyone said that turning 30 meant letting go of ridiculous self-judgements, and they were right. I avoided cutsie things in my 20s because I wanted to be classy like a young Ina Garten. Who says I can't have both?
It's fitting that my last summer post of the year is for this dessert. J
ust like kid Hannah with lava lamps, raver pants, henna tattoos, and the entire dELiA*s catalog, I wanted on this technicolor-food bandwagon. The most wonderful difference here is that now I'm 30, and can be whatever the hell I want to be.
– I can be the girl in the car next to you non-ironically listening to Mandy Moore on full blast.
– I can be the girl wearing track pants, halter tops, and frosted eye shadow because she doesn't care what year it is.
– I can be a grown-up that's happily looking forward to fall without back to school anxiety. Now I share college football anxiety with my husband, and it's great.
This summer was a bummer, but being 30 is still so much better than being 13.
I've been ready for this summer to be over for a while, and t
hese Dairy-Free Cotton Candy Milkshakes
are a super sweet goodbye to the season. I'm thrilled to move on which isn't totally unlike how you'll feel halfway through one of these treats. They're really tasty, but I think their sugar level may only be truly tolerable to children and elves.
(ps. You may want to prepare your bods. It's now officially fall on House Vegan. FINALLY!)
Dairy-Free Cotton Candy Milkshakes – Makes 2 Shakes
Ingredients:
2 cups non-dairy vanilla ice cream

1 cup non-dairy creamer

2 1/2 cups cotton candy (I'm dying to try Spunlight)

vegan vanilla frosting

1 container vegan sprinkles (I used Wilton. Be sure to read all sprinkle ingredients unless they're specified as vegan. Many contain beeswax or confectioner's glaze.)

vegan whipped cream (optional)

assorted colorful vegan candies (optional)
1. Add the ice cream, creamer, and 1 1/2 cups of cotton candy to your blender, and blend the mixture until everything is smooth and incorporated. Meanwhile, p
our the sprinkles onto a plate for easy rolling.
2. Spread a thick layer of frosting onto the top outside portion of your shake glasses. I went about two inches long for mine. Roll the frosted portion of each glass in the sprinkles.
3. Distribute the cotton candy milkshake mixture between the two glasses. Top the milkshakes with vegan whipped cream, the remaining cotton candy, sprinkles, and assorted candies if desired.