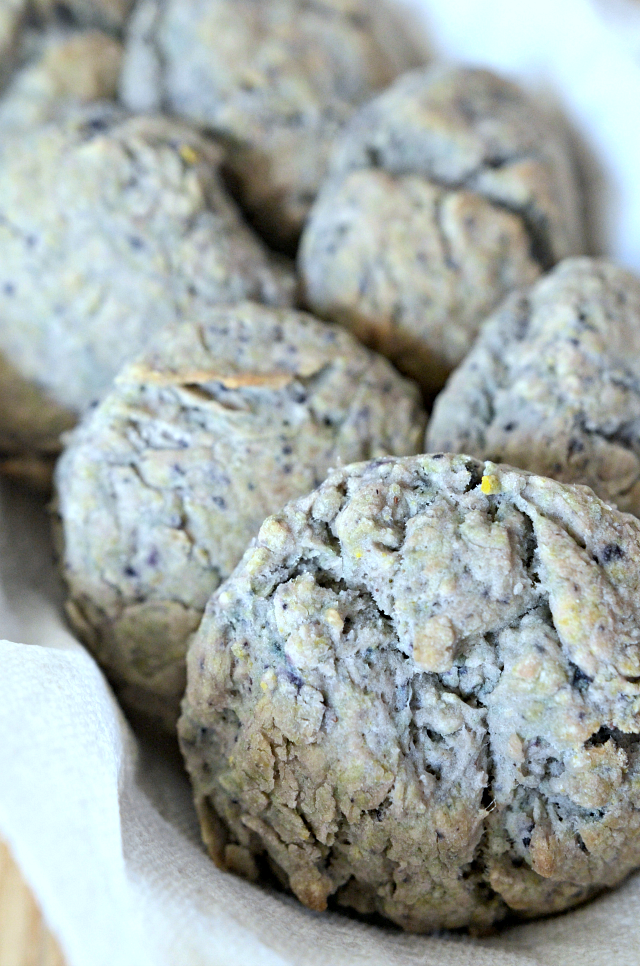 The Vegan MoFo prompt today is to make

Something blue

, so I'm sharing this recipe for Blueberry Sage Biscuits. This post is going to be real short because I've got a lot on my plate right now. In fact, most of my
MoFo posts are going to be a little interesting these next few weeks, and
I may even miss a few days. However, I've resolved that I'm fine with that because…..
..I got my book edit back! Now it's time for me to get this thing finished for you lovely darlings. Fall is upon us, and my book is designed to help you enjoy it. I'm gonna hustle my heiney make it available as soon as possible!
<
Speaking of the ol' Fall book, don't forget that I have a super cute giveaway going on right now:
Entering is easy peasy, lemon squeezy: Just click
here
, and follow the instructions.
So these blue biscuits are really yummy. Not too blueberry-y, not too herby. Just enough of each to know that they're there. We ate a bunch last weekend and they were delightful.
Blueberry Sage Biscuits
Ingredients:
1/4 cup fresh, or thawed blueberries

1/2 cup non-dairy milk

1 1/2 cups all purpose flour

1/4 teaspoon salt

1 tablespoon sugar

2 teaspoons baking powder

1/2 teaspoon dried sage

6 tablespoons Earth Balance (vegan margarine), cut into medium sized pieces
Directions:
1. Preheat your oven to 400
°F
. In your blender or food processor, blend the blueberries and milk until the blueberries are completely broken up.
2. In a medium sized mixing bowl combine the flour, salt, sugar, baking powder and sage.
3. With your fingers or a pastry cutter cut in the Earth Balance pieces until they are the size of peas.
4. Pour the blueberry mixture over the flour and stir gently with a spatula until it comes together. It'll be more wet than you're used to, but it's fine.
5. Pour the dough onto a well floured surface and gently knead it a few times until it's not super sticky. Pat it out gently to 1″ thick. Fold the dough over itself and pat it out to 1″ thick again. Repeat twice to fold 3 times. This needs to be done very gently! Pat it like you're playing patty cake with a baby. No smooshing. After the third fold pat the dough to 3/4″ thick, and
cut out your biscuits.
Don't forget to pat together your scraps to get 1 or 2 more!
Repeat until you're out of dough. With a normal sized cutter (2-2 1/2 inches) I get 8.