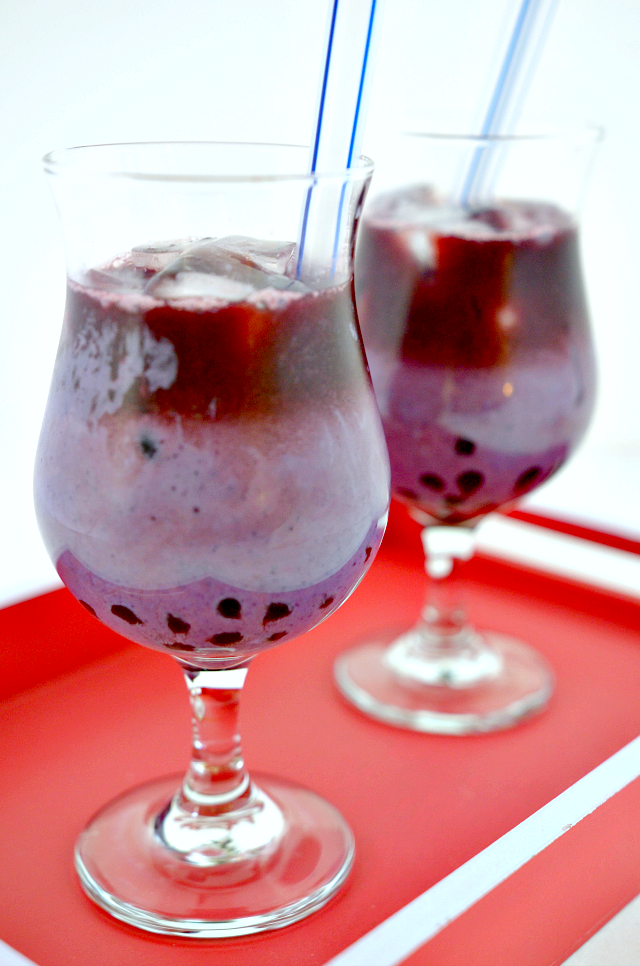 This gorgeous Blueberry and Boba Thai Iced Coffee is my homage to a drink that I used to love from a local tea shop, Momoko. Momoko is a bubble tea shop and Japanese boutique near The Texas Federation of Women's Clubs (The Fed), a building that I spent a lot of time swing dancing in in my teens. In fact, it was a group of other teenage swing dancers who introduced me to Momoko. I was 16, and it was my first glimpse into anything kawaii. Of course, back then we'd never heard the word 'kawaii'. We just called it "cute Japanese stuff".
I don't exactly remember the first time I tried Momoko's iced blueberry boba coffee, but I remember thinking that the combo of blueberry and coffee would be strange. It was for sure strange, but also uniquely wonderful. The blueberry flavor was noticeable, but not intense. It gave the drink a quality that reminded me of eating fruity cereal alongside my morning coffee.
It's been years since I've had Momoko's version, but my love for the concept is still strong. My homemade recipe is a little different from the drink that I adored 15 years ago, but it's every bit as enjoyable as I remember. This deep purple concoction is thick, sweet, and a little tart with a smell that takes me back to Hello Kitty dolls, raspberry lip gloss, and wild laughter with friends over coffee and brief independence. Remember being young and trying foods so vastly different from anything else you'd ever experienced? Those tiny jumps into the unknown gave me safe tastes of freedom at an age where that felt vital.
My tastes have evolved since my Momoko days, and I now prefer black coffee over anything else. However, I'm always down for vegan Thai iced coffee. Have you ever had Thai iced coffee? It's strongly brewed coffee, and sweetened condensed milk served over ice. It's as sweet and sticky as it sounds, and it's delicious.
Depending on where you live, some of the ingredients for this bright drink may be a little hard to find. When you're ready to make your own, search Asian markets or Amazon for the wide straws and tapioca pearls. I'm a fan of Wufuyuan's pearls because they cook up really plump in under 10 minutes. They're so easy.
For vegan sweetened condensed milk check out
Nature's Charm
or
Let's Do Organic
.
I've never used them, but I imagine they're good. If you live in Texas check out HEB for their soy milk based sweetened condensed milk (pictured above). That's what I used, and I thought it was tasty.
Feel free to experiment with other freeze-dried fruits in this recipe. I love bananas so that might be next for me. Oh, or strawberries. Or mango! I'm thinking almost any fruit would work so let me know what you try.
Blueberry and Boba Thai Iced Coffee
Makes 2-3 Servings
Ingredients:
1/2 cup coffee beans (your preference on type)

3/4 cup freeze-dried blueberries

2 cups water

1/2 cup non-dairy milk

1/2 cup vegan sweetened condensed milk

1/2 cup dried tapioca pearls

ice for serving
Directions:
1.
Combine the coffee beans and 1/2 cup of the dried blueberries in a small bowl. Using your coffee grinder, grind the coffee bean/blueberry mixture. I do a courser grind for drip, but you should grind appropriately for your preferred brew method.
2. Measure 1/2 cup of the ground blueberry coffee, and place it in your coffee maker. Brew the coffee with the two cups of water. Once the coffee is done brewing place it in the fridge to cool down completely.
3. While the coffee cools make the blueberry milk. Crush the remaining blueberries into small pieces using a mortar and pestle, your coffee grinder (clean it out first), or a plastic bag and rolling pin. Combine the crushed blueberries with the non-dairy milk in a saucepan over medium heat. Bring the mixture to a simmer, and allow it to simmer for 2 minutes before removing it from the heat. Let the blueberry milk sit for 10 minutes.
4. After 10 minutes, strain the blueberry milk through a fine strainer over a mixing bowl. Discard the leftover blueberry mush. Add the vegan sweetened condensed milk to the blueberry milk, and stir the mixture to combine. Place the milk combo in the fridge to cool down.
5. W
hen the coffee and milk are completely cool prepare the tapioca pearls according to the package directions.
6. To assemble the drink s
poon as many prepared tapioca pearls as you'd like into your glass. Next, add as much ice as you'd like. Aiming for half of each, add the cooled blueberry coffee and blueberry milk to the glass. Place a wide straw into your drink and enjoy. Depending on the size of your glasses, this recipe yields 2-3 drinks.
Let's be friends! Follow HV on

Facebook

,

Google+, Pinterest

,

Bloglovin'

&

Instagram

! You can also get House Vegan posts delivered right to your inbox by clicking

here

!