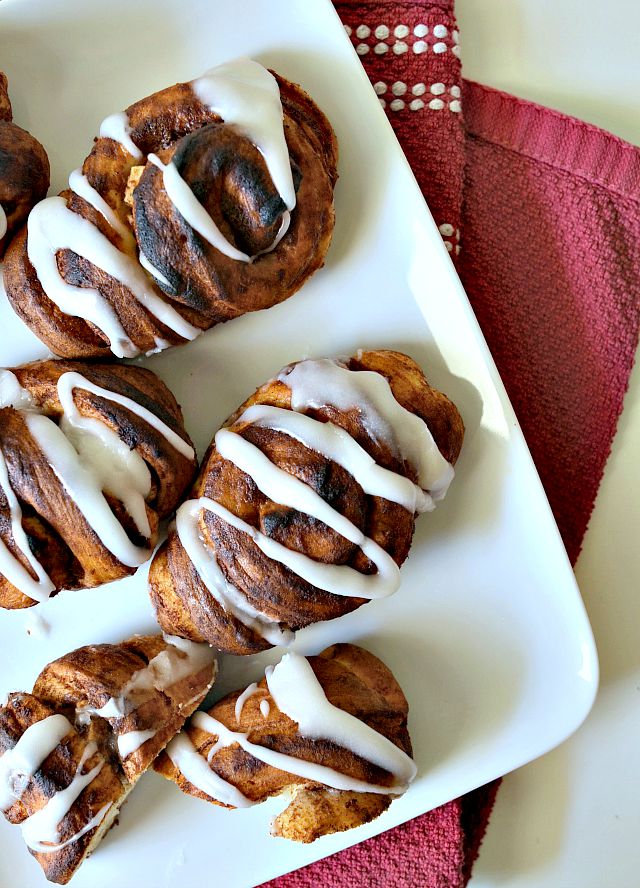 Happy Vegan Mofo 2015!!! I'm so excited to participate again. This year things are going to be a bit harder for me than
last year
since I'll be attempting a complete Vegan MoFo while finishing my Fall-based book. It's scheduled to be published by the end of the month! Come October, I may have gone mad.
This isn't about the book right now, though. This is all about MoFo. My first post is in line with the official prompt:

Rise and Shine! It's MoFo time! Tell us about your breakfast.
If you've been itching for Fall flavors then this recipe for Apple Stuffed Cinnamon Rolls should suit your tastes nicely. Despite being quite easy to throw together, they're as decadent and delicious as they appear. With little effort, they can
make your breakfast feel like a real Autumn retreat.
The apple stuffing keeps its shape without getting mushy which results in a wonderful texture against the soft store bought cinnamon rolls. Yes, these use store bought cinnamon rolls. They're the secret to making the recipe quickly. You can use Immaculate Baking Cinnamon Rolls or Trader Joe's Jumbo Cinnamon Rolls. They're both vegan and wonderful.
I hope you're as ready for Fall as I am. Even though I've been eating Fall foods for months while working on my book, there's still something special about taking in the flavors of the season in its beginning stages.
Here's to a great Vegan MoFo 2015, everyone!
Apple Stuffed Cinnamon Rolls – Makes 5
1 medium Granny Smith apple, peeled and small diced

juice from 1 small lemon

1 tablespoon of granulated sugar

1 1/2 teaspoons all purpose flour

pinch nutmeg

1 can of 5 vegan ready-to-bake cinnamon rolls (like from Immaculate Baking Company or Trader Joe's)
1. Pre-heat your oven to
3
50°F, and line a baking sheet with parchment paper, or a silpat.
2. In a small mixing bowl combine the diced apple, lemon juice, sugar, flour and nutmeg.
3. Open the can of cinnamon rolls, separate the rolls, and put the icing away for later. On your counter, use a rolling pin to flatten and roll each roll into a 1/4″ thick circle. It won't totally smoosh together, but that's ok.
4. In the middle of each cinnamon roll circle, evenly distribute the apple mixture. Now, you're going to roll each cinnamon roll up like a burrito. Bring the sides of the cinnamon circle over mixture until they almost touch. While holding those in place, bring the bottom of the circle over the folded-over side. Now, tightly roll the whole thing up. Or if none of that made sense, Google "How to roll a burrito.". You'll likely have issues with some apples falling between the cracks of the cinnamon rolls, but it's fine. Just get the rolls folded, and re-stuff the apples that fell out.
5. Place the stuffed cinnamon rolls onto your prepared baking sheet, and bake them for 13-15 minutes until they're golden brown.
6. Remove the rolls from the oven, and let them cool for 5 minutes before drizzling with the icing. Serve warm, or at room temperature.
Let's be friends! Follow HV on Facebook, Google+, Pinterest, Bloglovin', and Instagram! You can also get House Vegan posts delivered right to your inbox by clicking here!