Before telling you about these 1950's Inspired Vegan Maraschino Cherry Coke Cupcakes we gotta go to that good ol' disclaimer: Housevegan.com is a participant in the Amazon Services LLC Associates Program, an affiliate advertising program designed to provide a means for sites to earn advertising fees by advertising and linking to Amazon.com. This post contains Amazon affiliate links.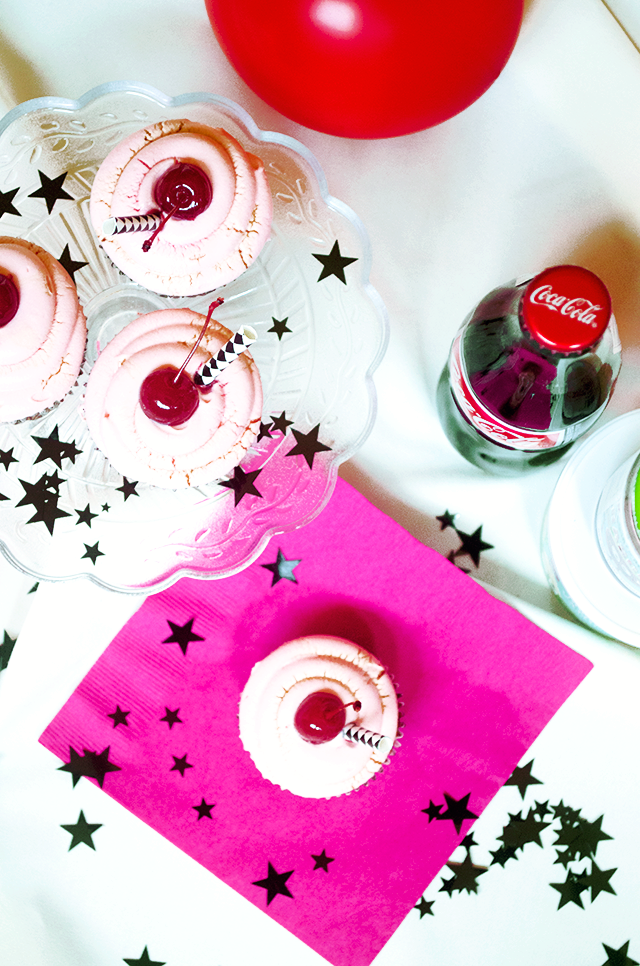 Ok, so here's a secret about your girl: I don't love making cupcakes. Truly, I despise piping which is why my recipes like
Cinnamon Orange Groundhog Day Cupcakes
and
Charlie Brown Thanksgiving Cupcakes
are covered in assorted treats instead of pillowy mountains of frosting. However, if I want to make cake it has to be cupcakes because (and this is embarrassing) I can't layer or frost cakes for anything. I can't, you guys! And I went to
culinary school
if you can believe it. Not only did I go to culinary school, but "Baking" was my best class. I finished that semester with a 4.0 GPA and made President's Honor Roll.
Yet here I am, unable to frost a cake. If you know him, please don't tell Chef Chapman.
However some events, visions, and inspirations just call for cake, and what are you going to do? When I heard that March 9th was Barbie's birthday I knew that there were possibilities for an adorable cake recipe here, and I just couldn't let that go.
And yes, I'm talking about THAT barbie:
I wasn't a huge Barbie lover as a kid – probably because I didn't have very many. With the few that I did have though, my favorite way to play was
to toss aside all of their original clothing, and fashion new duds for them out of tissue and scotch tape. Maybe I was a weird kid, but I preferred my homemade stuff to store-bought. Not much has changed there actually.
As I got older and stopped playing with dolls, I continued to hold a soft spot in my heart for Barbie. More than anything it was my love of nostalgia. I've always had a vintage heart, and Barbie's history kind of appeals to that. I mean, you want to know what was going on in fashion, hair, and makeup in any year post-1959? Just take a look at the Barbies of the time. If you're a vintage beauty nerd like me this can be pretty awesome.
For Barbie's birthday I thought it would be really fun to make something some sweet, pink, and 50's inspired to celebrate. These Maraschino Cherry Coke Cupcakes fit the bill nicely. They're moist, semi-homemade, and filled with maraschino cherries and Coca-Cola – two sweet treats that were popular in the late 1950s*.
Because these cupcakes are semi-homemade, they're simple to make and don't require any hard-to-find ingredients. For instance, instead of replacing the eggs in the recipe with
VeganEgg
, Egg Replacer, or flax seeds, I used an age-old diet-friendly cake hack: soda. The diet-friendly trick actually uses a can of soda in place of eggs, oil, and milk in cake mix, but I didn't trust that that would be delicious. I also didn't care about anything being "diet-friendly" so I kept the oil and (non-dairy) milk, and just replaced the eggs with soda. It worked! It so super worked. The cupcakes rose beautifully, and had the fluffiest texture. This may be my new favorite baking hack.
T
wo things to note:
The ingredient measurements are based on Trader Joe's Vanilla Cake Mix, but there are many other vegan cake mixes out there. If you decide to use a different cake mix, use their recommended measurements of oil and non-dairy milk, but use 3 tablespoons of cola per 1 egg.

This recipe made 18 cupcakes for me, but that number may vary depending on the mix that you use.
And one more thing: You may be wondering why I didn't just use cherry coke for the recipe. Simple, Cherry Coke wasn't introduced until the 80s ?
Mentioned in This Post and Recipe
1950's Inspired Vegan Maraschino Cherry Coke Cupcakes
1 16 ounce box vegan vanilla cake mix (I used Trader Joe's)

6 tablespoons cola soda (plus more for glazing and drizzling)

3/4 cup non-dairy milk

1/2 cup canola oil

3/4 cup vegan maraschino cherries, chopped (plus more for topping)

12.5 ounces vegan vanilla frosting (I used Wholesome Sweeteners), or about 2 cups of homemade frosting
1. Pre-heat your oven to 350°F (or what is recommended for your cake mix), and line a 12-cup muffin tin with paper or parchment baking cups.
2. In a large mixing bowl whisk together the cola soda,
non-dairy milk,
and canola oil.
3. Pour the cake mix into the bowl, and whisk the ingredients until no large lumps remain. Fold in the chopped maraschino cherries.
4. Fill each baking cup 2/3rds full with cake batter, and bake according to the package directions. You may get more than 12 cupcakes out of this batter so if that's the case just be prepared to do a second bake with the rest of the batter.
5. When the cupcakes are done baking allow them to rest on a cooling rack until they are completely cool before decorating.
6. To finish the cupcakes, pour the remaining cola into a bowl, and use a pastry brush to lightly glaze the top of each cupcake with the soda. After that, frost the cupcakes as desired. Use a spoon to lightly drizzle cola onto the frosted cupcakes before topping each with a whole maraschino cherry.
*I don't know, I may have made that up about the maraschino cherries, but they seem very 50s, right?